Karthik Venkatraman on becoming India's 55th Grandmaster
Karthik Venkatraman became India's 55th grandmaster after a tumultuous run at the Spilimbergo Open held in August this year. Having played amazingly in the first seven rounds, Karthik suffered a major setback in round 8. He lost his first game of the event to Baadur Jobava. The loss seemed to have done more damage than that of a point as Karthik's GM norm chances significantly diminished after this. In this interview, Karthik talks about his mindset during the tournament, his hectic tournament schedule and his ultimate aim as a chess player. | Thumbnail image: Gerhard Bertagnolli
On Independence Day this year, Indian chess got richer by as many as three grandmasters. While, on the one hand, the country celebrated the success of Arjun Erigaisi and Nihal Sarin at the Abu Dhabi Masters, several thousand miles away, in the Italian town of Spilimbergo, 18-year-old Karthik Venkataraman also completed all requirements for his Grandmaster title at the Spilimbergo Open.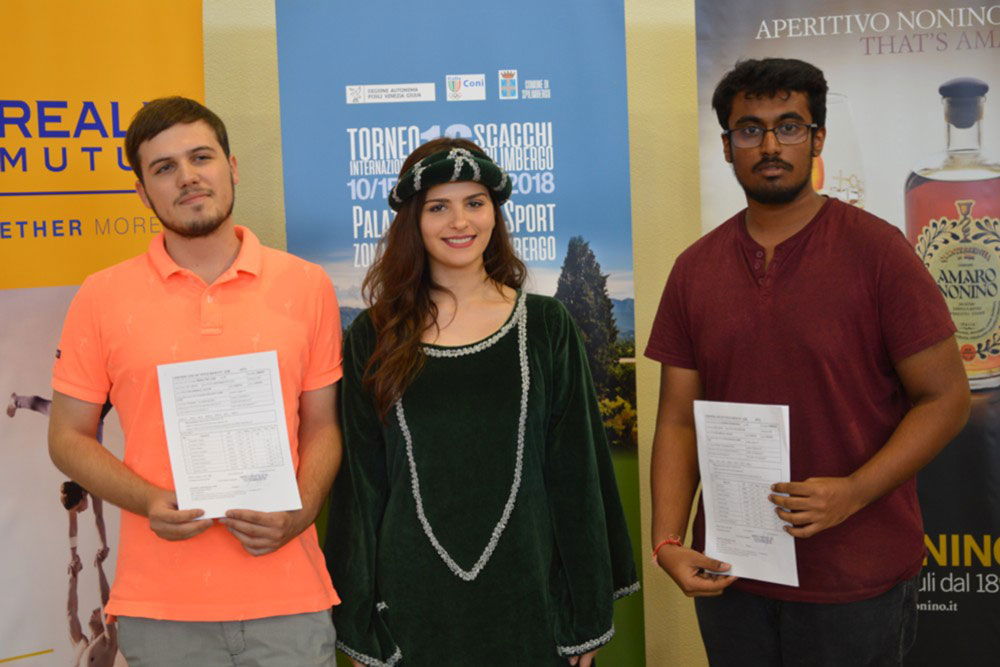 While the field in Spilimbergo wasn't quite as strong as the one in Abu Dhabi, the event did boast of the participation of some very strong grandmasters like Etienne Bacrot, Liviu-Dieter Nisipeanu, Baadur Jobava and Aleksey Dreev. Seeded 13th in the tournament, Karthik scored 6.0/9 to finish ninth on the leaderboard (joint third by score).
On his way to the GM title, Karthik had to face two of these bigwigs namely, Nissipeanu and Jobava. He did very well holding Nisipeanu to a draw from the white side of a Classical French Defence but Jobava turned out to be too hot to handle for the Tirupati-based teenager in the penultimate round of the event.
This loss did more harm than that of a point in the tournament for Karthik. His chance of scoring a norm seemed to have diminished drastically. But after his final round win against Rene Marcial Alonso Garcia, things fell in place perfectly. This win propelled his rating performance to an exact 2600 – the bare minimum required for a Grandmaster norm – in what was a touch and go situation!
After his tumultuous run in Spilimbergo, ChessBase India caught up with Karthik to talk about his latest achievement.
AP: Could you share your thoughts on having achieved the Grandmaster title? Also, can you tell us about your journey so far as a chess player?
KV: I am relieved after finally achieving the Grandmaster title. Now I can play without any pressure or tension. About my chess career, it has been decent. There were some hiccups along the way. My rating progress had stagnated at the 2300 Elo mark for almost three years (10th, 11th, 12th grades), which is a little long. Nevertheless, achieving the Grandmaster title at 19 is not bad I guess.
AP: Which was your favourite game from the tournament?
KV: I don't have any favourite game from this tournament. Most of the games were boring as I played safely. Only the games against Jobava and Nisipeanu were interesting but objectively I played very badly in both the games.
AP: Tell us about your game against Nisipeanu. What was your mindset and what was your preparation going into the game?
KV: My game against Nisipeanu, as I said, was horrible. I played this line with 5.Nce2 and 7.Nf3 in the Classical variation of the French Defence. I was inspired by the games between Dominguez vs Meier in chess.com knockout qualifier. Dominquez had won few games steamrolling the black king so I thought I could try it. But basically, I didn't know what to do after he played a5 and ended up in an inferior position eventually. Later, the position was messy and ended in a draw after few flashes of brilliance from both sides.
By flashes of brilliance, I mean incorrect moves. During the game, my mindset was that of regret. Regret not preparing this line thoroughly and also I was hoping not to miss anything.
My preparation was done during the lunchtime, 30 minutes to one hour before the round. For some reason, I thought he was a Caro-Kann player and started thinking what to do against that. And yeah by now you must have noticed that he played French.
AP: And how about your game with Jobava? Given your sharp style of play, you must have looked forward to this matchup. Also, could you talk about your opening choice in this game?
KV: Yes! I am a huge fan of Jobava's style of play. Even before the tournament started, I was hoping to play him not because he is one of my favourite players, but I wanted to take my revenge. He had beaten me two weeks before this game at the Xtracon Open in Denmark.
In Denmark he beat me badly; I lost my advantage very quickly I and was missing everything. He played faster than me and beat me very convincingly. Usually, I will have more time than my opponent or even if my opponent plays fast he ends up badly 90 per cent of the time. There are, of course, several exceptions to this.
So, in Spilimbergo, I was hoping to play Jobava and crush him badly. Perhaps, these thoughts and emotions were the reason I lost the game like an amateur. Since I thought I should beat him so badly that he should remember this game for a long time, I played 1.b3.
Basically, the game was bullshit and I thought I lost the norm opportunity as well. On a side note, I believe this was my first defeat in the 1.b3 opening in more than 10 classical games, and it could be my last!
AP: After your loss against Jobava, you were in a must-win situation in order to complete your norm. What did you do to keep calm and ensure you won this game on demand?
KV: After the loss against Jobava, I couldn't keep my cool. I was totally frustrated and also broke my pens and other things which were breakable. During dinner, I calculated that I needed to play someone around 2350 and win in order to get the norm. My last round opponent was rated 2344 and I was not sure initially whether I will be getting the norm even if I win the last round. Later I came to know that the rating average will be 2475.1 (2475 needed for 6 points) and the rating performance will be exactly 2600 or something like that. And yeah I won the game and got the norm.
AP: Going by your last interview with Sagar Shah (and going through your profile on FIDE), you've been playing a lot lately. How long has it been since you've been following this two-or-three-tournaments-per-month schedule?
KV: I started playing a lot after finishing my 12th exams in April 2017. I took a break from chess from February to April 2018 in order to prepare for CPT exams. But then I changed my mind after playing a few tournaments in April. And now I am following the same thing.
AP: How do you manage to prepare with such a hectic schedule?
KV: I would say playing itself is a kind of preparation. You play your games and learn from your mistakes and play again. It is also a kind of preparation; a different one, but a good one. It has been employed by my friend IM Chakravarthi Reddy as well. He has been doing this since his childhood days and has been successful.
AP: How many hours do you devote to practice every day?
KV: It's random. Sometimes I work long hours and sometimes I don't work at all.
AP: What does your practice comprise of?
KV: Mostly I work on openings and I watch a lot of chess videos from different sites.
AP: When and how did you start playing chess?
KV: I started chess when I was seven or eight-years-old. My mother gifted me a chess board for my birthday.
AP: What's your next goal now that you have achieved the highest title in chess?
KV: I don't think Grandmaster title is the highest title in Chess. The title of a world champion title is the highest title. Everyone should aim for that.
AP: How do you juggle between academics and chess?
KV: Currently, I am focusing only on chess. Maybe next year I will study for some exams.
AP: What do you study?
KV: I am doing my bachelor's degree in commerce (B.com) right now.
AP: Do you have any sponsors?
KV: I don't have any sponsors but I do have an ONGC scholarship
AP: What do you like doing besides chess? Any hobbies?
KV: I like watching movies and YouTube videos.
---