Isle of Man Masters: Pragg wins the day!
In the third round of the Isle of Man Masters, GM Vidit Gujrathi, who was one of the tournament leaders after two rounds, agreed to a mere 16 move draw against compatriot Vaibhav Suri to slip down to the joint second place. Vishy Anand's game against Svane Rasmus wasn't much different either; the two signed peace after 24 moves. But the game that really stood out in the round was the one between R Praggnanandhaa and Pavel Eljanov. In a complex Sicilian Defence middle game, Pragg sacrificed his queen to come out on top the highly entertaining battle. In another exciting battle, GM Abhijeet Gupta and Boris Gelfand had spectators on the edge of their seats until the very end when the game finally petered out into a draw. Round 3 report.
Of the nineteen players who had achieved an unblemished 2/2 after the first two rounds of the Chess.com Isle of Man Masters, only six managed to keep their perfect score after round three. The pack is currently led by French number one, Maxime Vachier-Lagrave, who is followed by Wang Hao, Arkadij Naiditsch, Jeffery Xiong, Erwin L'ami and Pavel Tregubov.
Vidit Gujrathi, who was one of the leaders going into the third round, had shown excellent form thus far. Both of his initial games featured enterprising sacrificial play. But in the third round, he agreed to a rather insipid draw against his countryman, GM Vaibhav Suri. In a Gruenfeld Defence, the players drew by repetition merely 16 moves into the game.
Vishy Anand's game against Svane Rasmus wasn't much different either. Anand also had the black pieces and just decided to call it a day after 24 moves.
While a draw, per se, isn't as much of a bad result, it is just the length of the games that is a little concerning. The tournament observes a 30 move no draw offer rule but, apparently, a move repetition is an easy excuse around it.
Both Vidit and Anand were more than a hundred Elo points higher rated than their opponents and, in the spirit of the game, could have fought a little longer. Also, since this is an open event, these easily conceded half points might well haunt them later in the tournament.
Meanwhile, India's wunderkind, GM R Praggnanandhaa scored the biggest upset of the day by taking down GM Pavel Eljanov of Ukraine. Rated 2703, Eljanov is not only about 200 points higher rated than Praggnanandhaa, but he is also one of the former winners of the event.
The game hadn't begun very promisingly for Praggnanandhaa. Eljanov had opened with the Richter-Rauzer variation of the Sicilian with the black pieces and had a comfortable position out of the opening. Praggnanandhaa's attempt to create play on the kingside was aptly countered by Eljanov with a pawn break in the centre. By the 26th move, the Ukrainian grandmaster was a pawn ahead and had complete control over the position.
But just when it seemed Praggnanandhaa was in a bit of trouble, he found a way to complicate the position. Taking a page off Vidit Gujrathi's book, Praggnanandhaa essayed an ingenious queen sacrifice that led to an unclear position.
In the above position, Pragg did not mind leaving his queen en prise. He simply took the rook on d7 with 29.Rxd7 and allowed 29...Nxg2. After 30.Ne7+ Kf8 31.Nxc8, black does not have 31...Nxe1 because of 32.Rd8#. Eljanov, therefore, took on h6 with his queen and after 32.Rf1, white had two rooks to compensate for the absence of her majesty.
Once the haze had cleared, Praggananandhaa had emerged an exchange ahead in the material count. Eljanov had just one pawn to compensate for this but his connected passed pawns on the kingside looked particularly threatening.
In the final phase of the game, Praggnanandha rushed to create a passed pawn of his own to generate sufficient counterplay in order to stymie Black's kingside passers. Once this was accomplished, converting the game was only a matter of technique.
GM Abhijeet Gupta's also scored a half upset on the sixth board holding the former world championship challenger, GM Boris Gelfand to a draw. Gupta had the white pieces in a Semi Slav Defence wherein he came up with a new idea in the line that entailed a pawn sacrifice on his 17th turn.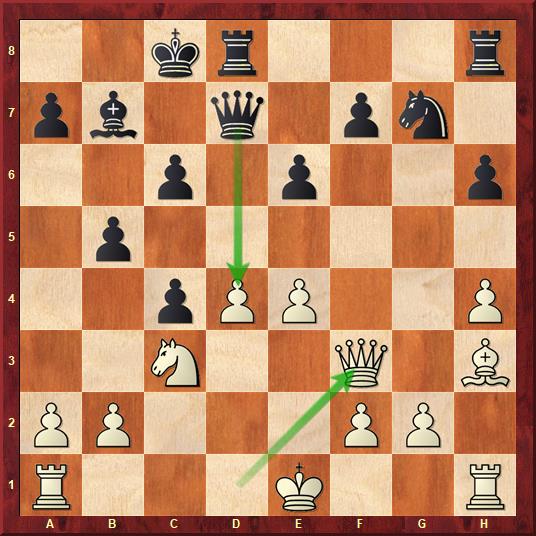 The complex middle game that consequently arose gave Gupta a nice initiative. Gelfand reacted well, finding all the right moves to keep things under control. But the game remaining complicated, well into the endgame. Both sides had passed pawns on opposite wings. Gelfand even gave up a piece on his 37th move to expedite the advancement of his pawns.
The black knight is running short of squares here. But Gelfand paid little heed to this. Play continued 34...Bd5 35.Nf4 Bxb3 36.Rh5 Rd4 37.Rxh4 and white was a full piece up. But despite being a piece down, black had ample compensation in queenside passers.
Gupta also went toe to toe with the world championship challenger, returning the piece at a timely moment and then gave a piece sacrifice of his own to force matters. By the 50th move, Gelfand was forced to trade off his last pawn and settle for a draw even though he had a full extra piece in the final position.
With this draw, both Gupta and Gelfand slipped down to the second spot on the leaderboard where they remain tied with 18 others. Other Indian players in the joint second place include Vidit Gujrathi, Vaibhav Suri, Adhiban Baskaran and R Praggnanandhaa. Viswanathan Anand is one spot further down the leaderboard with a score of 2.0/3.
Games of round 3
Standings (Top 20)
Links
---