The man who created six Indian grandmasters!
Many experts concur on the fact that India is in the process of becoming a super power in the world of chess. A lot of people and organizations including All India Chess Federation (AICF) have contributed to the growth of the sport in our country. While we all know the role played by R.B. Ramesh, India's national coach, in creating super talents, there is one person who is quietly uplifting the chess culture of the country. He is a grandmaster from Ukraine and he is responsible for creating six grandmasters from India! Know about this phenomenal coach who believes in strengthening the basics of each of his students.
Creating champion through sound chess coaching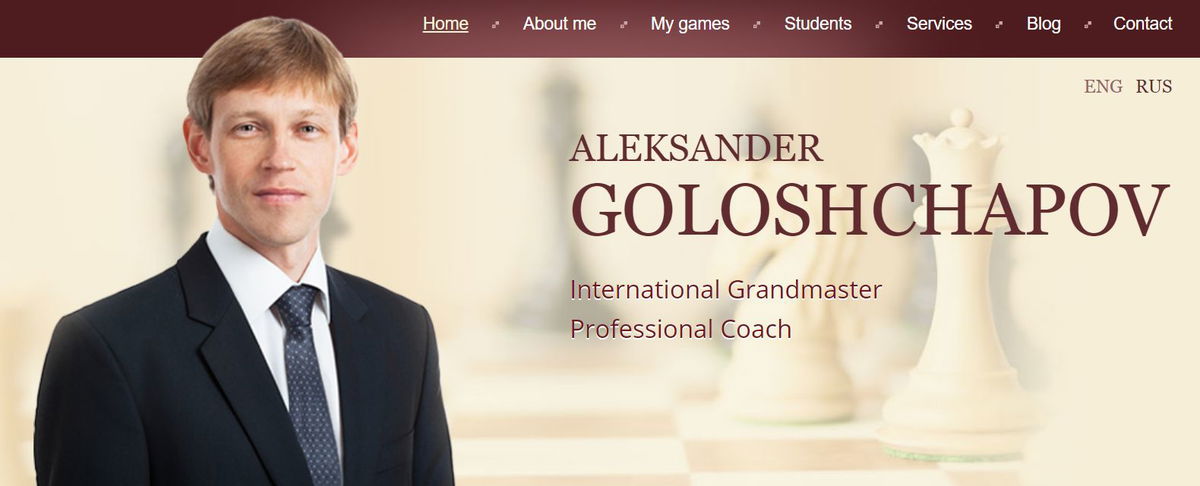 Grandmaster Aleksander Goloshchapov is a 30-year-old professional trainer from Ukraine. He has helped a number of Indian talents to become grandmasters. Some of his better known students are Parimarjan Negi and S.P. Sethuraman. Goloshchapov has been working with Indian talents for the past decade and has helped to create six grandmasters: Negi, Sethuraman, Suri, Rajpara, S.L. Narayanan and Shardul Gagare. ChessBase India's Jitendra Choudhary caught up with this phenomenal trainer and decided to know more about him.
" Coaching is not just a job for me this is something that gets my blood moving. I am full of enthusiasm, energy and motivation, and when I see that my student gets really motivated, energized and is seriously determined to work hard on chess, there is nothing more I can wish for." - Aleksander Goloshchapov
Note: This interview was conducted back in 2016 November when Women's Premier 2016 was in progress.
Jitendra Choudhary (JC): Are you a regular in India both as a player and as a coach?
Aleksander Goloshchapov (AG): It feels always great to come back to India. I came to India for the first time 16 years ago as a player. It was in Kolkata at the Goodricke open. Then I came once again to Kolkata for another event. But since 2006 I have been coming to the country only as a coach. My first coaching experience in India was with GM Parimarjan Negi. We worked together in 2006 and 2007 and he became a well known grandmaster - 2nd youngest in the history of the game. [ Ed - Now Negi is third after Nodirbek Abdusattorov recently broke his record]
JC: How is the current camp in Delhi going on?
AG: The camp here is going really well. I am working with mostly my personal students. One of the big results recently was Manish Cristiano Anto becoming the national under-11 champion in a group that was quite strong.
JC: In general how has been the experience of working with Indian students?
AG: I have worked with many Indian players and until now and it has been a great pleasure. I have created six grandmasters! Negi was the first one, second was Sethuraman. Then Vaibhav Suri, S.L. Narayanan, Ankit Rajpara and Shardul Gagare.
JC: Who has been your favourite student among these names?
AG: It is very difficult to chose a favourite. I like them all and work equally hard with all of them. But if you talk about talent, then I would say Parimarjan Negi, who was extremely bright event at the tender age of just 13 years. And also S.P. Sethuraman. He is a unique talent and his fighting spirit is simply outstanding.
JC: How do you view India evolving as a chess loving nation?
AG: You know, I am observing India's progress for the last 16 years. I can tell you that Indian chess has developed greatly since 2000. I see a systematic approach towards the development of chess in India. There are many tournaments of different levels, there are various chess academies. There is great interest and it is just growing!
JC: How should we popularize the game in the country and the world?
AG: Obviously, the more tournaments we organize, the better we utilize the resources. The more chess is supported at the state level, the more are the chances of it growing as a sport. And this is what you have in India unlike some of the European countries. It's not surprising that India is one of the leading countries in youth chess. Last year India won five gold medals. There are so many great talents. Everybody knows about the youngest International Master in the history of the game IM R. Praggnanandhaa. But there are many more and you will surely hear about them in the near future.
JC: What is your opinion about chess in schools in program?
AG: I am sure it will boost the game of chess. But in general I think it is an excellent contribution to the world of people. Chess develops very good qualities like focusing, hard work, ability to analyze things. I think as a whole chess makes people better human beings and it is very important.
JC: What is your advice to budding players who would like to become International Masters and grandmasters in chess?
AG: I can tell you from my experience which is developed by working with a lot of Indian players of different levels right from grandmasters to lower rated players. I see that Indian players are mainly tactical in nature. Even when you sometimes look at Batu's (Negi's) games and he is playing positional chess, the positional decisions he is making on the board is derived from tactical calculations. This is not effective. My role as a trainer is to give a strong foundation, strong basics. It makes decision making process more effective. It's not by chance that I prepared those six grandmasters and helped many IMs who had two GM norms or were missing a few rating points to reach their goal. It was only by strengthening their basics.
"Being a coach, my main priority is to help my student uncover his talent fulfilling his chess and personal potential. I do my best to develop student's responsibility and discipline, as well as determination and striving for victory. I strongly believe that mostly these personal traits create champions and successful people!" - Aleksander Goloshchapov
About the Author:
Jitendra Choudhary is a chess trainer in Delhi. He is originally from Madhya Pradesh, but shifted to Delhi to pursue his passion related to chess. He currently teaches students, works as an arbiter and would like to dedicate more time to being a chess journalist.
Jitendra's previous articles on ChessBase India:
From 1187 to 2219 in three years
"The atmosphere in Mumbai is not congenial to produce another GM"
---