Abhimanyu, Varshini and Indian team Golden at Asian University 2021
WGM V Varshini scored an unbeaten 7.5/9 to win Asian University Women's Championship 2021. She finished a half point ahead of the competition. Her win ensured the Indian Women's team winning a Gold too. The three remaining team members were - WGM Srija Seshadri, WIM Arpita Mukherjee and WIM P Michelle Catherina. GM Abhimanyu Puranik won the Asian University Men's Championship 2021 by scoring 7.5/9 and also finishing a half point ahead of the rest. His triumph also ensured another Gold for the Indian men. The other three members were - GM Arjun Kalyan, GM Karthik Venkataraman and IM Harikrishnan A Ra. Photo: Rupali Mullick and Shahid Ahmed
Four Golds for India
GM Abhimanyu Puranik, WGM V Varshini won the Men's and Women's section individually. They were also instrumental in the Indian Men's and Women's team clinching Gold at the same event. The entire tournament was played online on Tornelo. The women's event took place between 3rd and 5th September, the men's event was held from 10th to 12th September 2021.
Abhimanyu lost the third round game against IM Taher Yoseph Theolifus (INA). Then he made 4.5/5 to head into the final round sharing the lead with Liu Chang (CHN). Since he had already defeated Chang in the very first round, a win in the final round against IM Uurtsaikh Agibileg (MGL) cemented Abhimanyu's first place finish.
Varshini made a draw in the second round against WFM Batsaikhan Orgonsuvd (MGL). She gained sole lead 6.0/7 by defeating WIM Vesal Hamedi Nia (IRI) in the seventh round. She needed only a draw in the final round to become champion and that's exactly what she did.
The tournament was an individual, however same team members were not allowed to be paired against each other. Team results were calculated based on total scores of top four players in a team.
Men's Team
The Indian Men's Team comprised of GM Abhimanyu Puranik, GM Arjun Kalyan, GM Karthik Venkataraman and IM Harikrishnan A Ra. The team scored 24.0/36 to clinch Gold.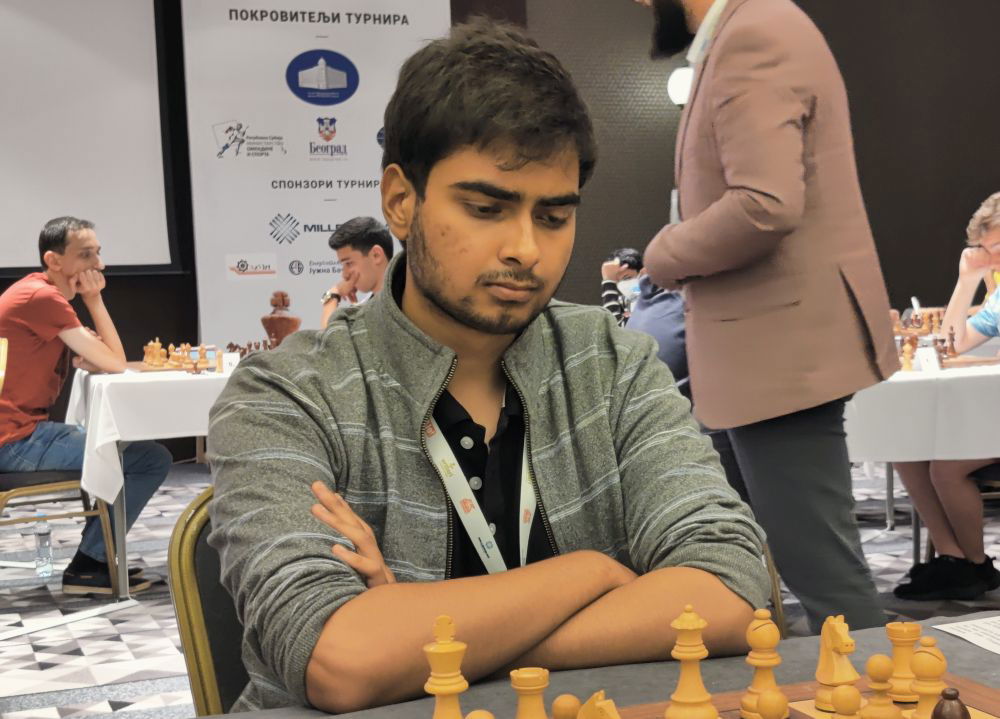 Women's Team
The Indian Women's team members were - WGM V Varshini, WGM Srija Seshadri, WIM Arpita Mukherjee and WIM P Michelle Catherina. The team scored 25.5/36.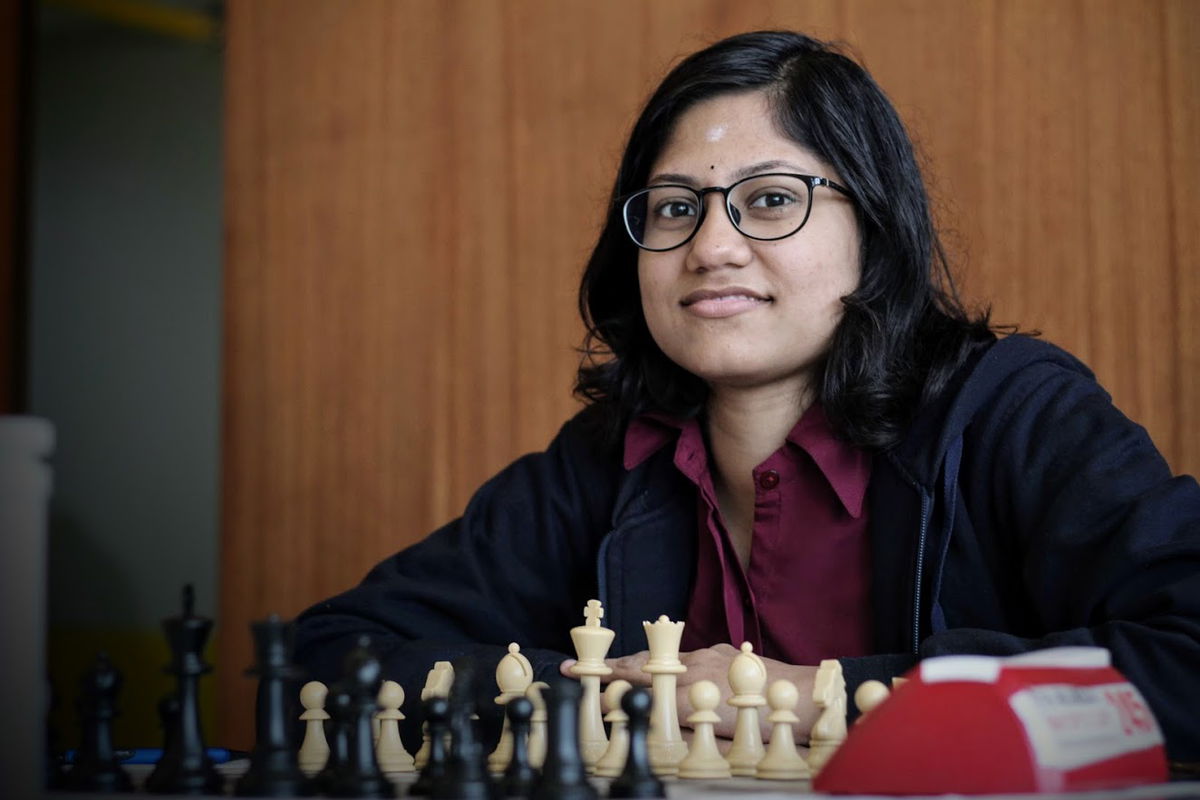 Replay all games of Men's section
Replay all games of Women's section
Final Standings in Men
| | | | | | | | | | | | | |
| --- | --- | --- | --- | --- | --- | --- | --- | --- | --- | --- | --- | --- |
| Rk. | SNo | | | Name | FED | Rtg | Pts. | TB1 | TB2 | TB3 | TB4 | TB5 |
| 1 | 1 | | GM | PURANIK Abhimanyu | IND | 2440 | 7,5 | 0,0 | 7 | 47,0 | 51,5 | 42,75 |
| 2 | 8 | | IM | YEOH Li Tian | MAS | 2345 | 7,0 | 0,0 | 7 | 41,0 | 44,5 | 33,50 |
| 3 | 26 | | | LIU Chang(Sd) | CHN | 1981 | 6,5 | 0,0 | 6 | 46,5 | 48,5 | 32,75 |
| 4 | 3 | | IM | MOUSAVI Seyed Khalil | IRI | 2404 | 6,5 | 0,0 | 5 | 46,5 | 50,5 | 34,25 |
| 5 | 6 | | IM | CHEN Qi B | CHN | 2359 | 6,5 | 0,0 | 5 | 45,0 | 49,5 | 33,75 |
| 6 | 10 | | IM | ARJUN Kalyan | IND | 2334 | 6,0 | 0,0 | 6 | 43,5 | 47,0 | 28,50 |
| 7 | 5 | | IM | ALI Muhammad Lutfi | INA | 2367 | 6,0 | 0,0 | 6 | 40,5 | 42,5 | 26,00 |
| 8 | 12 | | IM | TAHER Yoseph Theolifus | INA | 2295 | 6,0 | 0,0 | 5 | 46,0 | 49,0 | 30,00 |
| 9 | 4 | | IM | JAVANBAKHT Nima | IRI | 2381 | 5,5 | 0,0 | 5 | 48,0 | 53,0 | 29,75 |
| 10 | 19 | | | GHOLAMI ORIMI Mahdi | IRI | 2162 | 5,5 | 0,0 | 5 | 43,0 | 46,0 | 25,75 |
Final standings in Men Team
| | | | | | | | |
| --- | --- | --- | --- | --- | --- | --- | --- |
| 1st | India | 24,0 | 0,0 | 22 | 172,5 | 186,0 | 118,25 |
| 1 | GM PURANIK, Abhimanyu | 7,5 | 0,0 | 7 | 47,0 | 51,5 | 42,75 |
| 2 | IM ARJUN, Kalyan | 6,0 | 0,0 | 6 | 43,5 | 47,0 | 28,50 |
| 3 | GM KARTHIK, Venkataraman | 5,5 | 0,0 | 5 | 40,0 | 43,0 | 23,75 |
| 4 | IM HARIKRISHNAN.A.RA, | 5,0 | 0,0 | 4 | 42,0 | 44,5 | 23,25 |
| 2nd | Iran | 22,5 | 0,0 | 18 | 177,0 | 190,5 | 112,00 |
| 1 | IM MOUSAVI, Seyed Khalil | 6,5 | 0,0 | 5 | 46,5 | 50,5 | 34,25 |
| 2 | GHOLAMI ORIMI, Mahdi | 5,5 | 0,0 | 5 | 43,0 | 46,0 | 25,75 |
| 3 | IM KHODASHENAS, Mersad | 5,5 | 0,0 | 4 | 43,5 | 47,0 | 27,50 |
| 4 | FM KASHEFI, Amir Hosein | 5,0 | 0,0 | 4 | 44,0 | 47,0 | 24,50 |
| 3rd | Malaysia | 22,0 | 0,0 | 20 | 159,0 | 170,0 | 86,00 |
| 1 | IM YEOH, Li Tian | 7,0 | 0,0 | 7 | 41,0 | 44,5 | 33,50 |
| 2 | FM TEH, Eu Wen Aron | 5,5 | 0,0 | 4 | 38,5 | 40,5 | 18,75 |
| 3 | AHMAD NAZARI, Emir Rusyaidi | 5,0 | 0,0 | 5 | 42,0 | 45,0 | 19,00 |
| 4 | SIVANESAN, Subramanian | 4,5 | 0,0 | 4 | 37,5 | 40,0 | 14,75 |
Final standings in Women
| | | | | | | | | | | |
| --- | --- | --- | --- | --- | --- | --- | --- | --- | --- | --- |
| Rk. | SNo | | | Name | FED | Rtg | Pts. | TB1 | TB2 | TB3 |
| 1 | 6 | | WGM | VARSHINI V | IND | 1878 | 7,5 | 0,0 | 6 | 46,5 |
| 2 | 20 | | | GHANE Safoura | IRI | 1666 | 7,0 | 0,0 | 6 | 43,0 |
| 3 | 15 | | WFM | AZALI Tannaz | IRI | 1766 | 6,5 | 0,0 | 6 | 45,5 |
| 4 | 3 | | WGM | SRIJA Seshadri | IND | 2087 | 6,5 | 0,0 | 6 | 44,5 |
| 5 | 8 | | WIM | ARPITA Mukherjee | IND | 1837 | 6,5 | 0,0 | 6 | 40,5 |
| 6 | 7 | | WFM | TAN Li Ting | MAS | 1869 | 6,0 | 1,5 | 5 | 45,5 |
| 7 | 16 | | WIM | GHOLAMI ORIMI Anahita | IRI | 1759 | 6,0 | 1,0 | 4 | 39,0 |
| 8 | 19 | | WFM | FARUQ Afifa Ayyun | INA | 1684 | 6,0 | 0,5 | 5 | 43,5 |
| 9 | 1 | | WIM | FISABILILLAH Ummi | INA | 2182 | 5,5 | 0,0 | 5 | 46,5 |
| 10 | 12 | | WCM | NITHYALAKSHMI Sivanesan | MAS | 1796 | 5,5 | 0,0 | 5 | 46,5 |
Final standings in Women Team
| | | | | | | | |
| --- | --- | --- | --- | --- | --- | --- | --- |
| 1st | India | 25,5 | 0,0 | 22 | 173,0 | 187,5 | 127,50 |
| 1 | WGM VARSHINI, V | 7,5 | 0,0 | 6 | 46,5 | 51,0 | 42,50 |
| 2 | WGM SRIJA, Seshadri | 6,5 | 0,0 | 6 | 44,5 | 48,5 | 33,25 |
| 3 | WIM ARPITA, Mukherjee | 6,5 | 0,0 | 6 | 40,5 | 42,5 | 29,00 |
| 4 | WIM MICHELLE CATHERINA, P | 5,0 | 0,0 | 4 | 41,5 | 45,5 | 22,75 |
| 2nd | Iran | 25,0 | 1,0 | 21 | 169,5 | 178,5 | 116,50 |
| 1 | GHANE, Safoura | 7,0 | 0,0 | 6 | 43,0 | 46,5 | 36,75 |
| 2 | WFM AZALI, Tannaz | 6,5 | 0,0 | 6 | 45,5 | 46,0 | 30,25 |
| 3 | WIM GHOLAMI ORIMI, Anahita | 6,0 | 1,0 | 4 | 39,0 | 41,0 | 25,75 |
| 4 | WIM HAMEDI NIA, Vesal | 5,5 | 0,0 | 5 | 42,0 | 45,0 | 23,75 |
| 3rd | Malaysia | 21,0 | 1,5 | 19 | 167,0 | 179,0 | 96,00 |
| 1 | WFM TAN, Li Ting | 6,0 | 1,5 | 5 | 45,5 | 49,5 | 31,75 |
| 2 | WCM NITHYALAKSHMI, Sivanesan | 5,5 | 0,0 | 5 | 46,5 | 48,5 | 25,75 |
| 3 | WIM AZHAR, Puteri Munajjah Az-Zahraa | 5,0 | 0,0 | 5 | 37,5 | 40,0 | 20,50 |
| 4 | WFM AZHAR, Puteri Rifqah Fahada | 4,5 | 0,0 | 4 | 37,5 | 41,0 | 18,00 |
Links
---