Harikrishna leads 2-1 against Navara at the CEZ Trophy in Prague
It was going to be a 12 game rapid match between David Navara and Ding Liren in the capital of Czech Republic - Prague. However, Ding Liren met with an accident and injured his hip at the recently concluded Norway Chess. The organizers found a last minute replacement in India number two Pentala Harikrishna. Hari has recently shifted his base to Prague after marriage. On the first day, the Indian was clearly the better player as he scored a win and two draws to lead the match by a score of 2:1. We have the pictures, games and analysis in this report.
When Ding Liren fell off the bike in Norway and got his hip operated, the organizers of the CEZ Trophy in Prague were in a quandry. They had scheduled a 12-game rapid match between Ding Liren and their ace player David Navara. To find such a strong replacement for Ding Liren at the last moment was not going to be easy. But the organizers didn't have to look far! India number two Pentala Harikrishna has made Prague his base after he got married a few months ago.
Navara and Harikrishna are close friends. When Hari was knocked out of the World Cup 2017, instead of taking his flight back home, he decided to help Navara to prepare against Grischuk. The style of both the players is very different. While Navara likes to take risks and heavily depends on opening preparation, Harikrishna likes to play original chess and is more balanced as a player. Also, when it comes to calculations I think it is David who comes out ahead, but if we talk about positional feel, then Harikrishna seems to be the better player. All in all this 12 game rapid match (time control of 20 mins + 10 sec increment) was one that everyone looked forward to with great interest.
Game one:
Navara played the topical line in the Mikenas variation of the English. But Harikrishna soon got a fine position. White's error could well be his slow 16.Rc1. Hari was able to coordinate well and get a clear advantage. It was a pity that he couldn't convert it.
Game two:
If you are aware of the famous game Janowski-Capablanca, you will surely find some similar contours between that and Hari's game against Navara. Although, White (Hari) was always slightly better, it was not so easy to convert it into a full point. But Harikrishna maintained the pressure right until the very end and made his opponent err. Here's the game:
Just in case you were curious about the Janowski - Capablance game:
The move that really made it a famous game was Capablanca's retreating bishop manoeuvre: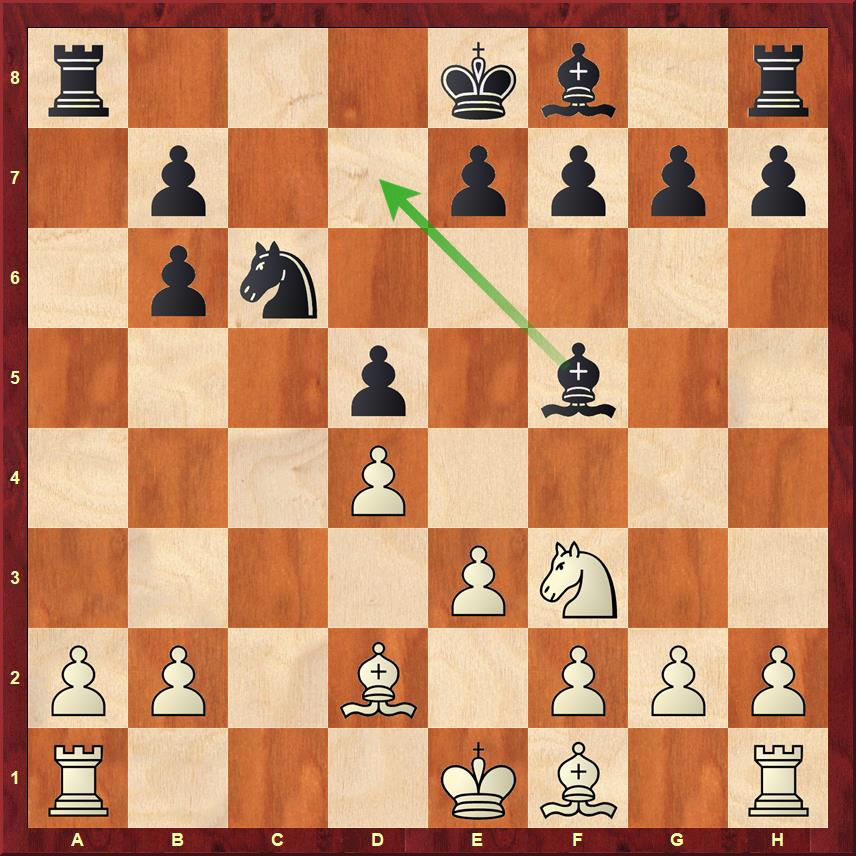 Game three:
The game was well fought and ended in a draw in the rook endgame.
Blitz tournament:
Final rankings of the blitz tournament:
Rk.
SNo
Name
FED
Rtg
Club/City
Pts.
TB1
TB2
TB3
1
1
GM
Navara David
CZE
2707
1. Novoborsky SK
10,0
0,0
81,5
5
2
3
GM
Laznicka Viktor
CZE
2658
1. Novoborsky SK
9,5
0,0
79,5
5
3
8
IM
Kriebel Tadeas
CZE
2374
1. Novoborsky SK
8,5
0,0
79,5
6
4
9
GM
Nguyen Thai Dai Van
CZE
2365
SK JOLY Lysa nad Labem
8,0
1,0
79,0
5
5
22
FM
Istona Martin
SVK
2202
Cizinci
8,0
0,0
71,0
5
6
4
GM
Michalik Peter
CZE
2656
Unichess
7,5
0,0
81,0
5
7
5
GM
Movsesian Sergei
ARM
2632
Cizinci
7,5
0,0
78,5
6
8
6
IM
Zwardon Vojtech
CZE
2488
Beskydska sachova skola z.s.
7,5
0,0
74,0
6
9
7
GM
Rasik Vitezslav
CZE
2414
SK HM Ostrava
7,5
0,0
70,0
5
10
12
IM
Trickov Vasil
CZE
2325
TJ Bohemians Praha
7,5
0,0
68,0
6
11
2
GM
Harikrishna Pentala
IND
2706
Cizinci
7,0
0,0
81,0
6
12
15
Dubansky Bohuslav
CZE
2264
TJ Bohemians Praha
7,0
0,0
77,0
5
13
17
Postupa Pavel
CZE
2236
TJ Praha-Pankrac
7,0
0,0
75,0
5
14
10
FM
Vlasak Lukas
CZE
2360
SK ZIKUDA Turnov, z.s.
7,0
0,0
74,5
5
15
21
Mladek Richard
CZE
2212
TJ Spartak Vlasim
7,0
0,0
72,5
5
16
47
Melich Jindrich
CZE
1890
TJ Praha-Pankrac
7,0
0,0
64,0
5
17
24
Pacovsky Jiri
CZE
2199
GROP Praha
7,0
0,0
61,5
5
18
11
IM
Javakhishvili Lela
GEO
2357
6,5
0,0
72,5
5
19
13
IM
Zvara Petr
CZE
2304
TJ Bohemians Praha
6,5
0,0
68,5
5
20
29
Janocko Petr
CZE
2108
SK Line
6,5
0,0
68,0
5
---