Record entries at the Gujarat State Rapid and Blitz 2018
Chess is booming just about everywhere in India. Gujarat which would witness around 50-100 entries for the State Rapid and Blitz selection, saw nearly 200 participants fighting it out for the title of the fastest player in the state. The work that Gujarat State Chess Association is doing at the grassroot level is surely bearing fruits. The winner of the blitz event was the young 14-year-old Vrandesh Parekh, while the rapid section was won by the experienced player from Vadodra Maulik Raval. We have the report of this entire tournament that was organized by ChessBase India Power.
ChessBase India Power recently organized (14th and 15th April) its first tournament in Ahmedabad under the aegis of Gujarat State Chess Association. It was the Gujarat State Rapid and Blitz Selection Tournament that saw a record number of 200 participants. Two players from each section were to be selected for the National Rapid and Blitz. The event was held at the Sports Club in Ahmedabad.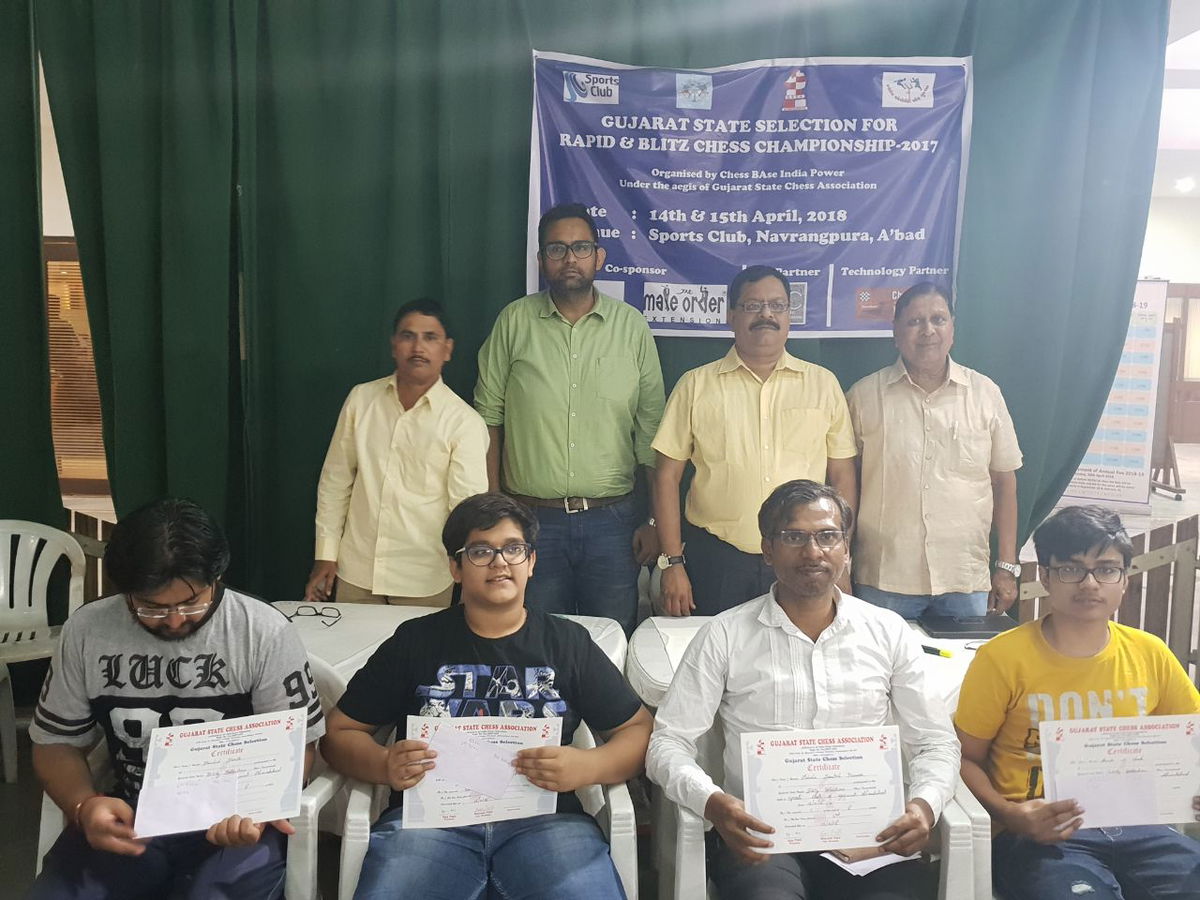 Final rankings in Rapid section
| | | | | | | | | | | |
| --- | --- | --- | --- | --- | --- | --- | --- | --- | --- | --- |
| Rk. | SNo | | Name | FED | Rtg | Club/City | Pts. | TB1 | TB2 | TB3 |
| 1 | 2 | | Maulik Raval | IND | 2038 | | 7,0 | 0,0 | 42,0 | 46,5 |
| 2 | 4 | | Anadkat Kartavya | IND | 1976 | BJP | 7,0 | 0,0 | 40,0 | 43,5 |
| 3 | 6 | | Trivedi Karan R | IND | 1909 | | 7,0 | 0,0 | 39,5 | 42,5 |
| 4 | 3 | | Bhatt Jalpan | IND | 2002 | | 7,0 | 0,0 | 39,5 | 42,0 |
| 5 | 53 | | Parekh Vishrut | IND | 1405 | | 7,0 | 0,0 | 37,5 | 40,0 |
| 6 | 79 | | Samdani Sahil Sagar | IND | 1270 | | 6,5 | 0,0 | 41,0 | 44,5 |
| 7 | 1 | | Sinha Santosh Kumar | IND | 2188 | | 6,5 | 0,0 | 39,5 | 43,0 |
| 8 | 11 | | Ansh M Shah | IND | 1790 | | 6,5 | 0,0 | 38,0 | 41,5 |
| 9 | 57 | | Mehta Naitik R | IND | 1376 | | 6,5 | 0,0 | 36,0 | 39,0 |
| 10 | 31 | | Bardoliwala Nirmal | IND | 1514 | | 6,5 | 0,0 | 32,0 | 35,0 |
| 11 | 14 | | Chudasama Ankit | IND | 1755 | | 6,0 | 0,0 | 39,0 | 43,0 |
| 12 | 5 | | Rawal Shailesh | IND | 1936 | | 6,0 | 0,0 | 37,0 | 40,5 |
| 13 | 37 | | Bhrigu Suryanarayan | IND | 1466 | | 6,0 | 0,0 | 37,0 | 40,5 |
| 14 | 33 | | Trivedi Jindal | IND | 1503 | | 6,0 | 0,0 | 36,5 | 38,5 |
| 15 | 10 | | Patel Nishrut R | IND | 1805 | | 6,0 | 0,0 | 35,5 | 39,0 |
| 16 | 18 | | Pritesh Mehta | IND | 1626 | | 6,0 | 0,0 | 35,5 | 37,0 |
| 17 | 42 | | Thakkar Romil J | IND | 1453 | | 6,0 | 0,0 | 35,5 | 36,5 |
| 18 | 51 | | Mudaliar Nandini | IND | 1414 | | 6,0 | 0,0 | 35,0 | 37,5 |
| 19 | 62 | | Shah Vandan P | IND | 1362 | | 6,0 | 0,0 | 34,5 | 37,0 |
| 20 | 19 | | Dhanesha Jignesh | IND | 1622 | | 6,0 | 0,0 | 34,5 | 36,5 |
Final rankings in blitz section:
| | | | | | | | | | | |
| --- | --- | --- | --- | --- | --- | --- | --- | --- | --- | --- |
| Rk. | SNo | | Name | FED | Rtg | Club/City | Pts. | TB1 | TB2 | TB3 |
| 1 | 44 | | Vrandesh Parekh | IND | 1480 | | 7,5 | 0,0 | 35,5 | 37,5 |
| 2 | 29 | | Panchal Parth | IND | 1577 | | 7,0 | 1,0 | 39,0 | 42,0 |
| 3 | 1 | | Sinha Santosh Kumar | IND | 2161 | | 7,0 | 0,0 | 38,5 | 42,5 |
| 4 | 11 | | Ansh M Shah | IND | 1790 | IG | 6,5 | 0,0 | 41,0 | 44,0 |
| 5 | 5 | | Trivedi Karan R | IND | 1909 | IG | 6,5 | 0,0 | 37,5 | 40,5 |
| 6 | 27 | | Joy Pankaj Shah | IND | 1590 | IG | 6,5 | 0,0 | 34,5 | 37,0 |
| 7 | 4 | | Anadkat Kartavya | IND | 1976 | | 6,0 | 0,0 | 40,5 | 44,0 |
| 8 | 59 | | Babaria Rahil Pareshbhai | IND | 1409 | IG | 6,0 | 0,0 | 39,5 | 41,5 |
| 9 | 8 | | Patel Palak | IND | 1825 | | 6,0 | 0,0 | 38,0 | 40,0 |
| 10 | 25 | | Dhanesha Jignesh | IND | 1622 | | 6,0 | 0,0 | 36,0 | 39,5 |
| 11 | 7 | | Rawal Shailesh | IND | 1883 | | 6,0 | 0,0 | 35,5 | 39,5 |
| 12 | 21 | | Lumbhani Nikhil P | IND | 1652 | | 6,0 | 0,0 | 34,0 | 37,5 |
| 13 | 124 | | Kartik Bhatt | IND | 0 | | 6,0 | 0,0 | 33,5 | 37,0 |
| 14 | 22 | AFM | Ankit Dalal | IND | 1643 | | 6,0 | 0,0 | 33,0 | 35,0 |
| 15 | 31 | | Mudaliar Nandini | IND | 1565 | | 6,0 | 0,0 | 32,5 | 35,5 |
| 16 | 9 | | Saumil Nair | IND | 1804 | | 6,0 | 0,0 | 31,0 | 34,5 |
| 17 | 35 | | Shah Moxit J | IND | 1536 | | 6,0 | 0,0 | 31,0 | 33,5 |
| 18 | 18 | | Samdani Sahil Sagar | IND | 1713 | IG | 6,0 | 0,0 | 30,0 | 33,0 |
| 19 | 2 | | Maulik Raval | IND | 2089 | IG | 5,5 | 0,0 | 39,5 | 43,5 |
| 20 | 94 | | Patel Jaymin J | IND | 1115 | | 5,5 | 0,0 | 37,0 | 40,5 |
Coverage in newspapers:
The tournament received excellent coverage in the printed media:

---