Gujarat GM Open R8: Vignesh catches Stany in the lead!
After round 7, it seemed IM Stany GA would cruise to the title with a full point's lead over his nearest rival. But the antepenultimate round made some drastic changes to the tournament situation. Stany lost with the white pieces to IM Vignesh NR. Now, as many as 10 players have the possibility of catching up in the tournament lead. But despite his loss, Stany's stupendous run so far has ensured him his second GM norm, with a round to spare. The top board victor, IM Vignesh NR also scored his third Grandmaster norm with his win over Stany. Vignesh only needs to cross Elo 2500 now to become a Grandmaster.
One loss and two norms!
The antepenultimate round of the 1st Gujarat International Grandmaster Open was a big day for the tournament leader, GA Stany. Had he won his game, he would almost have sealed the tournament title to his name. More importantly, he was also inching closer to his final Grandmaster norm.
Stany's performance so far had been strong enough to make even the top-rated GMs in the fray envious. He had won all of his first seven games and had even beaten the top seed of the tournament, GM Martyn Kravtsiv in the previous round.
Compared to Stany's previous round opponent, his current round pairing looked easier. He was playing IM Vignesh NR, the twentieth seed of the tournament, in round 8. This was, in itself, quite unusual and just goes on to show the potential of the young Indian players. In a field that comprised of several strong Grandmasters, two young International Masters were playing on the top board, one of whom was a full point ahead of the field!
Stany's chances looked brighter in the top board matchup of the penultimate round, especially since he had won all of his games so far. Vignesh, on the other hand, had also played extremely well so far. In his eight games, he had also remained unbeaten. The only difference was that Vignesh had drawn two of his games.
So, all things considered, Stany was the slight favourite. But the game painted a different picture altogether. In a Sicilian Najdorf, Stany mixed up some lines of his preparation and gave his opponent a decisive advantage right out of the opening.
Vignesh plunged in immediately with an exchange sacrifice and generated a strong attack on the white king. Stany managed to save his king from being checkmated but had suffered a decisive material deficit.
Despite his loss, however, Stany had a lot to be happy about. His phenomenal run in the previous rounds had finally paid off. When the pairings of the final round were out, Stany was pitted against Alexandr Predke. This meant that the 26-year-old from Shimoga was assured his final GM norm, no matter what the result. This is Stany's second GM norm. Since he has already breached the 2500 Elo threshold, he only needs one more GM norm to earn his Grandmaster title!
Vignesh, who won the game, also has two reasons to be happy. Having defeated Stany, Vignesh has managed to catch up with the tournament leader and will be fighting for the top spot in the final rounds. And more importantly, with his win, he, too, has completed his third GM norm with a round to spare!! All he needs now is 31 rating points more to reach the GM title. Although his current rating is 2447, he has already gained 22 points so far in the tournament.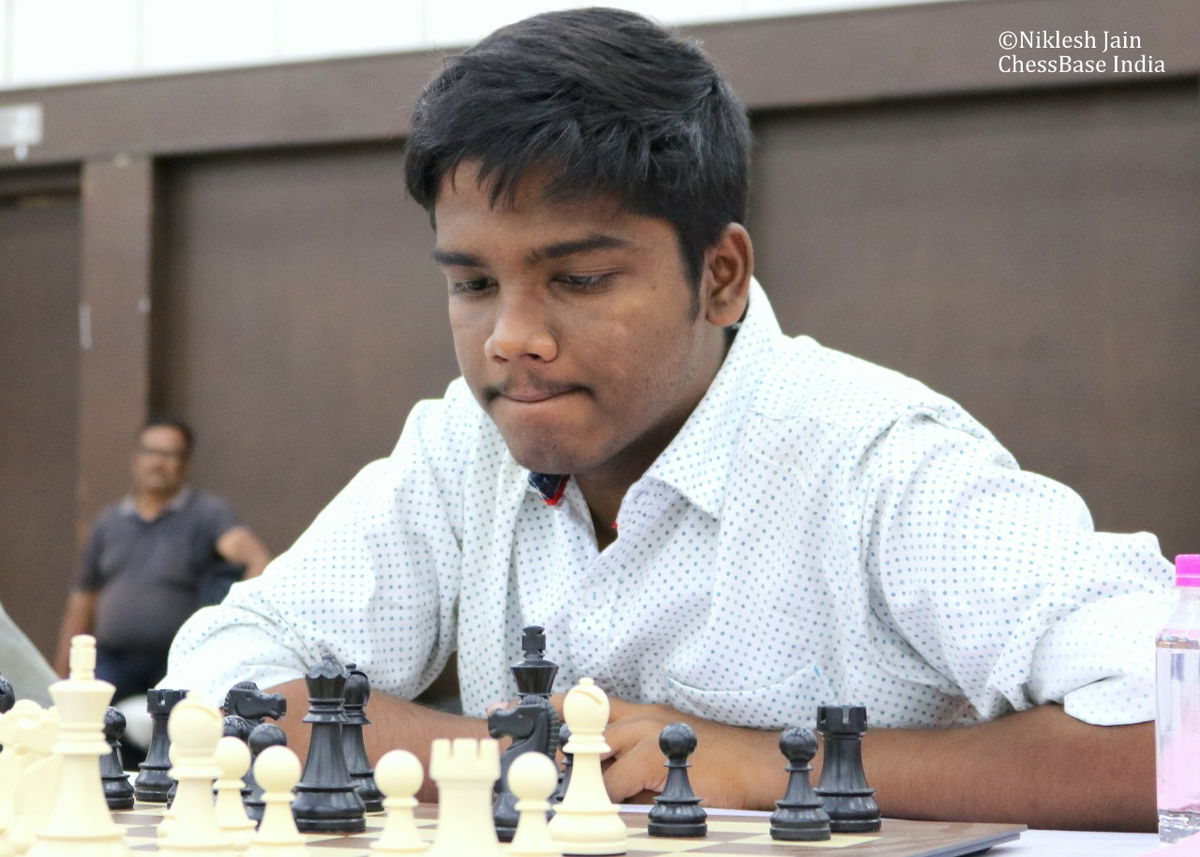 The three players who were behind Stany along with Vignesh – Vitaliy Bernadsky, Karthik Venkatraman and Vitaly Sivuk – all drew their games and are now half a point behind the leaders. Their draws also allowed five more players – Martyn Kravtsiv, Harsha Bharathakoti, Levon Babujian, Alexandr Predke and Valeriy Neverov – to join in on the second spot.
Venkatraman and Vitaly Sivuk were pitted against one another in the eighth round and agreed to a rather tepid draw. Karthik had played his favourite 1.b3 yet again. Bernadsky managed to equalize rather easily out of the opening. Queens were exchanged by the 20th move and even though Karthik had a space advantage, it did not give him enough to bite on.
Also, the closed pawn center hardly allowed either side to breach into the enemy lines. The endgame that ensued saw players some piece manoeuvring but it hardly led either side anywhere. Players decided to sign the truce by move 48.
On board five, WIM Michelle Catherina P had GM Alexandr Predke on tightropes in a sharp Sicilian Scheveningen. Deploying the Keres attack, Michelle gave up her knight on d5 on the 15th turn and drifted the game into extremely sharp waters.
By the 19th move, Michelle was had even reached a winning position, but an inaccuracy on the crucial moment brought the position back to the bedlam it was. A long series of exchanges that ensued, left Predke an exchange down in the endgame.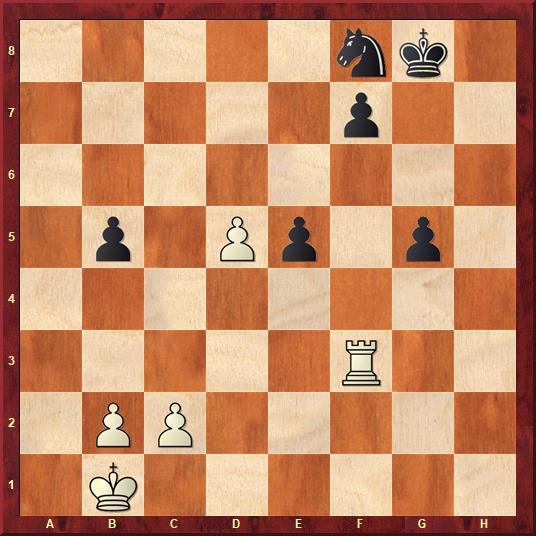 But in the spirit of the middle game that had preceded it, the endgame was also pretty complicated. By this point, both players were down to their last minutes. On her 42nd move, Michelle's nerves gave in. She missed a knight fork and gave her opponent the full point on a platter.
Meanwhile, Harsha Bharathakoti put up a herculean effort to win his game against Rahul Srivasthav. The Trompovsky Attack had given neither side any chance to attain an advantage. By the 25th move, the game had reached a rook endgame that seemed to be a definite draw. But Harsha played on and left no stone unturned to find a win.
Here the only problem with Black's position is the c6 pawn. With only one weakness to defend, Black seems to hold good chances to hold to a draw. But Harsha kept up the pressure throughout and outfoxed his opponent, no matter how many zeroes the computer screen displayed. By the 60th move, Harsha had won two pawns and, ten moves later, had forced resignation.
After the results the eighth round has brought, the tournament is wide open. As many as ten players will be trying to push their way past the crowd to the top of the leaderboard.
Standings after round 8 (Top 10)
| | | | | | | | | | | | | | | | |
| --- | --- | --- | --- | --- | --- | --- | --- | --- | --- | --- | --- | --- | --- | --- | --- |
| Rk. | SNo | | | Name | Typ | sex | FED | Rtg | Club/City | Pts. | TB1 | TB2 | TB3 | TB4 | TB5 |
| 1 | 20 | | IM | Vignesh N R | | | IND | 2447 | TN | 7,0 | 1,0 | 39,5 | 43,0 | 36,75 | 6 |
| 2 | 12 | | IM | Stany G.A. | | | IND | 2502 | KAR | 7,0 | 0,0 | 41,5 | 45,5 | 38,50 | 7 |
| 3 | 1 | | GM | Kravtsiv Martyn | | | UKR | 2654 | UKR | 6,5 | 0,0 | 40,0 | 43,5 | 33,25 | 6 |
| 4 | 13 | | IM | Harsha Bharathakoti | | | IND | 2492 | TEL | 6,5 | 0,0 | 39,5 | 43,5 | 34,25 | 6 |
| 5 | 9 | | GM | Sivuk Vitaly | | | UKR | 2545 | UKR | 6,5 | 0,0 | 39,5 | 43,5 | 31,50 | 6 |
| 6 | 7 | | GM | Bernadskiy Vitaliy | | | UKR | 2547 | UKR | 6,5 | 0,0 | 39,0 | 43,5 | 34,50 | 5 |
| 7 | 17 | | GM | Babujian Levon | | | ARM | 2456 | ARM | 6,5 | 0,0 | 39,0 | 43,0 | 33,75 | 6 |
| 8 | 3 | | GM | Predke Alexandr | | | RUS | 2615 | RUS | 6,5 | 0,0 | 38,5 | 41,5 | 33,75 | 5 |
| 9 | 14 | | GM | Neverov Valeriy | | | UKR | 2488 | UKR | 6,5 | 0,0 | 38,0 | 42,0 | 32,25 | 6 |
| 10 | 10 | | IM | Karthik Venkataraman | | | IND | 2525 | AP | 6,5 | 0,0 | 35,5 | 38,5 | 30,25 | 5 |

Links
---