Pairings for FIDE Women's World Championship 2018 revealed
FIDE Women's World Championship 2018 is going to be held from 1st to 25th of November in the town of Khanty-Mansiysk in Russia. It will overlap with the World Championships match between Fabiano Caruana and Magnus Carlsen. The winner of this tournament will be declared as the new Women's World Champion. Four Indians have qualified for this event. They are Koneru Humpy, Dronavalli Harika, Padmini Rout and Bhakti Kulkarni. Harika qualified based on her last year's performance, Humpy got the FIDE wild card, Bhakti was the Asian Champion in 2016 and Padmini has been the reigning national champion. Round 1 pairings were revealed a day ago. Photo: Amruta Mokal and Niklesh Jain
Humpy will start as the second seed
Humpy's best performance was in 2011 when she fought for the Women's World Championship against Hou Yifan, which she lost. But that was a match format. In the first round of 2018 FIDE Women's World Championship, Humpy will face WIM Hayet Toubal Nedjar of Algeria. The rating difference is over 700. Humpy should not have any difficulty in the first round.
Dronavalli Harika is someone who has always performed well at the Women's World Championship, just like her compatriot Humpy. She performed above par at Batumi Chess Olympiad 2018 too. With her current form being excellent, Harika is definitely going to be a tough opposition for anyone to overcome. In the first round, she will face IM Sopiko Khukhashvili of Georgia. With a rating difference of 200 Elo points, this will be a much closer match than Humpy's .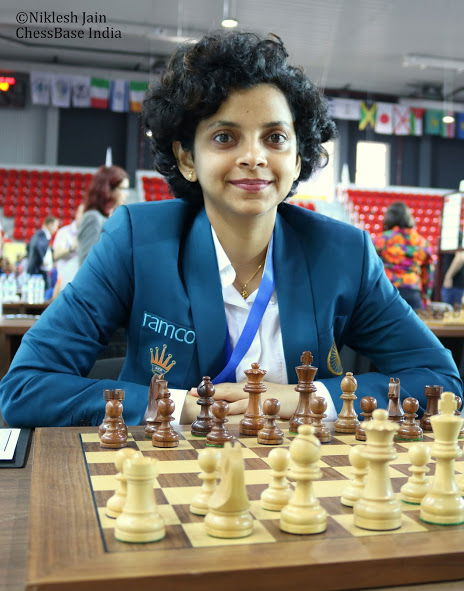 Padmini Rout is known for her fighting spirit and never-say-die attitude. This will be her second appearance at Women's World Championship. In her first attempt, she qualified to the Round of 16 and lost to the eventual champion of the tournament, Tan Zhongyi. She finished strong at the Olympiad with a score of 5.0/7 and only one loss. Her first round opponent is world no.1 in under-18 age group, Zhansaya Abdumalik of Kazakhstan. This will not be easy for Padmini, but then she never likes it easy, does she!
Bhakti Kulkarni qualified for FIDE Women's World Championship by winning Asian Women's Championship in 2016 in Tashkent, Uzbekistan. She will be making her World Championship debut in this event and face Russia no.5, Natalija Pogonina in the first round. Bhakti is not the favuorite here, but you never know. With her surprise opening weapons, she can trick the best.
First round pairing of Indian players:
Koneru Humpy - WIM Toubal Hayat (1852)
Harika Dronavalli - IM Khukhashvili Sopiko (2301)
WGM Pogonina Natalija (2485) - Bhakti Kulkarni
IM Zhansaya Abdumalik (2482) - Padmini Rout
Who do you think will become Women's World Champion? Which player are you supporting the most? Let us know in the comments section below.
---