They opened my eyes!
IM Sagar Shah spent ten days with the 14 best visually challenged players of Indian chess at the Blind National Championship that was held one month ago in Mumbai. The readers of ChessBase India contributed to this event via crowdfunding and with that money the tournament was organized in the best possible manner. We brought to you many reports from the venue, but there were a lot of things that remained behind the scenes. In this article Sagar narrates these expriences. Top five players of Indian blind chess will be representing our country at the World Team Championship in July and for that we will need your help once again. This time not in money, but in kind!
The room was pitch dark as he opened the door. I couldn't see a thing, while he easily navigated his way through the room. He picked up his mobile and dialed a number using Android's accessibility tool. Soundarya is 100% blind chess player. Lights or the lack of it didn't make any difference to him. But for me, my abilities were greatly hindered. "I am sorry, I forgot," said Soundarya as he switched on the light for me. "I am used to the dark." I had come to drop him to his room. "Alright, Soundarya take some rest. I will go down and see the remaining games." As I left the room Soundarya stood in the corner. He was trying to concentrate on the sound of the door closing. I stood there for a while, and he could sense that I was still in the room. Sound was the only way in which he could understand about my presence. I closed the door firmly letting him know that I had left. It was just a normal act of dropping a blind person to his room, but this five-minute experience changed my perception towards things. When we were outside. I was the one who was sighted while Soundarya was blind. I was helping him avoid any unwanted collisions. Once inside the room, where it was pitch dark, the roles had been reversed. Who really was blind there? Who really was disabled!
When Amruta and I finished the Chennai Open we had an option to go to Bhubaneshwar to cover top players of Indian chess Ganguly, Adhiban, Padmini, Viji, Eesha, Tania etc. at the National Team Championship 2018 or go to Blind national Premier in Mumbai. We made up our mind to go for the latter event. I always wanted to know more about the blind players and the way they played chess. Hence, we decided to stay at the same place where all the other players were given accommodation - Andheri Sports Complex. I learned of things by simply observing these 14 players for ten days. Here I share some of them with you.
Blindness is of two types: Full and partial, and you can further segregate it as from birth or not from birth. I got the feeling that people who are blind from birth have an easier time accepting the fact that they are blind than those who could see at some point in their life and later became blind. The first category of people haven't seen what it is like to have vision, while the second category know that they have lost something. Taking all of this into consideration, I think the achievements of Charudatta Jadhav are simply fantastic. He is the president of AICFB and IBCA (International blind body akin to FIDE), Ph.D in Computer Science and heads nearly 2000 people in TCS. How does he do it? Charudatta attributes his success to impeccable planning and prioritization. Charudatta began losing his sight when he turned 13. At the age of 20 he became totally blind. A young and active boy who played cricket, kho kho and other sports with his friends was now relegated to a life of passivity. How was he going to surmount these difficulties? It seemed impossible. That's when chess came into Charudatta's life. He started learning and getting better at the game. With consistent practice and hard work he began beating sighted players. Beating sighted players at something helped him regain his confidence in life and the result is here for all of us to see. The second innings of Jadhav's life was propelled thanks to our beautiful game.
Sometimes you see blind chess players walking around and you think to yourself, are they really blind? They can walk around confidently and don't seem to collide into anything. I got firsthand experience of this when I reached Andheri Sports Complex. Gaurav Gadodia one of the participants was going to come and take me to the room. When I saw a young man coming from a distance dressed in formal wear, I thought it would be Gaurav. He was walking just like any normal sighted person would. I waved to him, but he just went past me. "Ah it wasn't him", I thought to myself. Within a minute Gaurav comes back and asks me, "Are you Sagar?" That's when I realized that most of the partially blind people cannot see the details. They walk confidently because of years of practice and also because they can see the outline of individuals that are close to them. But when it comes to details like waving hands, they are unable to see it.
The playing hall was a table tennis room. The Premier Championship was about to begin in less than 18 hours and there were absolutely no preparations made. The players themselves got rid of all the unneccessary things and started arranging the tables with the clock and boards. For the blind players their organization consists of fellow blind players. Complaining to them is like talking ill about your own brethren. Hence, you could see them not cribbing about anything. Be it food, room issues, playing hall or noise outside, they simply took everything in their stride. Senior players like Swapnil Shah, Shirish Patil, Gaurav Gadodia made all the arrangements in the playing hall along with chief arbiter Manjunath.
Great sportsmanship was on show once the games began. After the game ended the loser usually congratulated the winner with a smile. From just watching their expressions, it was simply impossible to understand who had won the game and who had lost it. After that, they would analyze their game and try understand if there was something obvious that they had missed. Slowly they would move outside hall, sometimes holding hands and the player with more vision would take the other one to his room! There was no rivalry, no enmity and absolutely no hard feelings.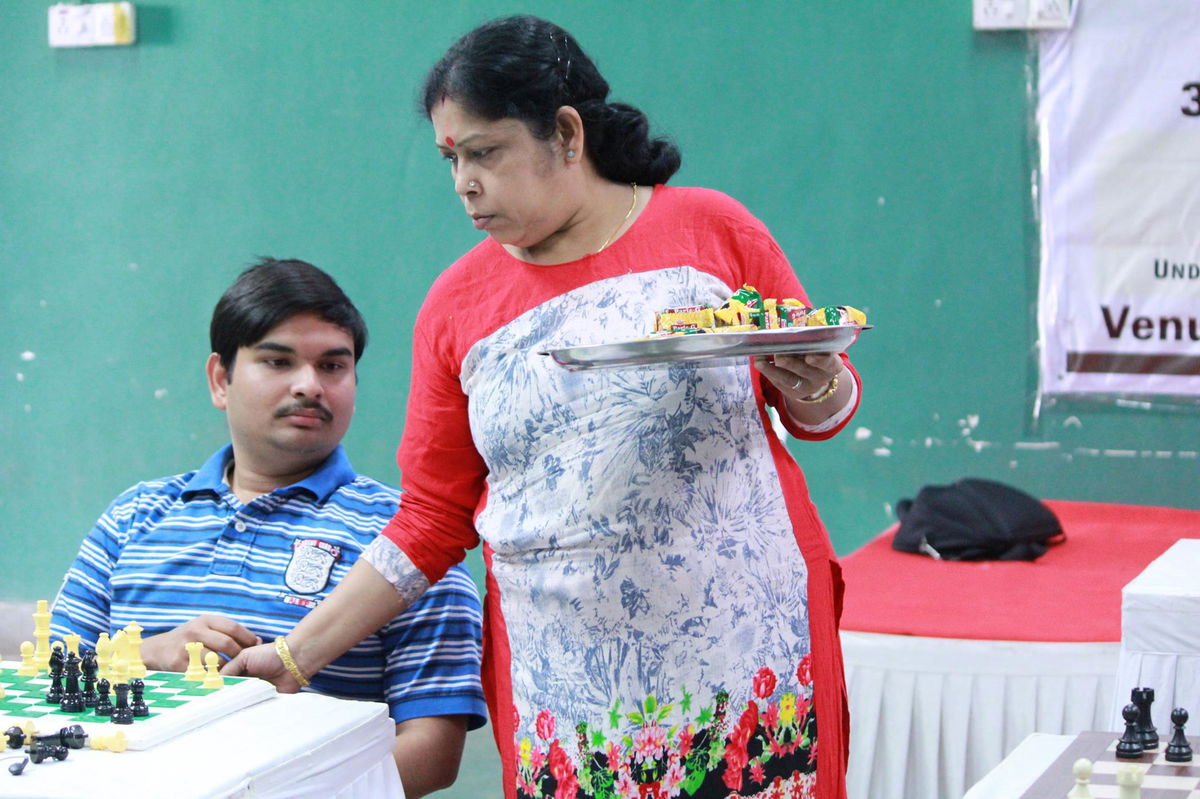 The blind players believe in hard work and giving 100% to whatever they do. The reason is simple - if there is a job vacancy for one person and two apply for it - one is sighted, the other is blind and if their talents are equal who do you think will get the job? Surely the one who can see. Hence, blind people have to go the extra mile to be better than their sighted counterparts. And somehow I started to believe that they were much more capable than sighted people. Their focus was extremely high, distractions were less. Once they put their mind to something they master it at all costs. The only thing lacking for them are opportunities. They do not need our sympathy, they need opportunities.
When I would ask them for an interview, they would be excited. It was perhaps the first time that they were getting the limelight that they deserved. They would rehearse what they were going to say on record. Every little thing meant a lot to them. When they spoke you could feel that they spoke with their heart.
Kishan Gangolli, five-time national champion, has a current Elo of 1996. I think his level of play is beyond 2200 in general. The only thing stopping him is the lack of opportunities to play in sighted events and compete with the best. If given the right backing I am sure his rating will shoot up. That's true for just about any blind player in the country. They lack opportunities - good tournament, good training and in general the right direction. At a crucial moment in their lives they have to choose between their passion (chess) and a career option. A lot of excellent talents have been lost because of the lack of opportunities.
I also realized that each one of them had big dreams. They wanted to fulfill them, but all they needed was some support. They were ready to walk 99 steps, if someone would take that one step from the opposite side! That's why many of them felt a fresh wind blowing in their sails after the national premier thanks to the support received from the general chess audience.
Getting to meet Vishy Anand was the highlight of the event for all the players. Each one of them was excited beyond words. They spoke nothing to Vishy when they met him, but the smile was intact for the entire duration and many hours after they met him! Even the smallest of things makes them happy!
You might have noticed that I have called the players blind in the entire article. I am not insensitive, I could have used terms like visually challenged or visually impaired. But I did not. That's because I had asked each of the players whether calling them blind offends them and none of them really had an issue. "It's more important to have respect for us in the true sense. We are blind and calling us blind doesn't offend us in any way."
World Team Championship 2018
The top five players of the National Premier 2018 have been selected for World Team Championship 2018 in Bulgaria from the 20th to 31st of July 2018. Top 16 countries of the world in blind chess will be participating in this event. Poland and Russia have International Masters in their team. India is an underdog, but I think our team consisting of Kishan Gangolli (1981), Ashvin Makwana (1807), Soundarya Pradhan (1786), Aryan Joshi (1816) and Subhendu Patra (1604) has an excellent chance.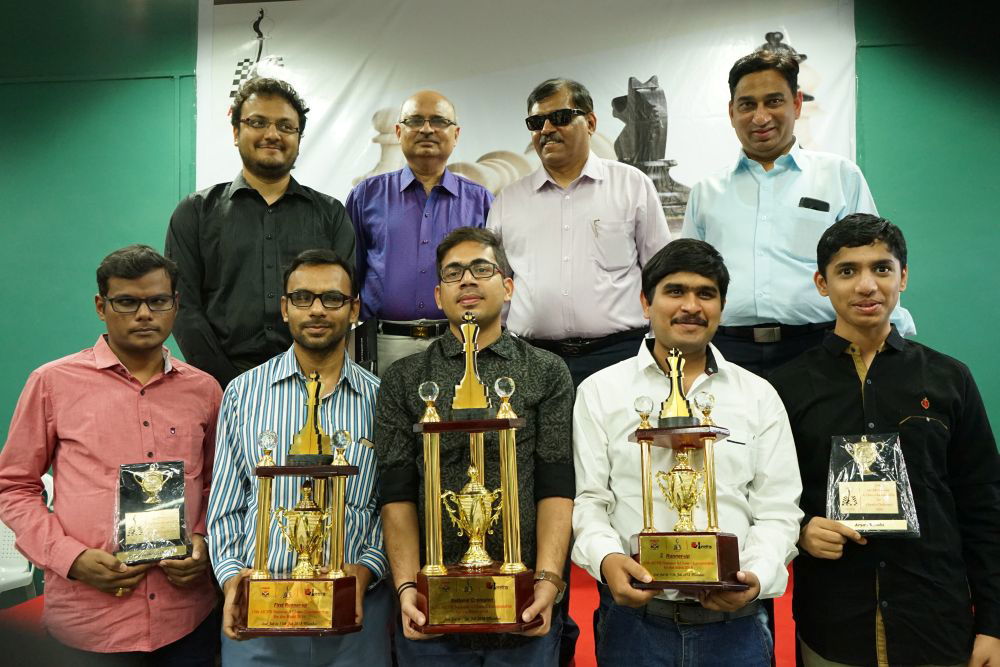 The last time we asked the chess community to come ahead and help us organize the blind national premier, the response was beyond our expectations. We received 119 contributors and the total collection was Rs.5,73,053. Once again we call for your help. This time not financially, but to support our team for the World Team Championship 2018.
How can you contribute?
1. If you are an organizer you can give a free entry to these players along with boarding and lodging facilities if possible.
2. If you are a strong player/coach then you could spare some time from your schedule and train one of these players.
3. If you a chess player, not very strong, you can record content from popular books in audio format for the players. This is not illegal and will be used only for the benefit of blind players. There are certain rules to be followed. If you are interested let us know and we will brief you about the same.
If you are interested in any way to help the Indian blind team for the World Team Championship 2018, write to use at chessbaseindia@gmail.com. Amruta, I and ChessBase India will be helping these players in every possible way we can. We need your support.
Videos:
---