European Online Club Cup 2021 Playoffs: Vidit anchors Novy Bor to the Final stage
Novy Bor advanced to the Final stage of European Online Club Cup 2021 as they finished second in Group B of Playoff stage. The team made three draws and scored two wins to finish second in their group with 7.0/10. Vidit scored the highest for his team with an unbeaten 3.5/5. Navara and Wojtaszek scored 3.0/4 and 3.0/5 respectively. Sasikiran made 1.5/2, Harikrishna and Markus Ragger had a hard time with 0.5/2. Novy Bor will be one of the ten teams to play the Round-Robin Finals starting tonight from 6 p.m. IST.
Novy Bor remain undefeated as a team
Harikrishna had a hard time in the Playoffs as he managed to score only 0.5/2. Vidit scored the highest for his team, an unbeaten 3.5/5. David Navara and Sasikiran also remained undefeated. They scored 3.0/4 and 1.5/2 respectively. Radoslaw Wojtaszek scored an important 3.0/4, while Markus Ragger scored 0.5/2. Novy Bor advanced to the Final stage .with a score of 7.0/10, finishing second after Odlar Yurdu 8.0/10. SF Deizisau e.V. is the other finalist from Group B in the Playoffs who also scored 7.0/10.
Novy Bor - SF Deizisau e.V. : 2-2
Vidit started his Playoffs with a victory over Germany no.1 GM Matthias Bluebaum.
Vidit - Bluebaum, Round 1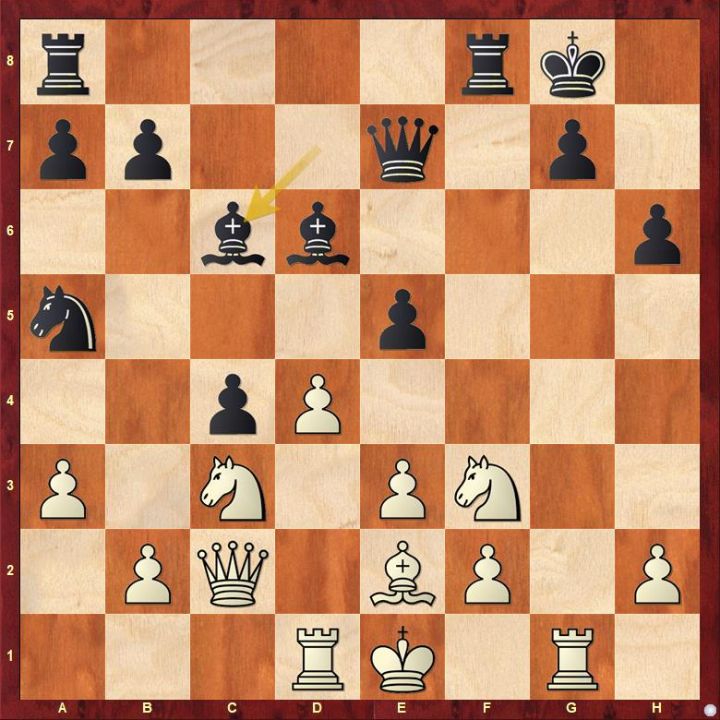 19...Bc6 dooms the position for black. The game continued with 20.dxe5 Bxe5 21.Nxe5 Qxe5 22.Qg6 Qf6 23.Qxf6 Rxf6 24.Nd5 Rf7 25.Bh5 and it's all over for black.
Sasikiran had an uneventful draw with GM Vincent Keymer.
Novy Bor - Odlar Yurdu: 2-2
Harikrishna had a winning chance in the endgame against Mamedyarov but he overlooked it.
Harikrishna - Mamedyarov, Round 2
White had only one chance in the entire endgame and it was after 31...Kd7. Find out the winning plan for white here.
GM Gadir Guseinov held Vidit to a draw.
Greco-Notary Chess Team - Novy Bor: 1-3
Harikrishna made an incorrect recapture when he lost an exchange and things went downhill from there.
Kryvoruchko - Harikrishna, Round 3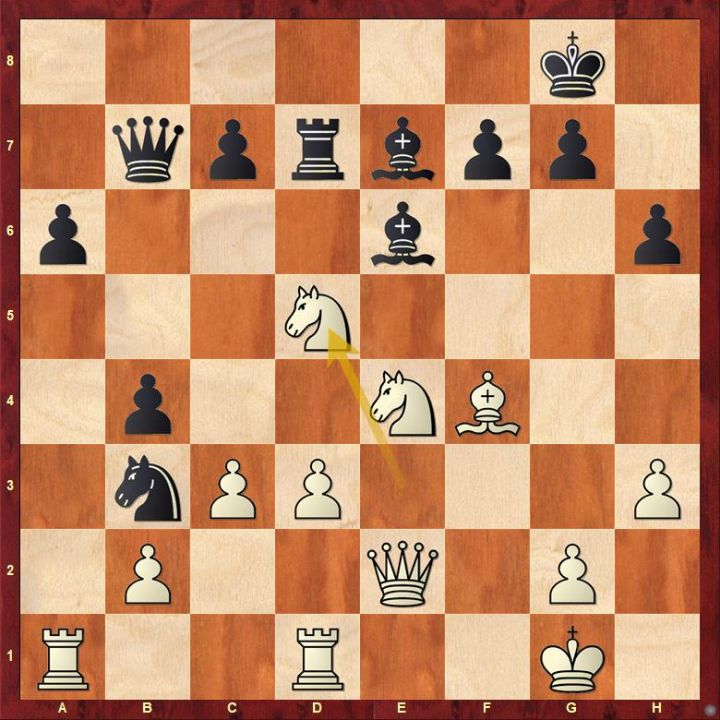 Black lost an exchange with 26.Nxd5. What is the correct way to recapture? After a prolong battle Harikrishna lost the game.
Vidit beat GM Pavel Eljanov in 29 moves. It seems like Eljanov's last move was a mouse slip as he dropped the bishop a square early and lost an exchange which caused him to arrive at a lost position.
Sasikiran capitalized on his opponent's blunder in a seemingly equal endgame.
Sasikiran - Baklan, Round 3
22...f6 would have been fine for black but 22...c5 immediately loses the game for black. Find out why.
Novy Bor - Tehsil Idman : 3-1
IM Mahammad Muradli held Vidit to a draw in Round 4.
C'Chartres Echecs A - Novy Bor: 2-2
GM Maxime Lagarde had an uneventful draw with Vidit in Round 5.
Group B Standings after Round 5
Tournament Format
• Qualification phase (27th-28th of March) – Groups consisting of 8 or 10 teams each, play the Robin round event of 7 or 9 rounds. Groups will be divided according to the average rating of the four (4) basic players, with FIDE March 1st, 2021 list taken in account. Two at least teams of each group qualify for Play-offs.
• Play-offs (29th of March) – The qualifiers from the 1st phase. Best ranked 9 teams proceed to the Finals.
• The final group (30th-31st of March) – 10 teams play Robin round tournament of 9 rounds. The 10th team is invited by ECU, the Winner of European Women's Online Chess Club Cup - Cercle d'Echecs de Monte-Carlo.
Time control of the event is 15 minutes + 5 seconds increment.
Schedule
Saturday 27th March: 7 - 11 p.m. IST
Sunday 28th - Wednesday 31st March: 6 p.m. IST onwards
Prizes
Total Prize fund - EUR 14000. 1st - EUR 4000, 2nd - EUR 3000, 3rd - EUR 2000, 4th - EUR 1500 and 5th - EUR 1000. Individual e-Medals are won by 1st, 2nd, & 3rd place of each board of final Group. The first winner of each Board of the final group will receive 400 euros. Reserve players are calculated on the 5th Board. The best game of the tournament will be awarded 500 euros.

The event is organized by European Chess Union and Monte-Carlo Chess Club, under the high patronage of His Serene Highness Prince Albert II of Monaco.
Links
---