The ultimate middle-east experience - Play the Dubai Open 2018
The 20th Dubai Open 2018 will be held from the 1st to the 12th of April 2018 (2nd April is the first round and 10th April is the last one!). It is one of the strongest open tournaments in the world and the good news for Indians that unlike other events which are in Europe or America, this one doesn't require huge amounts of travelling. This is an ideal tournament for all ambitious players to gain their rating or score their IM/GM norms. ChessBase India Power makes your task of planning the tournament easier by making arrangments for accommodation and travel. Get all the details about the tournament in this article.
Welcome to 20th Dubai Chess Open 2018.
The 20th Dubai Chess Open will be held under the patronage of Sheikh Rashid Bin Hamdan Bin Rashid Al Maktoum from 1st - 12th April 2018 at the Dubai Chess & Culture Club. Dubai Open is an international chess tournament that is organized and hosted annually by the club since 1999. Over the years, Dubai Open has become one of the strongest open tournaments in the world and is known for attracting top-class chess players and grandmasters.
Why does the Dubai Open attract some of the strongest players in the world? We tell you why:
Magnificent playing venue:
Huge prize fund:
The total prize fund of the tournament is USD 50,000. There are 15 main prizes and different special prizes which include Best Female, Best Arab player, Best Emirati player, Best Dubai player and various Elo category prizes.
Main Prizes :
The Special Prizes are as follows:
Excellent IM/GM norm chances:
There are great chances to achieve your IM/ GM norm in this tournament as many strong players will play here. Last year a total of 117 titled players took part including 42 GMs, 6 WGMs, 33 IMs and 6 WIMs.
Proximity to India:
Dubai is quite near from India and the flights are not very expensive. Hence, you would see a lot of Indian players making their way to this prestigious event.
It's great news for Indian fans that the middle-east has such world class events. It makes travelling and reaching the tournament quite convenient for Indian players.
Who can participate in this grand tournament?
The tournament is open to all Fide- rated players with a standard rating of 1500 and above (as of 1st February, 2018).
Entry Fee:
Based on standard (classical) rating and title as of 1st February, 2018, entry fee is as follows.
Entry fees have to be paid in FULL prior to the deadline (10th March, 2018) either in cash at Dubai Chess & Culture club
or through Bank Transfer/ Deposit to the following address:
Kindly mention you Fide Name and Fide ID in your transfer and update the payment section in the online registration form.
The link to the online registration form is: http://www.dubaichess.ae/do18-form/
The Schedule:
What about the accommodation and flight tickets?
When you decide to play in the super-strong Dubai Open, the first thing you want to do is embark on preparation. To look at some lines in Ruy Lopez or the Najdorf, or to solve some tough middlegame positions. What you definitely not want to do is spend time on booking your accommodation and flight tickets. Leave this worry to the ChessBase India Power team. A phone call to them will ensure that they will make all your bookings related to travel and stay for the Dubai Open 2018.
You can play Dubai Open for only Rs.30,000* onwards.
This offer includes
1. Flights
2. Eleven nights accommodation on sharing basis (double/triple) (hotel nearby to venue within 3 kms)
3. Insurance
*Terms and conditions apply.
All you need to do is contact us on: accommodations@chessbase.in
or use the Hotline number: 09106908500 (10 a.m to 8 p.m.)
You can also Whatsapp us on the above number.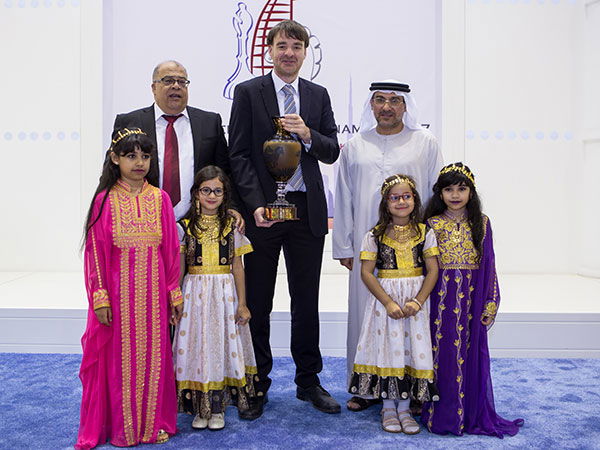 Attractions in Dubai:
Dubai is a destination that mixes modern culture with history, adventure with world-class shopping and entertainment. If you are going to play in the Dubai Open then you must visit these following famous places:
ChessBase India wishes you a fun-filled successful 20th Dubai Open 2018. In case you do decide to play, don't forget to contact ChessBase India Power for the best rates for travel and stay.
---