A candid conversation with GM Deepan Chakkravarthy
The National Challengers 2017 was a thrilling affair. GM Swapnil Dhopade was leading the event almost all the way through. But just then, in came GM Deepan Chakkravarthy who beat all odds and clinched the title by winning five straight games! To talk about this sensational performance, ChessBase India's Aditya Pai caught up with Deepan. In this interview, Deepan not only speaks about the nail-biting finish at the National Challengers but also analyses his final round game and gives insights into his life and chess in general.
By the eighth round of the National Challengers 2017, Swapnil Dhopade had established a one point lead over his nearest rivals by defeating SL Narayanan. Meanwhile, on board 5 in the same round, GM Deepan Chakkravarthy tasted defeat at the hands of his much lower-rated rival, Fenil Shah. Given Swapnil's form, it seemed he was unstoppable. But as the tournament progressed, Swapnil slowed down and conceded several draws. On the other hand, GM Chakkravarthy produced a string of emphatic victories and poised himself to cross horns with the leader in the final round. Swapnil was still ahead by half a point. Furthermore, he had the white pieces in hand and had chosen a tepid variation of the King's Indian in which he was able to trade queens early and simplify the game. All odds were against Deepan. But the Madurai-based Grandmaster was hell bent on clinching the title. Displaying an awe-inspiring belligerence, Deepan fought with all his might and turned the tables in his favour. In the words of IM Sagar Shah, this was nothing short of a Bollywood film's climax. And I couldn't agree more. So I caught up with the champion himself to know what inspired him to play with such fervour.
AP: First of all, congratulations on winning the National Challengers. It was one long, tumultuous event for you. To be honest, personally, as a spectator, I hadn't expected you to be the winner. Don't get me wrong, but since the tournament began, it was Swapnil all the way. So it only added to the excitement to see you going into the last round with a chance of clinching the title and eventually winning it sensationally!
AP: So, my first question to you is, when did you start feeling that you might have a chance at the big prize at this event?
DC: In my eighth round game, which I lost to Fenil Shah, I just made a one move blunder. Okay, I was struggling throughout the game. But somehow I managed to trick him and reach a more or less equal position. In fact, after 54. Rh7, Fenil had offered me a draw. I declined the offer and blundered immediately afterwards with 54… Rxg2.
AP: Ouch, that must have hurt!
DC: Yes, indeed. After this round, I thought to myself that the trend at National Challengers in the previous years has been that 9.5/13 is enough to qualify for National Premier; so I had to score four points out of my last five games.
But after I won my third game post this loss – against Satyapragyan – I jokingly told my teammates, Ratna, Nitin, etc that I might become the champion if I win my next two games.
AP: And that just turned out to be true!
DC: Yeah, exactly! And after this game, I felt there is a real chance for me. After this round, I decided that I am going to play my heart out against Himanshu. Actually, a lot of people praised me for not playing for a draw in the last round. But I think, in my last round game, I was more or less in the safe zone. Even if I had lost the last game, I would still have ended up in the top nine and qualified for the National Premier.
Of course, if I had lost, there would have been a big difference in my prize money. But I was willing to take that risk. But I took a bigger risk, in my opinion, in my penultimate round game against Himanshu. I had scored 8.5 points already. I could have drawn my next two games and qualified for the National Premier. But as I said, I had already started feeling that I have a chance at the title after my game against Satya and therefore I decided to play for a win against Himanshu.
AP: That's a very important insight. Because, as spectators, we tend to think it is the final round that puts the most amount of pressure on players since that is the round which decides the champion. But it makes a lot of sense, as you said, that the penultimate round, in fact, put you in more pressure than the final round itself!
DC: Exactly. I had to win both my games, true. But in the penultimate round, I wasn't sure if I would qualify for National Premier if I lost. Also, about the final round, another important thing is that when winning the championship was within the realm of possibility, I just couldn't bring myself to settling for anything less. I thought I have to give it a fair try at the very least.
AP: True, and you did. So after 7. dxe5, in your game against Swapnil, what went through your mind seeing that your opponent has the white pieces and is going into a drawish line?
DC: Actually, Swapnil is a good friend of mine. And I honestly don't think he would have gone for 7. dxe5 if it was just another game. He is a fighter himself. But when you bring the other things into the equation – that it was the last round, and the championship title was on the line – nerves play a more important role than actual play. So from his point of view, it made sense. But from my point of view, on the other hand, the game was quite comfortable for me because I knew my opponent was ready to draw.
AP: Also, can you shed some more light on Swapnil's 14th move where he chose to go for 14. Ng4 instead of 14.f4?
DC: First of all, I hadn't expected him to go for the 7. dxe5 line. But given the tournament situation, I should have. And about 14. f4, I have my analysis. The position is not that simple. There is still a lot of fight even after f4 for both sides. But since it is opening preparation, I cannot reveal my analysis.
AP: I understand. And you had also mentioned before that you hadn't won a National Championship after winning at the National Sub-Juniours. Wasn't that also something that acted as a driving force for you?
DC: Yes of course! That was one big motivation for me to play for a win, both in the penultimate and the final round. Because from the National Under-8 Championship to the National Premier, I have finished second many times; I guess a few too many times! The only exception was the National Sub-Juniors in 2000, in Mumbai, which unfortunately I won (laughs heartily)
AP: Why unfortunately?
DC: Because it was not consistent with the rest of my record. In fact, I had come so close, so many times. In the 2006 National A, which Surya Ganguly won, I only needed half a point in the last two rounds. But I lost both my games!
AP: After losing your round four game against Gomes, you came back strongly with two wins and a draw. Then you had a hiccup again in round 8 against Fenil Shah and you came back with five straight wins. How were you able to deal with these losses and come back so strongly every time? What's your secret?
DC: (laughs) No, it's not like that, you know. I think you must be aware that I am working with her. Maybe it's too much to say I am her coach. I think a better way of putting it is that I am helping her with chess at the moment. After the game, I called my mother and told her I lost to Mary. And my mother jokingly replied, "So she is learning from you and beating you at chess!" And in fact, now a lot of things are coming to my mind. Some time ago, I was working with WIM Nandidhaa Venkatachalam, and while analyzing a Rook endgame we had reached the same position as I had against Mary. Back then, I told her that Ra8 draws. Unfortunately, in my game against Mary, I played the losing move over the board. That is the thing about rook endgames. You always have to be on your toes and be alert. But I was under pressure the whole game against Mary and at that moment I played 51. Rg8 very fast. After that, the position was just lost.
Also, I had two rounds that day, so it was crucial for me not to lose hope and play on. And that's what I did. So, not losing hope was my secret, probably.
AP: And which was your favorite game from the tournament?
DC: I would say all of my last five games were my favorites.
AP: So if you were to pick one of those five and analyze it for ChessBase India, which one would that be?
DC: In that case, I would say my last two games in the tournament were the best ones. Particularly, I think my last round game, against Swapnil, was flawless. So, I think my choice would be my final round game.
AP: Did you have any special preparation for this event?
DC: Nothing special, but thanks to my company, the Indian Railways, I've got 320 days of holidays in a year. That gave me more time to practice. So, I had been spending more time with chess in general, though I didn't really have any special preparation. That being said, I will definitely be having some special preparation for the National Premier.
AP: So you are saying you get 320 holidays out of the 365 days in a year?
DC: Yes, thanks to the Indian Railways.
AP: Wow, I wish I was a top Grandmaster at the Indian Railways! Anyway, moving on, What was your daily routine like during the event?
DC: No, nothing special really. I just went out with my friends for an hour on one day. But for the rest of my time there, I was either playing or preparing for my next game.
AP: Did you have anyone to help you with your preparation for this event?
DC: Oh no, I was working on my own.
AP: This was quite a tough event for you; must have been quite stressful. How did you unwind during the event?
DC: Like I said, it was all chess for me during the event. There was just this one day when I went out with Mary and Lalith Babu. That was just to get away from chess for some time and then we came back and began playing again!
AP: How did you celebrate your championship victory?
DC: I didn't really celebrate. Although I have to say, I was really happy. The worst part was that I had booked my return flight on the same day so there wasn't enough time to party. And now it's time for me to prepare for the National Premier.
AP: It's really nice to know how focused you are on your future events. So, coming to that, is there any event that you are planning to play besides the National Premier?
DC: I haven't really thought about that. The only tournament I am going to play after this one is the National Premier. I should probably check the calendar once and decide. And yes, I am playing the online blitz tournament organized by ChessBase India that will take place on 10th of September. I look forward to that.
AP: Do you have any special preparation for National Premier? I'm not asking you to reveal your opening preparation or anything, but could you just let us know how you are going to prepare?
DC: As of now, I have no idea. I have to start from the beginning again.
AP: All right! Good luck for the National Premier. We've come to the end of the first part of the interview which was about the tournament. Now in this second part, I would like to ask you about chess and life in general.
DC: Sure
AP: When did you start playing chess? And who were the people instrumental in your success?
DC: I started playing chess at the age of 6. And for all my achievements, I must give credit to my parents and my coaches. It's because of their sacrifices that I have achieved what I have today. My grandfather used to travel with me to tournaments a lot. So, I am very close to my family.
I must also especially mention my wife. Most of the time, I am traveling to tournaments. Such is the life of chess players after all. And I got married very recently. It's just been two years since I am married. So most of the time, she has to be alone. But she understands that it's my profession and I am really thankful to her for being so considerate.
AP: Did you have an idol who inspired you?
DC: Viswanathan Anand has always been my idol, both in my childhood and today. He is a wonderful person and he has always been a role-model to me. People have been making some remarks on his play quite frequently in the recent times. But even today, he is playing extremely well. If you look at his performance in the Sinquefield Cup, you would see that he was playing wonderful chess. I think he is, and for many more years to come, will be a dominant force in world chess for sure.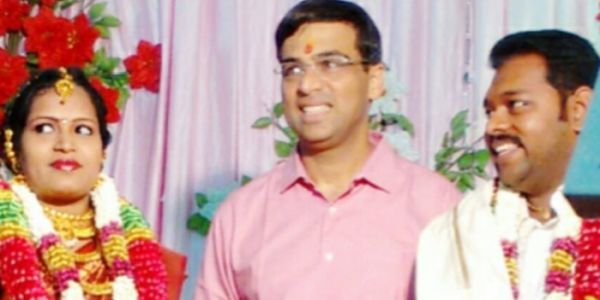 AP: That is very true. We all love Anand and draw inspiration from him. Moving on, what do you think does it take for a player to reach GM level?
DC: I have always believed that if one works hard, it is possible to become a Grandmaster. But what I would like to mention here is that the young kids should look beyond becoming a Grandmaster. Today, there are many opportunities available and with the right resources, one can become a GM. But the real question is what one is going to do after becoming a GM. What matters today is whether or not one is able to make it to the world's elite.
AP: How much time do you devote to chess daily?
DC: I spend a minimum of four to five hours a day practicing. But that's the minimum. During the National Challengers, I would spend all my time practicing chess. After every game, I would come back to my room, have a snack or take some rest and get back to preparing for the next round. Also, before the tournament, I was solving puzzles to stay sharp. I was working for around 6-8 hours per day during that time.
AP: So how important is solving puzzles – before, during or after a tournament?
DC: I think it is very important to keep solving puzzles in order to remain tactically sharp and alert. It is always helpful to solve puzzles. But I would not recommend it during a tournament.
AP: What do you do besides chess? Do you have any hobbies?
DC: I love watching movies and I also like watching other sports.
AP: What kind of films do you like?
DC: I like Christopher Nolan's films a lot. I also like watching Tamil movies; Rajinikanth is my favorite star. And when it comes to Bollywood, I like Aamir Khan's films the most.
AP: And which sports do you follow?
DC: I used to like watching cricket until a few years ago. But not I mostly watch Tennis and Pro-Kabaddi.
AP: The world cup is coming up. Who are your favorites?
DC: Well, we have seven players playing at the event and I would be rooting for each one of them. I know all of them personally. They are all very good friends. I would like to wish them best of luck.
AP: Thanks a lot for the interview Deepan. It was a pleasure talking to you!
---