Daniel King writes a book on India's first great chess player - Sultan Khan
Who is the first great chess player that India has seen? Is it Vishy Anand? Well, he is definitely the greatest ever, but he wasn't the first one to cross swords against the best in the world. Was it the first IM of India Manuel Aaron, or the first official national champion of India R.B. Sapre. Turns out these players come much later in time. In 1905 was born a soft spoken, unassuming Sultan Khan in Punjab. 23 years later he became the national champion of India. He went on to win the British Championships three times and scored wins over great players like Capablanca, Tartakower, Flohr and many others. He is not just the first great chess player to come out of India, but entire Asia. GM Daniel King has written a 384 page book on this genius and in this article we ask Daniel about the book, his impressions of Sultan Khan and more.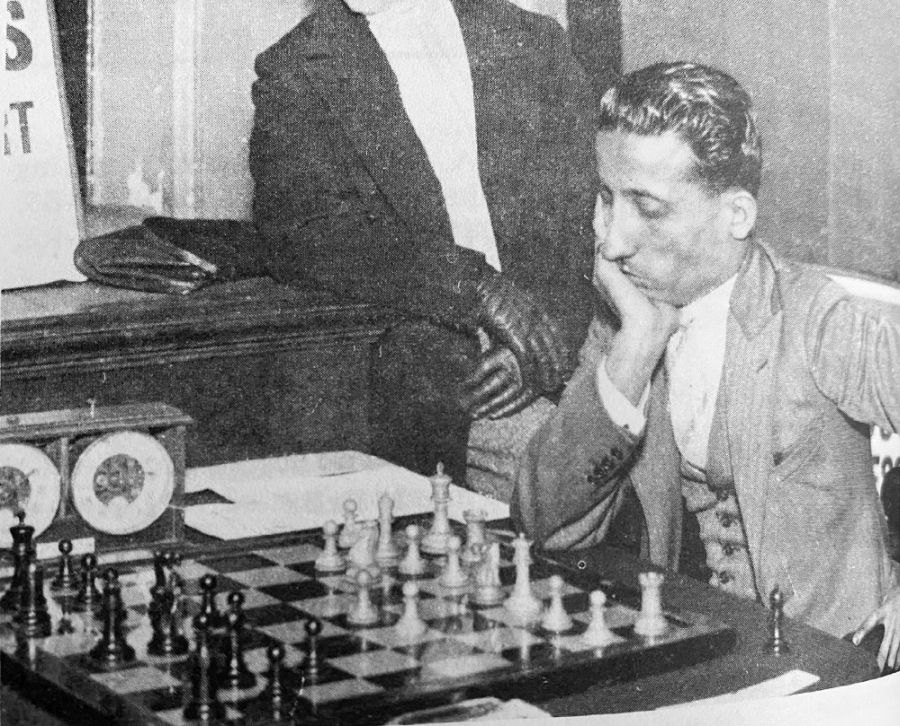 How many of you could guess that he is the first greatest chess player that India produced? Yes, he is none other than Mir Sultan Khan. Born in 1905, Sultan Khan not only went on to become the national champion of India in 1928, but became three time British champion in 1929,32 and 33. He beat the greatest chess player the world has ever seen Jose Raul Capablance in 1930 and he was considered as one of the best players in the world during that period. He has beaten Tartakower in a match and drawn with Alekhine. You could say that he was not just the first great chess player that India had seen, but the first great chess player to come out of Asia. Being such a giant in chess history, it is a pity that so little has been written about him. GM Daniel King, the famous ChessBase author, world class commentator and trainer, has decided to fill in this gap. He worked extensively on the life of Sultan Khan for the last seven years and the result is the book that was published by New In Chess on 10th of April 2020 - Sultan Khan: The Indian Servant who became chess champion of the British empire.
I wanted to speak to Daniel about this passionate project. What led him to work so intensely on Sultan Khan's life, what was the great champion like both on and off the board, what can the readers learn from the book and much. I asked GM King for his time and he gladly obliged.
Interview with Daniel King on his book on Sultan Khan
SS: What made you think about writing a book on Sultan Khan? How long did it take you to write the book?
DK: In 2013 I was contacted by a theatre director who was interested in the story and asked me to do a little research for him. The more I looked into Sultan Khan's story, the more I realised there was a lot that hadn't been uncovered, for example, new games and a fascinating political back story. I have many different work commitments and it wasn't easy to find the time to write. With many stops and starts, the project took me almost seven years.
SS: As there was hardly any material on him, how did you do the research? What were the sources you referred to, to get the information?
DK: My main focus of research was looking at contemporary newspapers and chess magazines from the 1920s and 1930s – including Indian newspapers. I managed to access these at the wonderful British Library in London. It was a pleasure working there.
SS: How would you describe the playing style of Sultan Khan?
DK: His play was quite uneven as he only learned the western game after the age of 21. He was basically a strategic player. His endgames were good. He was incredibly tenacious, often turning games in his favour, or saving games, after many hours play. However, sometimes he attacked in the most brutal way right from the start – with mixed results.
SS: Tell us a bit about Sultan Khan, the person. How was he off the chess board?
DK: He comes across as modest, charming and generous to his opponents. After winning one tournament, a newspaper columnist declared: '…there is no more unassuming or popular player.' Frankly, I would not have spent so many years researching his life if he wasn't a likeable character!
SS: How can a man who was brought up with Indian rules of chess, and with no formal education in the sport, defeat someone as great as Jose Raul Capablanca?
DK: In that game, Khan managed to reach a closed middlegame position that suited his style perfectly: he manoeuvred brilliantly, shut down counter attacks, and was patient enough to wait for the right moment to break through. Khan mainly learned through experience, by playing, not studying. His first games in England were quite poor, but he learned incredibly quickly. That really shows how talented he was.
SS: What were some of the best achievements of Sultan Khan as a chess player?
DK: He won the British Championship on three occasions: 1929, 1932, 1933. The first half of 1931 was probably the best period for him: he defeated Capablanca at Hastings (although he only came 3rd after throwing away a game against Euwe). He then played Tartakower in a 12-game match defeating him 6½-5½. In the Prague International Team Tournament he scored 11½/17 against many of the leading players of the day, drawing with the World Champion Alekhine and defeating Flohr.
SS: What were the non-chess (off the board) factors that attributed to the success of Sultan Khan?
DK: The whole story of how Sultan Khan came to London is extraordinary. In the Punjab, his talent was recognised by Colonel Nawab Sir Umar Hayat Khan – a well-known politician and military leader who was fiercely loyal to the British. He gathered some of the best Indian players of the time to coach Sultan Khan in western chess. In effect Sultan Khan became like a court chess player, a bit like in the days of the Mughal emperors. When Sir Umar travelled to London on a political mission, he brought Sultan Khan with him. There is no doubt in my mind that Sir Umar used Sultan Khan and his chess playing skills as soft diplomacy when they arrived in London: Sir Umar was representing the so-called martial tribes; Sultan Khan demonstrated that Indians were the intellectual equals - at the very least - of the British.
I explore the political background to Sultan Khan's story in the book – it's the only way to understand how he was brought to England, and why he returned. I should add that Sultan Khan himself was never involved politically and never offered political opinions. It would not have been his place to do so. His patron – perhaps 'master' is a better description – Sir Umar Hayat Khan was the actor in this respect.
SS: When Sultan came to England and started beating everyone there, what were the political implications like? After all India was being ruled by the British and here is a man who is present in the British land and beating their best players.
DK: Sultan Khan was popular in Britain! Not just among general chess players but also the national team. I believe he was particularly friendly with the leading British player, Fred Yates, even though they had some great struggles over the chess board. At that time the independence movement in India was gathering tremendous momentum, but that seemed very distant to people in Britain. According to many commentators in Britain at the time, Sultan Khan's successes 'strengthened the bonds of Empire'. Of course, this sentiment wasn't shared by most in India.
Khan was invited into the British team and, to avoid the controversy of an Indian playing for Britain, with a deft flick of the pen the name was changed to the British Empire Team! I should add that, at that time, India did not field a team in the international team tournaments – which was a source of dissatisfaction to many in India. Khan's results for the British team were very good.
SS: Why could Sultan Khan not become the absolute world champion? How did his career end?
DK: Sultan Khan had some excellent results, but he lacked the consistency of other players. He returned to India at the end of 1933. His patron, Sir Umar Hayat Khan, had been advising the British government at the India Round Table Conferences, but these were over and he wanted to head back to India. Sultan Khan, who was part of his household, simply had no choice but to go with him. But, as I discovered, he also wanted to return. He was frequently ill in Europe – he suffered a lot from colds and flu and even had recurring bouts of malaria – so he was keen to escape the cold climate. More than that, I think he had had enough of performing for his master.
By the way, there is another member of Sir Umar's household that we haven't mentioned yet: Miss Fatima. She learned the rules of the game when she came to London and a year and a half later won the British Ladies Championship with 10½/11 ! This is another remarkable story that I explore in the book.
SS: Which is your favourite game of Sultan Khan and why?
DK: His most famous game is naturally his victory over Capablanca in Hastings 1930/31. It is a masterpiece. It shows off his patient, strategic style so well. But this is too well known. He played many fine endgames, but I like his victory against Soultanbeieff from Liege 1930. Khan takes him apart strategically and finishes with a swift attack.
Here's Sultan Khan's most famous victory of his chess career when he beat Capablanca on 31st of December 1930:
SS: Would you count Sultan Khan as the first great chess player of India?
DK: Considering that he was the first to challenge western players successfully, I would say yes. By the way, we can say that Sultan Khan was the first Asian player to successfully challenge western players. First, because it is true! Second, because he is claimed by several different countries: he was born and grew up in British India, a country that no longer exists. In 1928 he won the All-India championship. He played most of his chess in Britain and represented the British Empire team. He returned to India, but after independence and partition, he lived out his days in Pakistan. I do not wish to stoke controversy, these are just facts.
SS: Are you in touch with some family members or relatives of Sultan Khan?
DK: I'm not in touch with any of Sultan Khan's family members. I very much hope that one of them sees the book because I wanted to honour his memory. He was a great player, and I think a kind man.
SS: Who are the people you would like to thank for helping you to write the book?
DK: There are many people whom I have already thanked for helping me with my research for the book. But let me mention two from India, Manuel Aaron and Vijay Pandit, who kindly supplied me with Indian games that Sultan Khan played. Their marvellous book, Indian Chess History, also provided useful background material on the Indian chess scene. Thank you Sagar for sending it to me! I owe you a Lassi! [Smiles]
SS: What can youngsters who depend a lot on engines and modern opening preparation learn from this book?
DK: There is so much we can learn from Sultan Khan, as a person and as a player. As Vishy Anand wrote in his foreword: "He should serve as an inspiration for chess players from all over India, the sub-continent, and anyone struggling as an outsider against the odds. Coming from a modest background, he took on the greatest in the world and proved that he could match them."
Even though Khan's openings were not always the best, he could make up for this with his extraordinary concentration, fighting spirit, and superb endgame technique. These elements can take you far.
SS: You are a grandmaster, one of the best commentators in the world of chess, a successful chess teacher, an author - what's next on the agenda for you?
DK: There is no rest for the wicked. I have some recording projects coming up and my latest ChessBase DVD/download will appear soon - on the King's Gambit!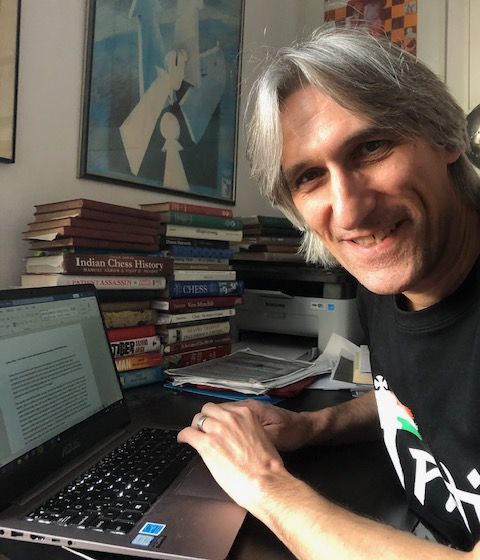 Buy Sultan Khan's book by Daniel King (paperback)
Buy Sultan Khan's book by Daniel King in Hardback
Buy Daniel King's entire Powerplay series by ChessBase:
---