Daakshin Arun and Sneha Halder win MPL 35th National Under-13 Open and Girls Chess Championships 2022
CM Daakshin Arun (TN) and Sneha Halder (WB) scored an unbeaten 10/11 and 9.5/11 each respectively to win MPL 35th National Under-15 Open and Girls Chess Championship 2022 respecttively. Both of them finished a full point ahead of the competition. Daakshin did not face the remaining podium finishers. Sneha drew with the runner-up Sachi Jain (DEL) 8.5/11. Daeevik Wadhawan (DEL), Yash Bharadia (RAJ) and Dhruva Thota (TEL) scored 9/11 each. They were placed second, third and fourth; in the Girls, Sachi Jain, Saparya Ghosh (WB), Shreya G Hipparagi (MAH) and Sannidhi Ramakrishna Bhat (MAH) scored 9/11 each. They were adjudeged second to fiftth respectively. Photo: AICF
West Bengal and Delhi dominate the podium
Sneha Halder grabbed sole lead after the sixth round 6/6. She won the next two rounds, extending her lead by 1.5 points. No one was able to catch her for the remainder of the tournament.. Total prize fund of the tournament was ₹400000 in each section. Top three prizes were ₹80000, ₹60000 and ₹48000 along with a trophy each.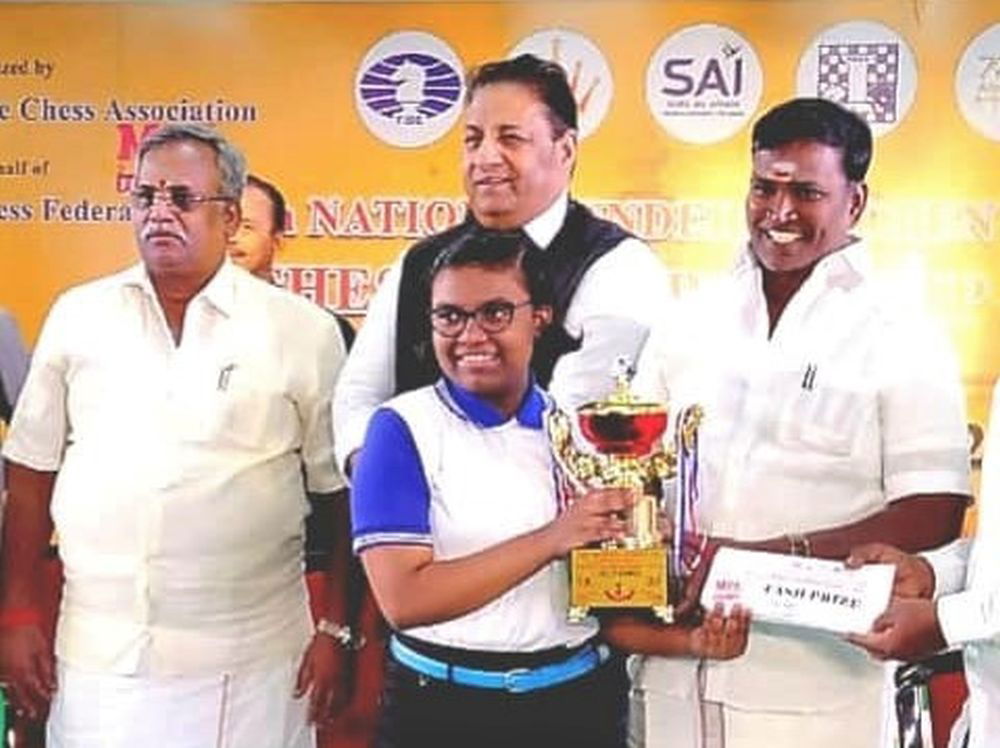 Open: Daakshin Arun 10/11
CM Daakshin Arun (TN, 1982) started with six wins before making a draw with the top seed of the tournament, CM Akshay Borgaonkar (MAH, 2135). He won the next two games, drew the penultimate round and had a half point lead heading into the final round. A draw probably would have sufficed, still Daakshin played for a win against Arjun Adireddy (TEL, 1980) and that is what he achieved.
Daakshin - Arjun, Round 11
22...Qxf3 seems to be correct but it is actually not the best move. 23.Rd3 getting rid of the queen from the long diagonal before it starts making some deadly battery on it with the bishop. 23...Qh5 24.exf6+ Kxh6 25.Ne4 g5 26.Rg3 Rg8 27.Kg2 Bc8 28.h4 g4 29.Qd2+ Kg6 30.Rc5 and White went on to win the game. 22...Kxh6 is what the computer suggests to be the best continuation. Of course, it seems very artificial and difficult for a human to consider it seriously.
Girls: Sneha Halder 9.5/11
Sneha Halder (WB, 1613) got a walk over in the first round. She then went on to win her next seven games consecutively before finishing the tournament with three draws to win it 9.5/11. She finished a full point ahead of the field. Five months ago, Sneha finished runner-up in MPL 32nd National Under-17 Girls Chess Championship 2022.
Jeevika - Sneha, Round 5
Sneha made a very nice strategical exchange sacrifice 19...Rxg5. Although there is nothing definite for Black, White lagging in the development department of her pieces certainly gives her the initiative. 20.hxg5 Bf4 21.b6 a6 22.bxc7 Qxc7 23.Kf1 h4 24.Ke2 h3 and Black is completely winning.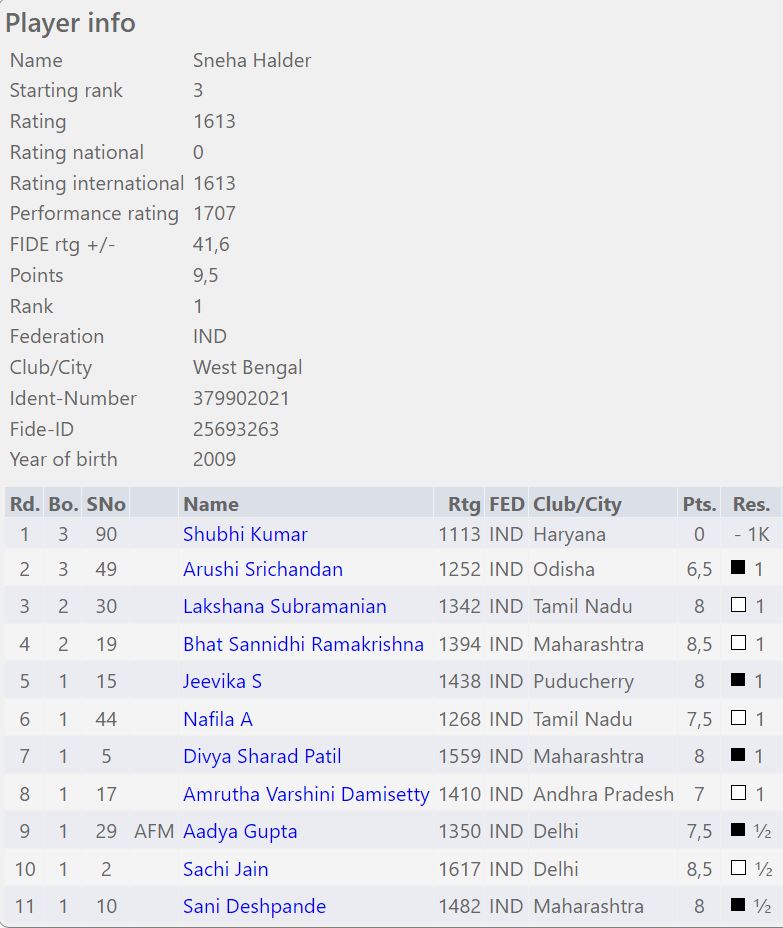 A total of 328 players in the Open and 169 players in the Girls tournament took part. It was organized by Pondicherry Chess Association at Amalorpavam Higher Secondary School, Pondicherry from 11th to 18th December 2022. The eleven-round Swiss league tournament had a time control of 90 minutes + 30 seconds increment from move no.1.
Replay Open Round 1-11 games
Replay Girls Round 1-11 games
Open Round 11 results
Final standings
| | | | | | | | | | | | |
| --- | --- | --- | --- | --- | --- | --- | --- | --- | --- | --- | --- |
| Rk. | SNo | | Name | FED | Rtg | Club/City | Pts. | TB1 | TB2 | TB3 | TB4 |
| 1 | 3 | CM | Daakshin Arun | IND | 1982 | Tamil Nadu | 10 | 78,5 | 85 | 77,00 | 0 |
| 2 | 15 | | Daaevik Wadhawan | IND | 1780 | Delhi | 9 | 75,5 | 81,5 | 65,50 | 0 |
| 3 | 2 | | Bharadia Yash | IND | 2117 | Rajasthan | 9 | 74,5 | 79 | 63,50 | 0 |
| 4 | 19 | | Dhruva Thota | IND | 1729 | Telangana | 9 | 73 | 77,5 | 62,75 | 0 |
| 5 | 6 | | Goutham Krishna H | IND | 1896 | Kerala | 8,5 | 75,5 | 81 | 61,00 | 0 |
| 6 | 4 | | Arjun Adireddy | IND | 1980 | Telangana | 8,5 | 75 | 79,5 | 57,50 | 0 |
| 7 | 22 | | Sriram Adarsh Uppala | IND | 1685 | Telangana | 8,5 | 72,5 | 77,5 | 57,50 | 0 |
| 8 | 29 | | Advaitt Srikant Koduri | IND | 1652 | Uttar Pradesh | 8,5 | 72 | 77,5 | 54,75 | 0 |
| 9 | 21 | | Arshpreet Singh | IND | 1713 | Haryana | 8 | 79,5 | 84,5 | 57,75 | 0 |
| 10 | 5 | | Dhyey Agarwal | IND | 1903 | Gujarat | 8 | 77,5 | 83 | 56,25 | 0 |
| 11 | 50 | | Prathamesh Sainath Sherla | IND | 1546 | Maharashtra | 8 | 73,5 | 78,5 | 53,50 | 0 |
| 12 | 30 | | Gaikwad Manas | IND | 1652 | Maharashtra | 8 | 73 | 78 | 51,00 | 0 |
| 13 | 12 | | Shankhodip De | IND | 1809 | West Bengal | 8 | 72 | 77 | 54,75 | 0 |
| 14 | 11 | | Apoorv Kamble | IND | 1814 | Karnataka | 8 | 71 | 76,5 | 54,00 | 0 |
| 15 | 32 | | Mrinmoy Rajkhowa | IND | 1646 | Assam | 8 | 70,5 | 75,5 | 51,00 | 0 |
| 16 | 53 | | Haridev S | IND | 1516 | Tamil Nadu | 8 | 70 | 75,5 | 52,00 | 0 |
| 17 | 31 | | Pranav K P | IND | 1652 | Tamil Nadu | 8 | 70 | 75 | 52,25 | 0 |
| 18 | 45 | | Shaun Deon Sequeira | IND | 1566 | Karnataka | 8 | 68,5 | 73 | 49,50 | 0 |
| 19 | 23 | | Raghav V | IND | 1668 | Tamil Nadu | 8 | 68 | 72 | 48,75 | 0 |
| 20 | 24 | | Agarwal Mukund H | IND | 1662 | Gujarat | 8 | 67,5 | 73,5 | 53,00 | 0 |
Girls Round 11 results
Final standings
| | | | | | | | | | | | | |
| --- | --- | --- | --- | --- | --- | --- | --- | --- | --- | --- | --- | --- |
| Rk. | SNo | | Name | FED | Rtg | Club/City | Pts. | TB1 | TB2 | TB3 | TB4 | TB5 |
| 1 | 3 | | Sneha Halder | IND | 1613 | West Bengal | 9,5 | 77,5 | 82,5 | 70,50 | 0 | 8 |
| 2 | 2 | | Sachi Jain | IND | 1617 | Delhi | 8,5 | 73 | 78,5 | 59,25 | 0 | 7 |
| 3 | 4 | | Saparya Ghosh | IND | 1563 | West Bengal | 8,5 | 72,5 | 78 | 59,00 | 0 | 7 |
| 4 | 7 | | Shreya G Hipparagi | IND | 1526 | Maharashtra | 8,5 | 71 | 75,5 | 56,50 | 0 | 7 |
| 5 | 19 | | Bhat Sannidhi Ramakrishna | IND | 1394 | Maharashtra | 8,5 | 67,5 | 72,5 | 53,25 | 0 | 8 |
| 6 | 5 | | Divya Sharad Patil | IND | 1559 | Maharashtra | 8 | 74 | 79,5 | 55,50 | 0 | 6 |
| 7 | 30 | | Lakshana Subramanian | IND | 1342 | Tamil Nadu | 8 | 72 | 76 | 51,00 | 0 | 6 |
| 8 | 8 | | Sherali Pattnaik | IND | 1512 | Uttarakhand | 8 | 71,5 | 76 | 52,75 | 0 | 7 |
| 9 | 41 | | Drishtee Ghosh | IND | 1277 | Karnataka | 8 | 71 | 73,5 | 50,25 | 0 | 7 |
| 10 | 10 | | Sani Deshpande | IND | 1482 | Maharashtra | 8 | 68 | 72,5 | 50,25 | 0 | 7 |
| 11 | 15 | | Jeevika S | IND | 1438 | Puducherry | 8 | 67 | 72 | 49,50 | 0 | 7 |
| 12 | 55 | | Shradha Smaranika Nanda | IND | 1218 | Odisha | 8 | 63,5 | 68 | 47,75 | 0 | 7 |
| 13 | 29 | AFM | Aadya Gupta | IND | 1350 | Delhi | 7,5 | 78,5 | 83 | 54,50 | 0 | 5 |
| 14 | 42 | | Sahana Shainsha | IND | 1276 | Tamil Nadu | 7,5 | 72 | 75 | 48,50 | 0 | 6 |
| 15 | 1 | | Arshiya Das | IND | 1640 | Tripura | 7,5 | 71 | 76 | 48,50 | 0 | 7 |
| 16 | 22 | AFM | Sanikommu Manasvi | IND | 1375 | Karnataka | 7,5 | 71 | 75,5 | 47,50 | 0 | 6 |
| 17 | 25 | | Aadhya Jain | IND | 1362 | Delhi | 7,5 | 70 | 74,5 | 48,50 | 0 | 5 |
| 18 | 44 | | Nafila A | IND | 1268 | Tamil Nadu | 7,5 | 69,5 | 72 | 45,50 | 0 | 7 |
| 19 | 12 | | Debapriya Manna | IND | 1478 | West Bengal | 7,5 | 69 | 74,5 | 46,75 | 0 | 7 |
| 20 | 14 | AFM | Theephigaa K P | IND | 1448 | Tamil Nadu | 7,5 | 64 | 69 | 45,75 | 0 | 7 |
---