Videos and Photos from Commonwealth Championship 2018
Sagar Shah is moving around the tournament with his tangled wired microphone and Samsung Note 8. Amruta Mokal is moving around the playing venue with her Canon 1200D and Sony A7M2. Both of them are generating tremendous amounts of high quality content in videos and photos which are a pleasure to the eyes as well as food for thought for your brain. In this article we will skip the traditional method of our reports with games and analysis and bring you some of the photos and videos captured on the seventh day of this championship!
Videos from the Commonwealth:
I spent the entire day at the venue of Commonwealth interviewing some of the best talents of the country. I think I have been successful in excavating some of the gems in this mammoth 750 player congregation. Let's begin with our first interview:
Young kids can often play well in endgame but when asked to explain, they are not able to do that so well. But 10-year-old Om Kadam is quite unique. He not only played a good endgame, but also explained the intricacies of his decision to all the viewers. This video is enhanced by the fact that his opponent Sumer Shaikh is sitting next to us and answers some of the questions about why he took certain decisions. This video is sure to help you learn some of the most important concepts of rook endgame, so be sure not to miss it. This was played in the 5th round of the Commonwealth Championship 2018 under-10. Om Kadam after winning it, moved to sole lead with 5.0/5.
Young talented chess players differ from each other in many ways. Some are tactically strong, some are positionally, while some just like to grind in the endgame. Meet Apoorva Kamble, a 9-year-old from Bangalore. His forte is creativity, imagination and risk taking ability. The boy plays fast and is able to come with some of the most amazing plans in a position without taking too much time. We speak with Apoorva about his fifth round game at the Commonwealth Championship 2018 against Nirnay Garg. Apoorva beats him with complete domination, but before that he takes a lot of risk, which is just natural for the young boy.
9-year-old John Veni prepares the opening well. He has very good grasp of the middlegame positions, he understands the endgame, he is also ready to accept his mistakes and find improvements in the game. With such an attitude the boy is surely going to make it big in the years to come. In this video he shows us his fifth round game from the Commonwealth Championships 2018 against Viswak Sen from the under-10 section. Take a look at this video and we can be sure that John is a big name to watch out for Indian chess.
53-year-old GB Joshi was completely losing his game against the talented Maharashtra player Sammed Shete in the 5th round of Commonwealth Chess 2018. He could have given up all hopes. But the man is a fighter and hence tried his best to create resources in the position. His opponent made a mistake and GB Joshi made a Houdini like escape!
Suyog Wagh was stuck in the zone of 2100 for many years. He decided to pay keen attention to what was going wrong in his game by analyzing them carefully. He did this with great care and very soon gained 200 Elo points. In this video he shows us his encounter from the 6th round of Commonwealth Championships 2018 in the open section against Karthik Venkatraman. It seemed as if Suyog was under pressure, but with series of accurate moves, he wrested the initiative in his favour. In this video Suyog also poses questions to the viewers. It is an ideal way to improve your understanding.
The 5th round in the Commonwealth Championships 2018 was a very crucial round in the under-18 section Harshavardhan GB, the second seed was facing Rathanvel (2301) the first seed, in the 5th round. Harshavardhan attacked his opponent's king relentlessly in the Grunfeld and capped it off with a fine mate. He analyzes the game in this video! Don't miss it!
Aditya Varun Gampah is playing in the under-12 section of the Commonwealth Championships 2018 in Delhi. He hails from Telangana and is a bright young talent. Recently at the under-13 nationals 2018 he finished third. He shows his 5th round win in the Commonwealth under-12 against Sai Nikhil. The boy practices chess for 8 hours everyday and doesn't go to school. He is trained by NVS Ramaraju and hopes to make it big in the years to come!
Lokesh is the father of Sahithi Varshini. He was a passionate chess player and has played for his Petroleum team in the past. When he saw that his daughter had talent for chess, he decided to put in all his efforts to make her a strong chess player. Sahithi Varshini is the current Asian under-12 champion and a big talent and a lot of the credit for her improvement goes to her trainer - her dad! Lokesh works in Hindustan Petroleum and at the same time manages to train her daughter. He hardly sent Sahithi to school and employed a person to play with her. The games that were played would be sent to him in the office and he would analyze them and discuss with Sahithi when he came back home from work! Such is his dedication! Here's the story of a passionate chess dad!
Divya Deshmukh was analyzing her 5th round victory against Lakshmi C at the Commonwealth Championship 2018 under-16 category. This is not an interview or formal recording, this is just recorded to see how talented players analyze their game. In this video Divya is analyzing her game with the experienced IM from Kolkata Nisha Mohota.
Photos by Amruta Mokal: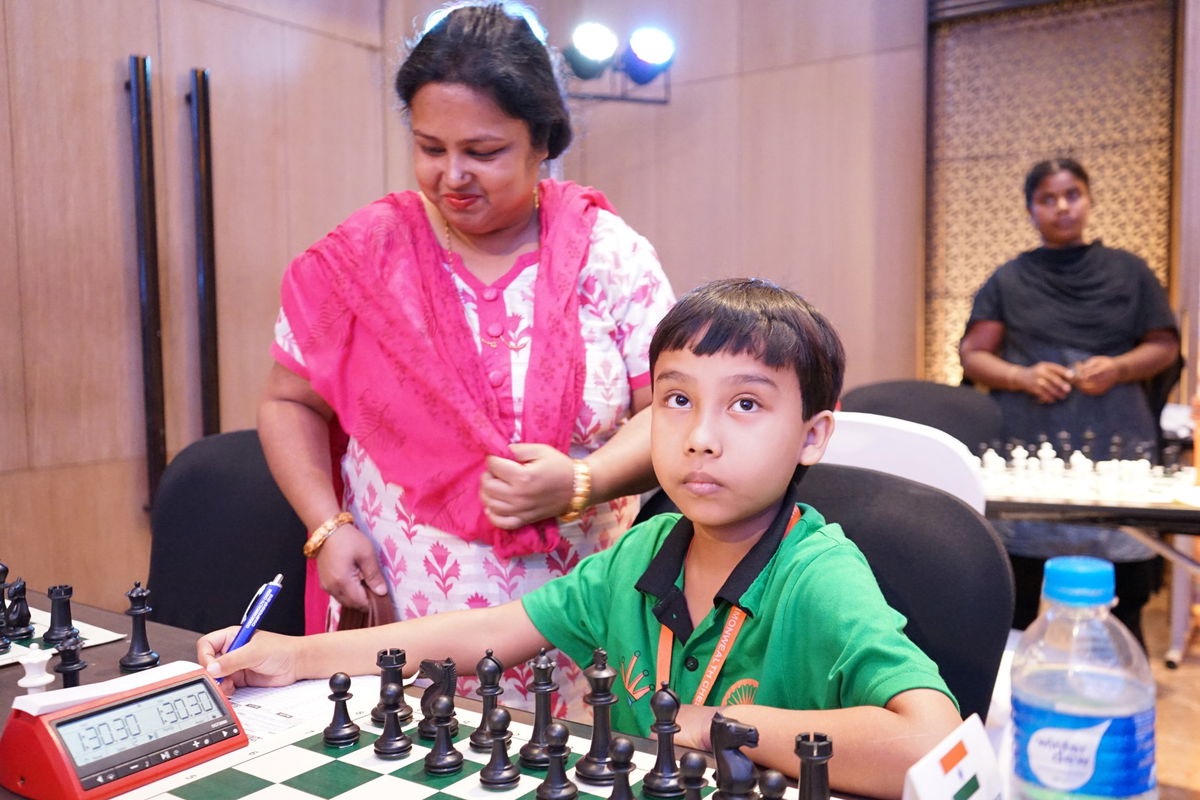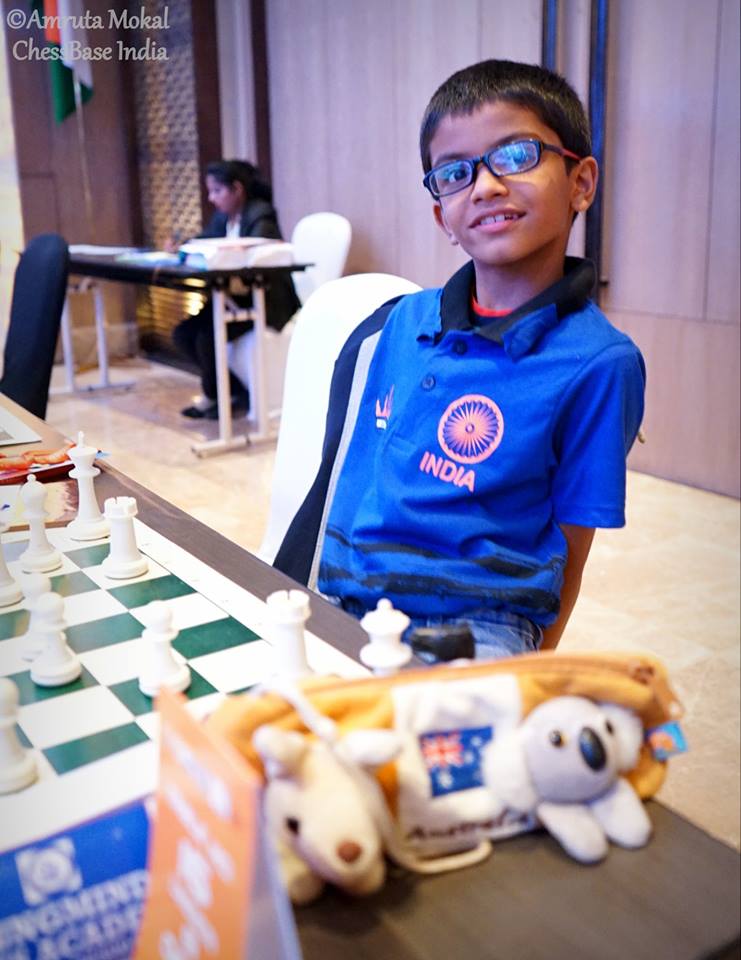 Standings in Open after round 7:
| | | | | | | | | | | | | | |
| --- | --- | --- | --- | --- | --- | --- | --- | --- | --- | --- | --- | --- | --- |
| Rk. | SNo | | | Name | Typ | sex | FED | Rtg | Club/City | Pts. | TB1 | TB2 | TB3 |
| 1 | 2 | | GM | Vaibhav Suri | | | IND | 2556 | Delhi | 6,0 | 1,0 | 29,0 | 32,5 |
| 2 | 14 | | IM | Nitin S. | | | IND | 2441 | Railway | 6,0 | 0,0 | 30,0 | 32,5 |
| 3 | 4 | | GM | Lalith Babu M R | | | IND | 2529 | PSPB | 5,5 | 0,0 | 28,5 | 32,5 |
| 4 | 6 | | GM | Debashis Das | | | IND | 2522 | Odisha | 5,5 | 0,0 | 28,0 | 31,5 |
| 5 | 24 | | | Sankalp Gupta | | | IND | 2365 | Maharashtra | 5,5 | 0,0 | 28,0 | 30,5 |
| 6 | 20 | | IM | Akash G | | | IND | 2391 | Tamil Nadu | 5,5 | 0,0 | 27,5 | 31,0 |
| 7 | 13 | | IM | Mohammad Nubairshah Shaikh | | | IND | 2441 | Maharashtra | 5,5 | 0,0 | 27,0 | 29,5 |
| 8 | 12 | | IM | Karthikeyan P. | | | IND | 2456 | Railways | 5,5 | 0,0 | 25,0 | 28,5 |
| 9 | 1 | | GM | Sengupta Deep | | | IND | 2565 | PSPB | 5,0 | 0,0 | 29,5 | 32,0 |
| 10 | 5 | | GM | Vishnu Prasanna. V | | | IND | 2525 | Tamilnadu | 5,0 | 0,0 | 29,0 | 32,0 |
| 11 | 18 | | GM | Thipsay Praveen M | | | IND | 2405 | Maharashtra | 5,0 | 0,0 | 28,5 | 32,0 |
| 12 | 30 | | | Wagh Suyog | | | IND | 2289 | Maharashtra | 5,0 | 0,0 | 28,0 | 31,0 |
| 13 | 3 | | GM | Deepan Chakkravarthy J. | | | IND | 2531 | Railways | 5,0 | 0,0 | 28,0 | 30,5 |
| 14 | 11 | | IM | Visakh N R | | | IND | 2467 | Tamilnadu | 5,0 | 0,0 | 26,5 | 30,5 |
| 15 | 10 | | IM | Karthik Venkataraman | | | IND | 2475 | AP | 5,0 | 0,0 | 26,5 | 30,0 |
| 16 | 17 | | GM | Sundararajan Kidambi | | | IND | 2425 | PSPB | 5,0 | 0,0 | 26,5 | 29,5 |
| 17 | 71 | | | Arya Bhakta | | | IND | 2005 | West Bengal | 5,0 | 0,0 | 26,5 | 28,5 |
| 18 | 27 | | IM | Siva Mahadevan | | | IND | 2346 | Tamil Nadu | 5,0 | 0,0 | 26,0 | 29,5 |
| 19 | 35 | | | Navalgund Niranjan | | | IND | 2282 | Karnataka | 5,0 | 0,0 | 25,5 | 28,0 |
| 20 | 19 | | IM | Tania Sachdev | | w | IND | 2393 | Air India | 5,0 | 0,0 | 25,0 | 27,5 |
---