ChessBase India YouTube channel crosses 350,000 subscribers
We started our ChessBase India YouTube channel as a way to interview top players, coaches, parents, organizers, sponsors and all the people connected with the game of chess. Slowly it extended into showcasing games of players, top class analysis, live shows and much more. The main aim of the channel is to enrich and enlighten players and spectators and make chess one of the most followed sports in India and the world. At the beginning of the year we had around 250,000 subs, now after five months we have gained over 100,000 subscribers and reached 350,000. Did you know the channel has 17 videos with over a million views? The top five videos together total up to 100 million views! This is the right time to share with you our top ten videos!
Top 10 most watched videos on the ChessBase India YouTube channel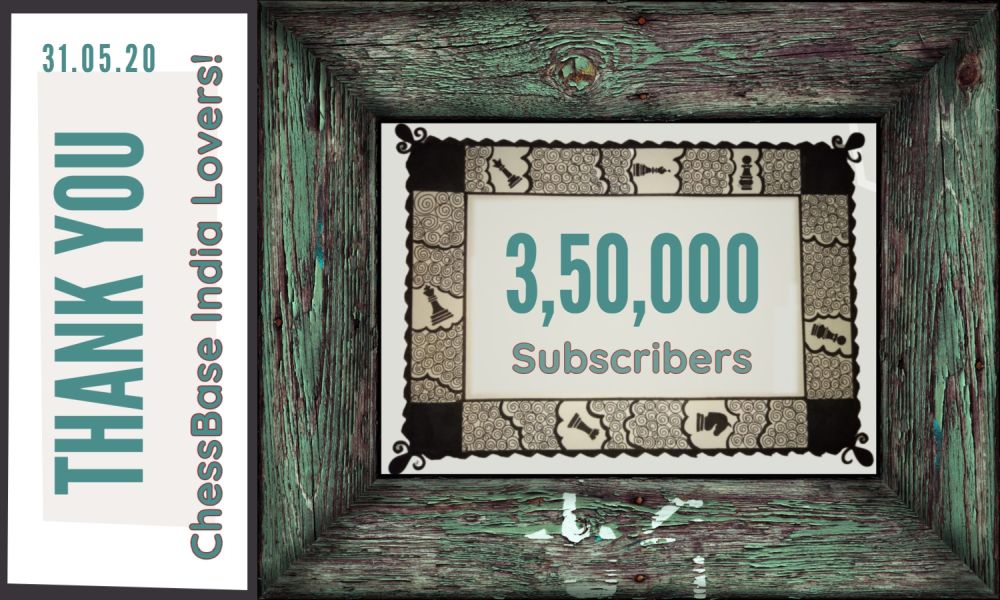 ChessBase India is one of the most popular YouTube channels in the world of chess. It has now crossed 350,000 subscribers. It has 17 videos that have more than a million views and the total number of views on the channel are a massive 171,157,540 (17 crores 11 lakh). The channel also hosts three most popular videos of chess on the entire internet - Pragg vs Ganguly, Carlsen vs Vidit and Anand vs Pragg! The top five videos together total up to 100 million views! The channel has playing videos of all the top players in the world and at the same time also video interviews of Carlsen, Caruana, Anand, Giri, So - you name it! We have taken care to cover the entire spectrum of chess and the channel has several videos of absolute beginners and newbies to chess. A lot of people have worked hard to make the channel what it is today - the most prominent contributors are Sagar Shah, Amruta Mokal, Shahid Ahmed, Niklesh Jain, Avathanshu Bhat, Rupali Mullick, Satanick Mukhuty and several others. In this article we bring to you the top 10 videos of the channel. Hope you enjoy them!
1. R Praggnanandhaa vs Surya Sekhar Ganguly, Tata Steel Chess India 2018 Blitz, Round 17 - 30.5 Million views
This is the most famous chess playing video not just on the ChessBase India YouTube channel but across the entire internet. No chess playing video has garnered so many views! We are proud of this fact. Here's an article where we tell you why this video became so popular.
2. Magnus Carlsen vs Vidit Gujrathi, Tata Steel Chess India 2019 Blitz, Round 10 - 27.6 Million views
This is the most popular video of World Champion Magnus Carlsen on the internet. In one of the rounds in the Tata Steel Chess India blitz, he had an upset stomach and so he offered a draw to Vidit Gujrathi on move no.5, which was accepted by the Indian GM. Carlsen's draw offer, Vidit's smile, the spectator's shocked reaction all make this video a very entertaining one, although it is just for a minute and a half.
3. Rematch Vishy Anand vs R Praggnanandhaa, Tata Steel Chess India 2018 Blitz, Round 15 - 27.3 Million views
This video was much less popular than the first game between Pragg and Anand. However, in the last few months, it shot up like hot fire and has now reached 27.3 million views!
4. R Praggnanandhaa vs Vishy Anand, Tata Steel Chess India 2018 Blitz, Round 6 - 9.5 million views
Vishy playing a dangerous variation in the Sicilian and Praggnanandhaa launching a deadly attack. Anand repelling it and finally winning the game. What an encounter between a future champion and a legend!
5. Nakamura cannot believe he couldn't win this!- 4.8 Million views
R Praggnanandhaa vs Hikaru Nakamura, Tata Steel Chess India 2018 Blitz, Round 9. This game holds a special memory for all the Indian chess fans. It was because of this draw that Nakamura ended on the same points as Vishy Anand, a tiebreaker was played and eventually Vishy managed to win Tata Steel Blitz 2018.
6. Vishy Anand vs Magnus Carlsen, Tata Steel Chess India 2019, Round 8 - 4.4 Million views
Carlsen plays the Scandinavian and grinds out a win against Vishy. A brilliant technical effort by the World Champion.
7. What happened when Anish Giri offered a draw to Magnus Carlsen on move 4! - 4.3 million views
Anish Giri vs Magnus Carlsen, Tata Steel Chess India 2019 Blitz, Round 11. Carlsen had offered a draw to Vidit on move no.5 in one of the previous rounds. So Anish thinks of doing it better! Why not a draw offer on move four! Check out what happens!
8. 15-year-old Abdusattorov makes Carlsen lose his cool | World Blitz 2019 - 2.5 million views
9. The big controversy in the game of Magnus Carlsen and Alireza Firouzja at the World Blitz 2019 - 2.5 million views
This video was captured by Sagar Shah at the World Blitz Championships 2019. It contains some of the behind the scenes footage which gives you an insight into his big controversy between World Champion Carlsen and the future World throne contender Alireza Firouzja.
10. Sergey Karjakin vs R. Praggnanandhaa - 2.2 million views
Karjakin had become world's youngest GM at the age of 12 years and 7 months. Pragg very nearly beat his record. A game between both these players was definitely a delight for the spectators!
11. Crying is not always bad | ft. Volodar Murzin at World Blitz 2019 - 1.9 million views
Yes, we mentioned we would put up top 10 videos on our channel. But this one is surely not to be missed! Right now at no.11 but we think this will soon move into top 10!
Subscribe to the ChessBase India YouTube channel for some high quality chess content
---