Introducing: ChessBase India Elite Pass!
Explore the World of ChessBase India! We would like to thank all our valuable customers for their constant support. Our gratitude towards you is infinite. We would like to return the favor with the latest addition to our services. Presenting the ChessBase India Elite Pass, a premium pass for 1 year containing a range of special services, all designed to fulfill your chess needs. What benefits would you get if you became the owner of a ChessBase India Elite Pass? Check out the article to know all the details. We also have new products for you that you can pre-order which include Fritz 17, Mega Database 2020, Correspondence Database 2020 and much more!
The thing all chess players have in common, no matter how strong, is that the preparation never ends! Chess players are always on the longest of grinds to simply be prepared for the upcoming battles! Often on the way, we tend to think of chess as purely a game, when in fact for most of us it is a never-ending battle to keep improving! To truly celebrate, and to show your black and white chess colors, why not consider starting with the all-new ChessBase India Elite Pass!
It comes with a vast variety of features, all of which are intended to set the perfect atmosphere for your chess study! Here they are below:
1. ChessBase India Elite Pass Card:
The Elite Pass card, couriered to you upon purchase of the membership, is the stylish cosmetic that symbolizes an Elite Pass user.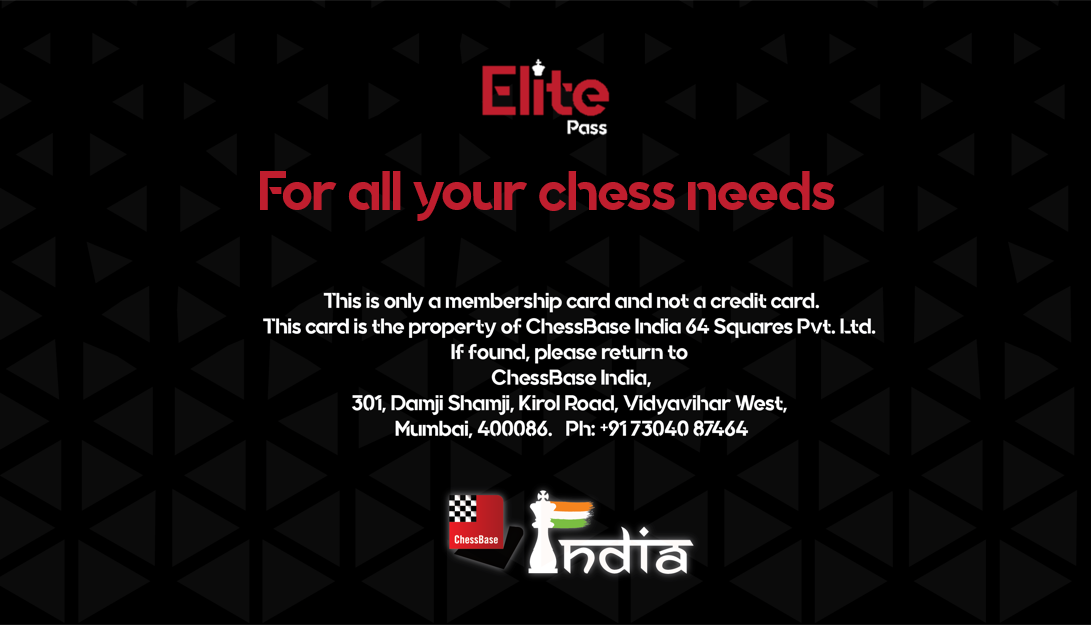 2. A 5% discount on ALL items in the ChessBase India Shop for a year:
ChessBase India shop has over 500 products in its repertoire ranging from the softwares, books and accessories. If you are an Elite Pass user, you will get 5% discount on the purchase of any of the product in the shop for a year.
Let's take the ChessBase 15 Mega Pack as an example. You go to the ChessBase 15 Mega Pack page:
You will see a slot to enter the Promo Code. If you are an Elite Pass user, you would have received the Promo Code already. You enter it in the box...
Upon adding a 5% discount to the Subtotal, you get a discount 450 Rs. That's 45% of the price paid for the Elite Pass!
Upon purchase of the card, we will be sending you a discount coupon which can be used to add the 5% discount on any purchase except during sale. This coupon code will be unique to each Elite Pass member and can be used up till expiry date.
3. FREE CBI Goodie Bag!
If you buy the ChessBase India Elite Pass Membership, you would get:
a.) ChessBase India T-shirt - Rs.600
The finest quality ChessBase India T-shirt in black
b.) ChessBase India Notebook - Rs.200
This notebook is created with excellent quality paper and has a total of 60 pages - 20 pages of Saffron colour, 20 of White, 20 of Green! Yes, you guessed it right! The colours of the Indian flag!
c.) ChessBase India Magnet - Rs.100
This Magnet can be used to put up in your room, or on the refrigerator. Wherever you put it up, it will look classy!
d.) ChessBase India Photo Card - Rs.100
The Photo Card includes a picture of one of the top players in the world - could be Anand, Carlsen or Kramnik. The photo has been taken by ChessBase India's ace photographer Amruta Mokal.
e.) ChessBase India Pen - Rs.50
The exclusive ChessBase India pen with the ChessBase India logo on it.
4. Exclusive technical help with software!
Elite Pass users will get first priority for any assistance regarding any softwares. If you would like to learn the best practices or what is the best way to use the product, we have dedicated a time in the week where you can interact with our experts. It will help you to extract the maximum from your purchase. You will be communicated with using TeamViewer (Screenshare software). We will be assisting you on a fixed date and time once a week. Every Saturday, 4 p.m to 5 p.m. You will have to book a slot in advance writing to cbielitepass@gmail.com
5. Loyalty Points!
Every 100 Rs worth awards you 1 point. and every one point translates into a rupee. So let's imagine you buy ChessBase 15 worth Rs.3149 (before GST), you earn Rs.31.49 Once you reach 100 points (Rs.100), you can redeem these on a wide range of Accessories in the ChessBase India Shop! Note: The point is added on the subtotal, before the GST and after the 5% discount that comes along with the Elite Pass.
...all of these features for the price of Rs.1178/- (Rs.999+GST) per year.
New products in the ChessBase India Shop for pre-order:
Once you have placed the order for the ChessBase India Elite Pass, you will receive the 5% discount code within 24 hours on your mail (card will be couriered to you and should reach within 10 days) and you can already start making use of the discount coupon. We recommend starting it right away because we have the following new products in our shop for pre-order. They will all be released on 12th November.
If you are already a Mega Database 2019 user, you can upgrade to Mega Database 2020 at 2/5th the cost.
You can get the CB 15 Mega Pack as well, now with the latest Mega Database 2020.
Correspondence Database 2020 is here with all the latest games from Correspondence chess along with video analysis as well.
There are a couple more products which have already been released and are available immediately in the shop:
From the CEO's Desk:
I am very excited with the launch of ChessBase India's Elite Pass. The idea is to bind the Indian chess community together with the help of this service. For now we have started with a 5% discount on all products, a free ChessBase India goodie bag, Loyalty Points and exclusive technical help. Not to forget the classily designed Elite card by our Graphics Designer Jeevan Karandikar. We have priced the card at a modest Rs.1178 (999 + 18%GST) for a year. Why do I call it a modest price? First of all in this price you receive a goodie bag worth Rs.1050! So you are already getting more than what you have paid for the Elite Pass. Secondly if you are a regular buyer of ChessBase India products, then a 5% discount every time you purchase softwares, books or accessories is quite substantial. We also have a dedicated time slot each week for exclusive technical help related to ChessBase softwares. The aim is not just to troubleshoot your problems, which we will do anyway, but to give you a firm understanding of the products that you have already purchased or would like to and how to extract maximum from them. Lastly you also have the 1% loyalty points on your every purchase that goes towards buying accessories. In future, we have plans to keep expanding the range of services that we provide to you as the ChessBase India Elite Pass Holder. The Tagline of the Elite Pass is "For all your chess needs". And we will work hard to live up to it.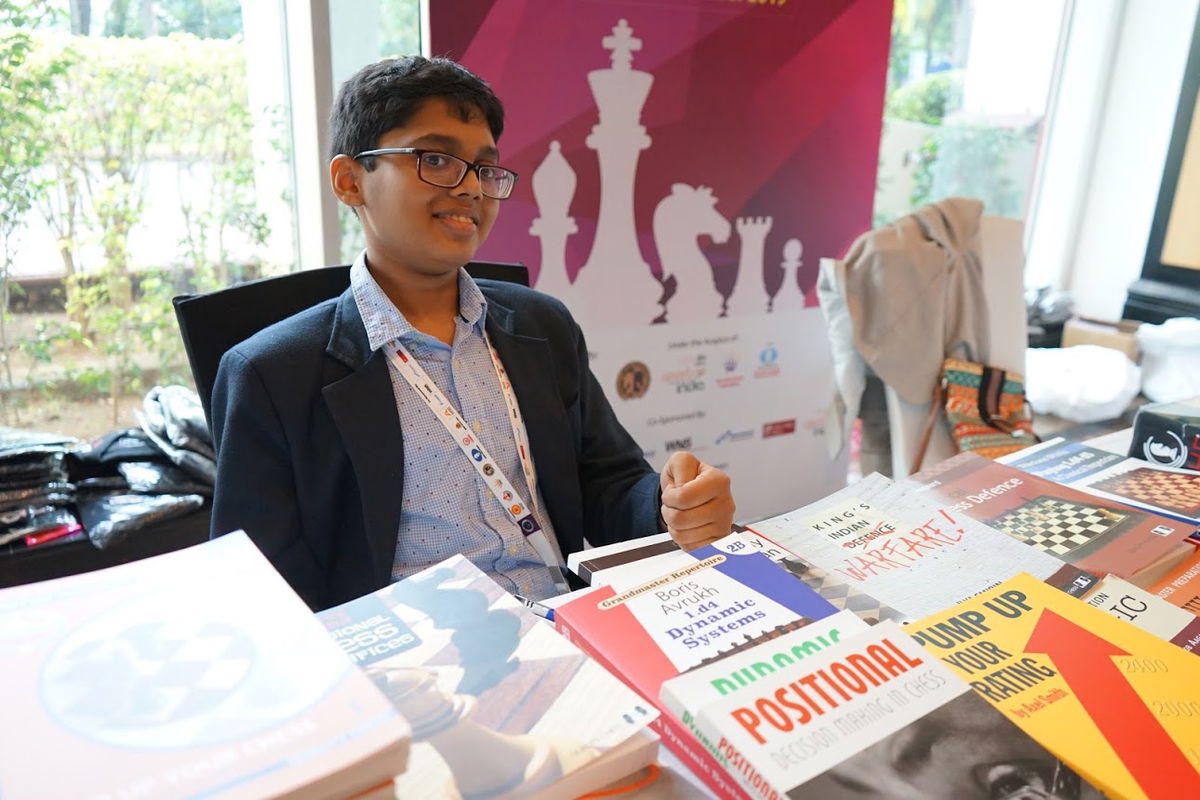 FAQ (Frequently Asked Questions) about the card:
Q: Can I cancel my membership and get a refund?
A: No, you will not be refunded the cost of the membership
Q: Is it transferable? Can I buy for my friend also?
A: One card is meant for one person only. If you would like to buy for your friend, you would have to buy another card.
Q: What if I lose my card?
A: Upon contact, you will be resent a card (Card making + delivery charges apply)
Q: Which T-Shirt will I receive?
A: You will receive the classic Black round-Neck India T-Shirt. Please put in your size number while ordering the t-shirt.
Q: Can I avail the discount during an already ongoing sale?
A: Your coupon code would not work during an ongoing sale.
Q: What if I need emergency assistance with software?
A: Special requests, provided there is information, can be considered. Please write to us at cbielitepass@gmail.com
Q: How soon will I get my 5% discount coupon?
A: The discount coupon of 5% will be sent to you within 24 hours of buying the Elite Pass. The actual card along with the goodie bag will take 7-10 working days to reach your residential address.
Q: How do I redeem my (1%) Loyalty points?
A: You can always write to us at cbielitepass@gmail.com to know how many points you have accumulated. We will send you your discount code whenever you would like to redeem the points. Just write to us at cbielitepass@gmail.com
Q: What happens after one year of membership?
A: You will have to renew the membership. You will receive another CBI Elite Pass card with a different colour (currently it is Red) that symbolizes that you have moved to the second year. You will also get additional benefits for being our Elite Pass member for the second year.
---