The Magnus Carlsen - Anish Giri twitter exchange
The Twitter is becoming a battlefield of exchanges between top players these days. The Candidates 2018 is beginning in a couple of days from now and Magnus Carlsen and Anish Giri have already had quite some serious battle of words on Twitter. While Magnus attacked Anish with all his might, the Dutch GM has been able to maintain his cool. A lot of this happened after it was made public that Anish Giri is working with Vladimir Kramnik in Berlin. We bring you chronologically all of what happened along with some background behind the tweets!
Off the board, top players fight it out on Twitter!
When it was publicly known that Anish Giri would be helping Kramnik, Carlsen made the following tweet:
So supposedly @anishgiri will be seconding Kramnik during the candidates. Before Tata (an unbeaten +7 with just a few draws for Vlad) this would have been a clear cut case of "if you can't beat em, join em" Now it's rather "if you can't draw em, join em"

— Magnus Carlsen (@MagnusCarlsen) March 7, 2018
Magnus' tweet is quite complicated, but can be understood better if you know that Anish managed to beat Vladimir at the Tata Steel Masters 2018 held in January 2018:
Anish had the following reply to Magnus' tweet:
I guess this deep joke only makes sense in Norwegian?! 🤔 Or maybe I am just too tired from all the work on the openings. 😆

— Anish Giri (@anishgiri) March 7, 2018
A couple of days ago MVL wrote a very nice article on the chances of each of the participants at the Candidates. He gave Vladimir Kramnik an outside chance of winning the event, but he mentioned: "In my opinion, Vlad is probably the player in the world who best understands chess. You can show him whatever position, his instincts will seldom let him down. He will always find what the evaluation of the position is and which plan to adopt." Magnus was not so magnanimous as MVL and tweeted the following:
Giri, who is Kramnik's second, stood up for the man he is backing with the following tweet:
In wake of the World Championship qualifier, someone appears to be more nervous than all of the 8 candidates put together!😅 (Hint: it is not me or MVL). https://t.co/16Bmeqq8A6

— Anish Giri (@anishgiri) March 8, 2018
Carlsen it seems lost his cool and got a bit rude:
Come on, that is just weak. Win a tournament for the first time in your life, and maybe people will start taking you seriously https://t.co/WgF3fAmOvK

— Magnus Carlsen (@MagnusCarlsen) March 8, 2018
Anish kept his calm and cooled down the situation:
Don't know about people, but you seem to be taking me seriously and that is flattering! A little more and I may have enough confidence to finally win one. As for now, I haven't even qualified to the qualifier, so no worries...

— Anish Giri (@anishgiri) March 8, 2018
Hikaru Nakamura didn't miss the opportunity to chime in:
Finally, somebody gets fed up with @anishgiri and all of his ridiculous tweets! https://t.co/fsKgyZwLas

— Hikaru Nakamura (@GMHikaru) March 8, 2018
These Twitter exchanges have made the Candidates a tournament to look forward to!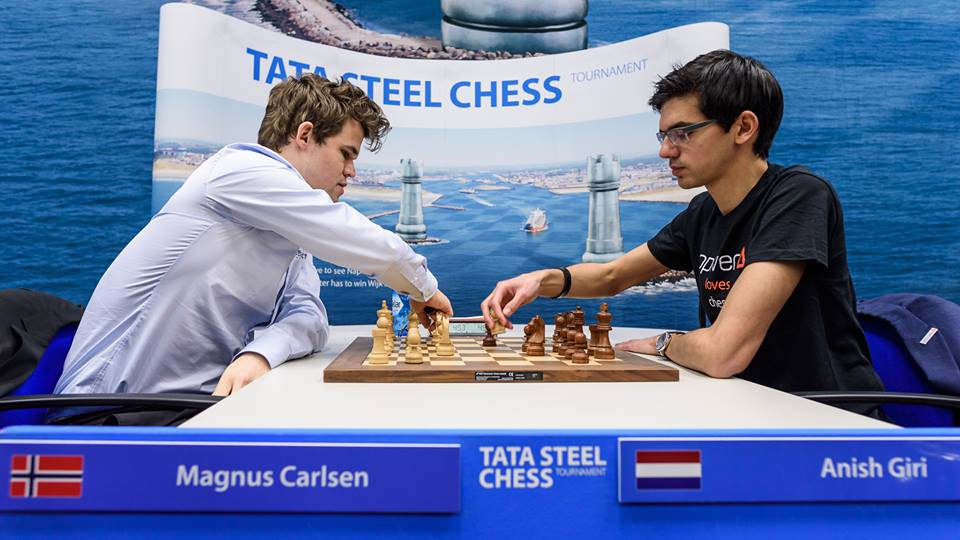 Thanks to this Twitter war, Anish must be highly motivated to ensure that Kramnik wins the Candidates. Good news for the Big Vlad! As for the fans out there, they are having ample of fun:
Reminds me of the book "Chess for fun and Chess for blood", Lasker must add these tweets to the next edition 😁https://t.co/CfRdwHmNq4

— Himadri Mukherjee (@baharampuri) March 8, 2018
---