Bhopal 2017 Round 9: It's a fight with yourself!
"It's a race against yourself," says Himanshu Sharma. The Haryana GM had a dismal national premier and finished in the last spot after losing eight games! In the Bhopal International he has worked hard in the months leading up to it and going into the last round he is one of the joint leaders. We bring you players, pictures, videos and photos all in his report from the city of lakes - Bhopal. No players have been able to make their IM/GM norms here, but the Bhopal International definitely has proved to be a great exposure for the local kids.
"Once there was an athlete," recounts Himanshu Sharma. He is telling us an anecdote which he had heard a few days ago. "The athlete had finished on the last spot in the race, but was beaming with happiness. Why are you so happy asked the people. Well in my previous race I had clocked 3 minutes 40 seconds. Today I clocked 3 minutes 30! I improved my time, and that makes me very happy!"
Himanshu's story was fictional, but it could very well apply to him. GM Himanshu Sharma is the only Indian grandmaster playing at the Bhopal International 2017. This was his first tournament after his National Premier debacle where he had lost a whopping 8 games out of 13 rounds. How would he fare? What were the improvements that he had brought in his game? The chess fans were eager to know. In the second round itself Himanshu slumped to a defeat against Utsab Chatterjee (rated 1978) and a feeling of deja vu started to creep in. But Himanshu is a fighter. He didn't lose his calm nor his composure. He came to the next rounds with the same amount of motivation and energy and scored a mammoth 6.5/7 and is now the joint leader of the Bhopal International 2017. In the ninth round he beat the top seed of the tournament Timur Gareyev. How did Himanshu do it? Why not hear it from the horse's mouth:
From a player who finished last at the National Premier to a player who may win the Bhopal International 2017, Himanshu Sharma has a lot of things to teach Indian youngsters.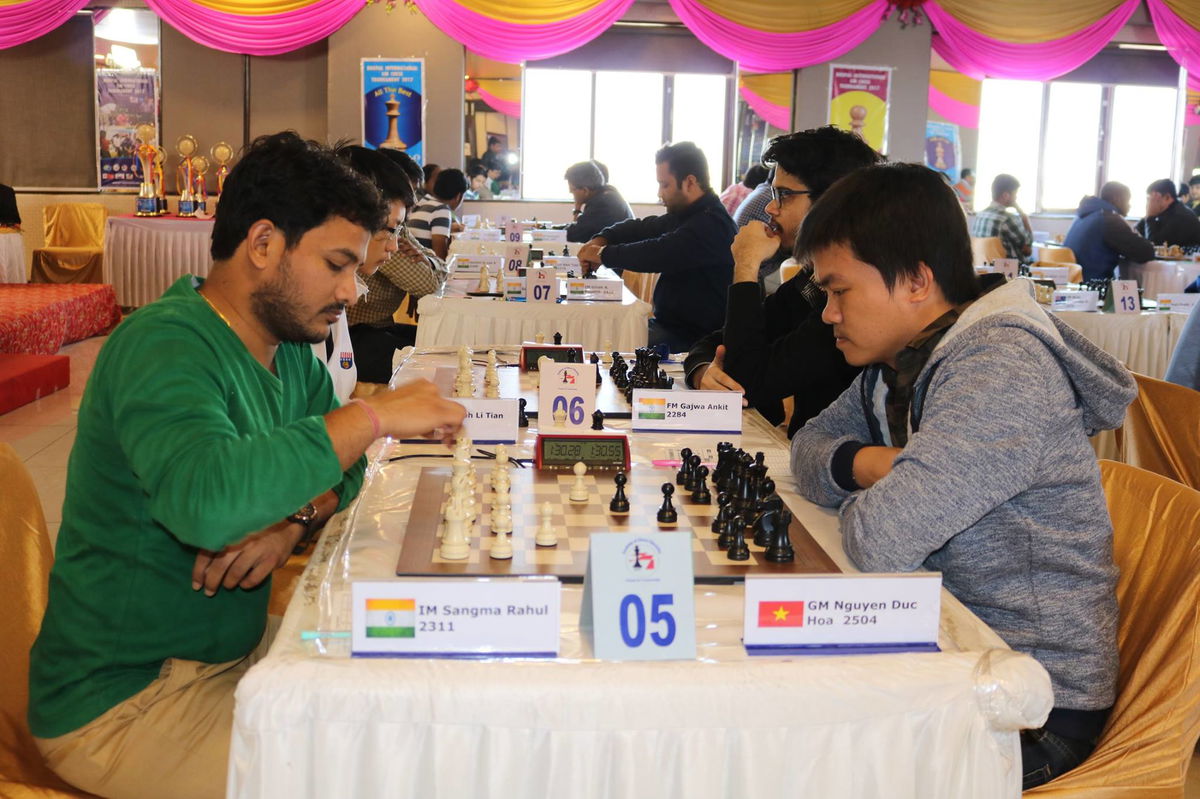 With five players leading the 7.5/9 it promises to be an excellent finale. Duc Hoa will play against Ivan Rozum in the final round, while Tran Tuan Minh will fight it out against Yeoh Li Tian. India's Himanshu Sharma has a chance to win the title if he beats GM Adam Tukhaev.
Results of round 9
Rankings after round 9:
| | | | | | | | | | | | | | | |
| --- | --- | --- | --- | --- | --- | --- | --- | --- | --- | --- | --- | --- | --- | --- |
| Rk. | SNo | | | Name | sex | FED | RtgI | Club/City | Pts. | TB1 | TB2 | TB3 | TB4 | TB5 |
| 1 | 7 | | GM | Nguyen Duc Hoa | | VIE | 2504 | Vietnam | 7,5 | 0,0 | 51,0 | 55,0 | 45,00 | 6,0 |
| 2 | 2 | | GM | Rozum Ivan | | RUS | 2595 | Russia | 7,5 | 0,0 | 50,5 | 55,0 | 44,50 | 6,0 |
| 3 | 6 | | GM | Tran Tuan Minh | | VIE | 2544 | Vietnam | 7,5 | 0,0 | 48,5 | 53,0 | 43,25 | 7,0 |
| 4 | 8 | | IM | Yeoh Li Tian | | MAS | 2480 | Malaysia | 7,5 | 0,0 | 48,5 | 52,0 | 42,75 | 6,0 |
| 5 | 9 | | GM | Himanshu Sharma | | IND | 2469 | Haryana | 7,5 | 0,0 | 47,0 | 52,0 | 43,75 | 7,0 |
| 6 | 10 | | IM | Khusenkhojaev Muhammad | | TJK | 2451 | Tajikistan | 7,0 | 0,0 | 49,0 | 53,5 | 40,25 | 5,0 |
| 7 | 5 | | GM | Atalik Suat | | TUR | 2545 | Turkey | 7,0 | 0,0 | 48,0 | 52,5 | 39,50 | 5,0 |
| 8 | 17 | | | Kunal M. | | IND | 2352 | Tamil Nadu | 7,0 | 0,0 | 46,5 | 50,5 | 37,75 | 6,0 |
| 9 | 16 | | FM | Erigaisi Arjun | | IND | 2359 | Telangana | 7,0 | 0,0 | 46,0 | 49,5 | 37,50 | 5,0 |
| 10 | 27 | | FM | Shailesh Dravid | | IND | 2306 | Maharashtra | 7,0 | 0,0 | 45,5 | 49,5 | 38,00 | 5,0 |
Pairings for round 10
---