Bhopal 2017 Round 1: 850 Elo difference! 1733 defeats 2575 GM
We all love upsets! That too when a young boy beats a seasoned grandmaster. Souhardo Basak beat GM Adam Tukhaev in the first round of Bhopal International Grandmaster event 2017. Souhardo, a shy 10-year-old from Kolkata rated just 1733 played a fine game to get the better of the Ukrainian GM who has won many big events in the past. Indian chess is blessed that it has four extremely strong tournaments lined up one after the other starting with Bhopal. It's a great exposure for our youngsters. Souhardo proved it in the first round. After beating a 2575 rated GM your confidence is propelled to an altogether different level!
From the station in order to go to our hotel we booked a cab. As there were seven of us, we needed two cabs. I open my Ola cab app and booked one. Alex Wohl decided to book the other one through his tablet that had an Indian sim card. He used the Uber app. I told him that in India at some places the frequency of Ola cabs is better than Uber. To which he replied, "It doesn't matter. I always book Uber because I work for Uber!" When Alex goes for work in Australia he turns his car into an Uber cab so that people can join him and he earns some money, at the same time helps to keep the planet green!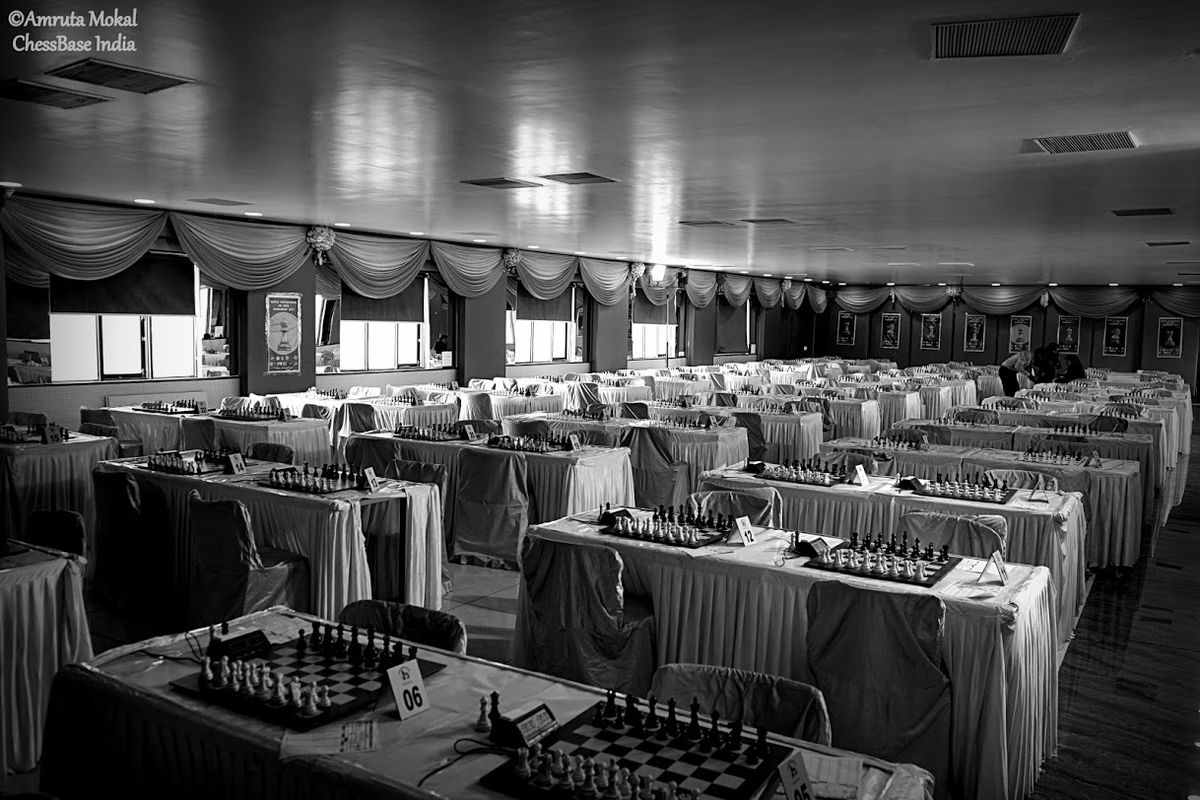 Chess in Madhya Pradesh is improving. It is clear from the organization of this event. The first four editions of the Bhopal Open had the prize money of four lakh rupees. This year they have made it into a grandmaster norm event with a prize pool of Rs. 10,00,000. The credit to it definitely goes to Mr. Kapil Saxena, Secretary of Madhya Pradesh Chess Association and his team. Although MP has only one IM till date - Akshat Khamparia, the presence of such events is sure to boost the chess culture in the state and city of Bhopal.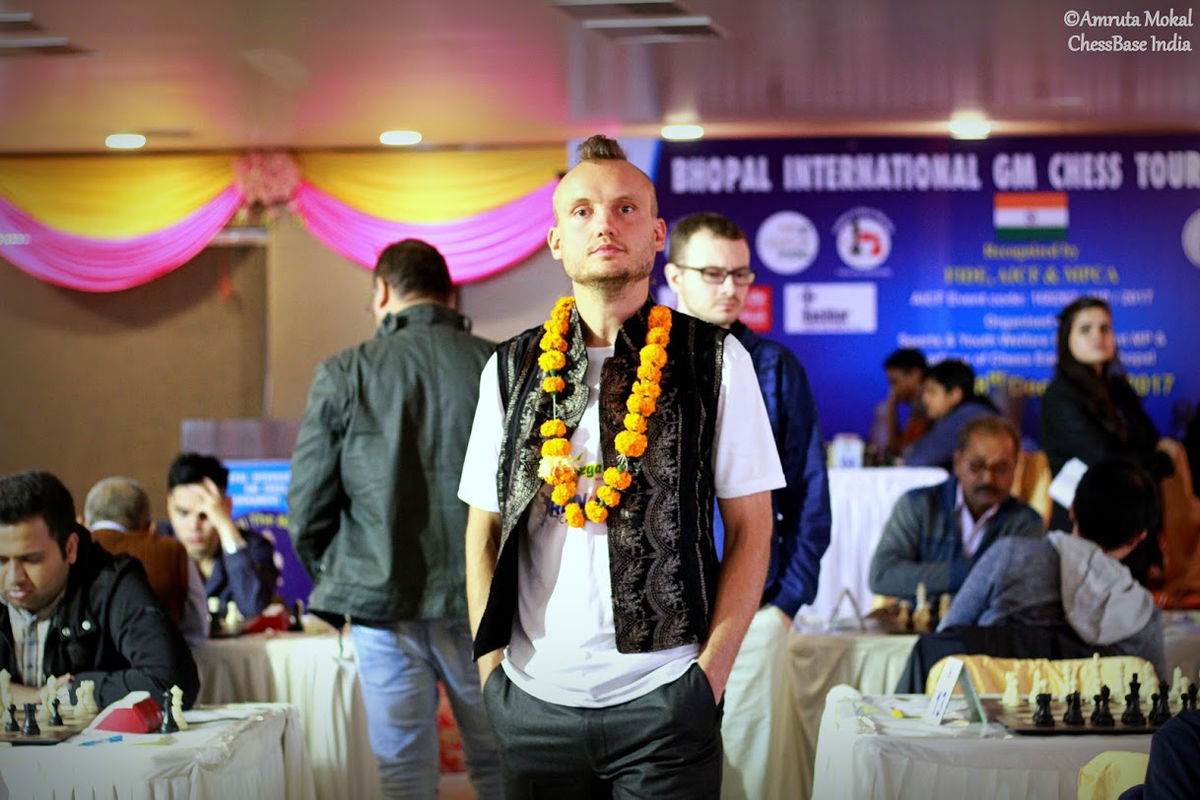 Starting rank of top 10 seeds
Better known as the blindfold king, Timur Gareyev is one of the most colourful personalities in the world of chess. His presence makes the tournament extremely exciting. "I am going to try out my favourite opening here - the Trompwsky!", says Timur. But aren't you afraid that opponents are going to come prepared? "Well in general I think people are lazy and don't work so hard. I am just going to use my experience on the board!" Having Timur in these four Indian events makes it exciting as the guy is colourful and full of advice to the youngsters who would like to improve their games. Check out his interview: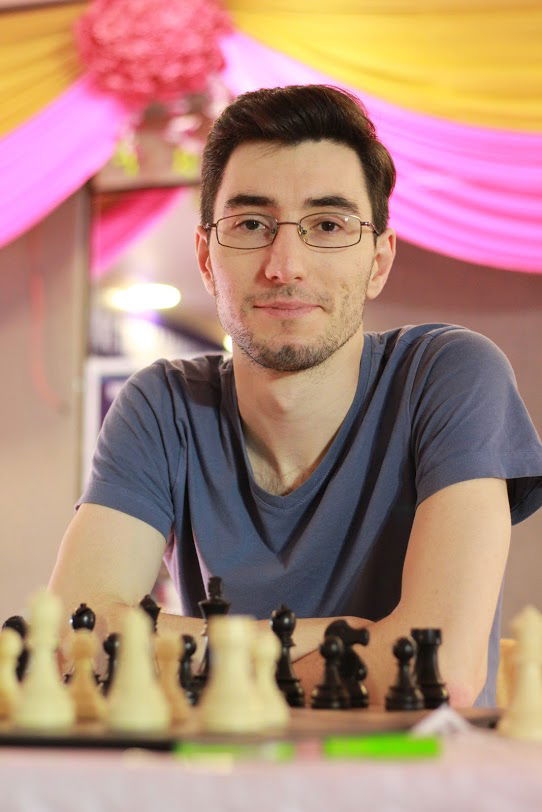 I was unable to meet Souhardo after the game ended and hence couldn't interview him on his fantastic feat, but I am sure I will get the opportunity to speak with him in the rounds to come.
Prodigy alert:
Two young prodigies are playing at this event. One is Gukesh (about whom I covered extensively in the under-11 nationals), and the other is Aditya Mittal. Aditya is just 11 years old and already has a rating of 2288. He is trained by TJ Suresh Kumar and is an excellent singer as well. Get to know the next big thing in Indian chess - Aditya Mittal.
Results for round one:
Pairings for round two
Submit your game to ChessBase India:
There are 320 players at the tournament. Each round 160 games would be played. It is humanly impossible for me to cover all of these games. If you think that you have played a fine game, or there is a nice point from which others can learn, do send us your game at chessbaseindia@gmail.com
You can send it annotated, or without any notes. It could just be light analysis. Whatever it is make sure that you send it to us and we will ensure that your game, if it is worthy, is shown to the world!
Replay games from round 1
---