One down, eight to go! Pragg begins with a win in Australia!
After a scintillating performance at the World Juniors 2017, Pragg is back on the board and he is playing at the Lidums Australian Young Masters closed Round Robin GM norm event. The event consists of nine games and Praggnanandhaa has to score 7.0/9 in order to score his second GM norm. Although this seems like a daunting task the little boy from Chennai started off with a win against GM Moulthun Ly. It was a game filled with great complications and we bring these analysis to you. Also we have a short interview with Pragg's coach R.B. Ramesh on his student's World Junior performance.
Praggnanandhaa beats Moulthun Ly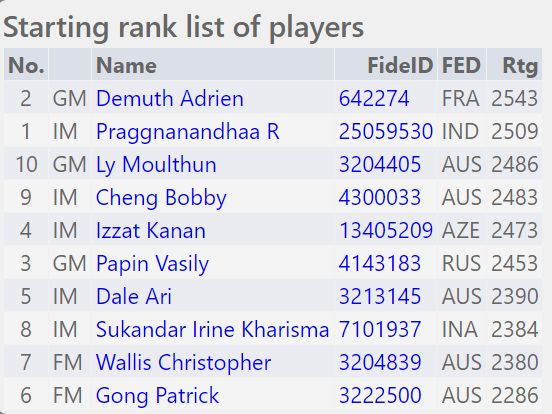 For all the other players vying for a GM norm here the benchmark is 6.5/9, but for Pragg, who is rated 2509, it is 7.0/9 because the average rating of the opponents comes to 2431. According to FIDE Handbook if the average rating of your opponents is 2434 or higher you have to score 6.5.
Some people say that Pragg is choosing easy events to score his GM norm and reach his aim of becoming the youngest GM in the world. I would beg to differ here. Scoring 7.0/9 in a field like this is far from easy. In fact I would say Pragg's chances of scoring the norm are less than 50%. But the boy showed at the World Junior 2017 what he is capable of and he ensured a good start with a win over third seed Moulthun Ly (2486) of Australia.
Coming back to Pragg. The boy had the white pieces against Australian GM and thoroughly outplayed him in the opening.It seemed as if the game was just one way traffic, when the 12-year-old start making his moves lightly. Moulthun took his chances and complicated the position to such an extent that just about any result was possible. Full marks to Pragg for finding some very resourceful ideas, especially some fine rook play. Ly played erroneously at some point and Pragg managed to take home the full point. There was one point in the game which definitely needs to be mentioned:
Pragg vs Moulthun Ly
Video analysis:
Detailed game analysis:
---
Interview with coach R.B. Ramesh
If there is one man who knows Pragg well it has to be R.B. Ramesh. The super coach of India has been training the boy ever since he was a kid (he is still a kid!). We got in touch with Ramesh after the World Juniors and asked him a few questions about Pragg's play.
Sagar Shah (SS): How would you rate Pragg's performance at the World Juniors 2017?
R.B. Ramesh (RBR): Pragg has been coming close to making a GM norm and missing out narrowly. But his playing strength and rating has been steadily going up. Good to know he finally got his first GM norm.
SS: When he went to the World Juniors did you think he would be fighting for the first place throughout the event?
RBR: My philosophy to coaching is slightly different in that, I don't have any expectations from my students except that they should enjoy their games, give their best on the board and work harder at home. If all goes well then we will get the kind of results we are after eventually. From this angle, I know Pragg wants to do well and will give his best. Apart from getting GM norm he also fought for the title which is an added bonus. But we should not get carried away by day to day happenings and lose sight of the big picture which is, how far Pragg can go in his career.
SS: What are the improvements that Pragg has to make in his game according to you to reach the next level?
RBR: For any player to progress, they need to keep making changes in the way they look at chess, their chess philosophy, their method of learning etc. In that sense, Pragg will also keep evolving always, making mistakes here and there, learning from them and so on. I dont see the need to make any drastic changes in his approach as of now. He is doing well and there is no need to become desperate.
SS: Which are his next tournaments?
RBR: His next tournaments are closed GM event in Australia, World youth Olympiad, Rilton cup, Sunway Sitges, Gibraltar, Graz open and a closed GM event in USA.
---