India dominates Asian Youth 2018 with 35 gold medals!
What an amazing event it was! India won 35 gold medals in Team and Individual combined in all the three formats Classical, Rapid and Blitz to stand out as the most powerful chess country in Asia as on today. And we were miles ahead of the second placed Vietnam team which won 17 gold medals. This was a fantastic team effort with AICF making sure that all the qualified players get their expenses covered by the Government of India, the parents and coaches supporting the players in every possible way and the players fighting it out with everything that they have on the board! India shining! A detailed report with pictures and analysis of winners' games.
A huge crowd gathered at the closing ceremony of the Asian Youth Championship 2018. The Indian table was the loudest! Every time one of our players would get the medal, the team would erupt into a loud cheer! Coaches, officials, kids everyone was having the time of their life!
And why wouldn't we! The youngsters had shown how dominant Indians are by winning 35 gold medals in team and individual competition in all the three formats combined - Classical, Rapid and Blitz.
68 medals is quite a lot. India won 33 medals in Individual format and 35 in team. Our youngsters won 14 individual gold medals and 21 as a team. The team medals is something new that was introduced here in Chiang Mai, Thailand. The points of top three players in each group would be added and the team that has the most cumulative points gets the gold medal. India did well in almost all sections showing that we had more than one player doing well in the respective categories.
But, just a few hours before this celebration, everything was quiet. The coaches and parents were tense. The players had their heads in their hands. One mistake could mean the difference between a gold and a medal-less finish. The stakes were high, but the kids had their nerves under control. In the end we won four gold medals, five silver, and five bronze in the classical format. Here's a close look at the champions!
D. Gukesh - gold under-12
Gukesh was the highest rated player not just in his section but amongst the entire 1000+ players who had gathered at the Asian Youth 2018. He stayed true to his top billing and clean sweeped the under-12 section with three gold medals in the classical, rapid and blitz section. His main competitor was Iranian Bardiya Daneshwar, who was the second seed and rated 2361. Gukesh made sure that he scored the full point against him in the fifth round.
One of the things that I noticed in Gukesh's games was that when the positions were complex he found interesting ideas, but there was high chances that the game could go either way. But when the endgames arrived, he was just at an altogether different level. The boy knew just where his pieces belonged and outplayed his opponents with absolute ease. Take for example his last round win:
Gukesh goes back home with 6 medals - 5 gold and 1 bronze. Apart from three individual golds, he got two gold medals in team rapid and blitz and a bronze in the classical section. Gukesh will next play in the Bangkok Open in Thailand. Does the boy already have it in him to start fighting for the GM title? Well, I have to say there are a lot of areas where Gukesh can work and improve upon, but that's the scary part (for his future rivals!). If he has already reached 2400, what would happen if he starts fixing his problems! The boy is yet to turn 12 and he is already an IM. Gukesh is clearly going to make it big in the years to come. We have our eyes on him and we recommend you to do the same!
Sahithi Varshini - gold under-12 girls
To show you how talented this girl is, let me narrate an anecdote. World famous trainer and author Jacob Aagaard visited the Asian Youth in Thailand on the penultimate day. When he was in the premises, a middle aged man approached him and said, "Sir, I would very much like to show you a game played by my daughter today." Jacob was amused. He would usually get parents coming upto him and ask about improvement techniques, or which books to study or how to balance academics and chess! This was something different. He asked the man to show the game. Lokesh (that's the father's name) made the initial moves:
Said Lokesh, "Sir, do you know what my daughter played here? She took on d4 with her queen and sacrificed his queen for two knights." Aagaard has seen many sacrifices in his life to know which ones are easy and which are truly special. This was one was the latter. He looked at the entire game and was thoroughly impressed. Later in the day, while I was chatting with Jacob, he mentioned about the game. "Tremendous queen sacrifice" was Jacob's assessment. Let's have a look at the entire game:
Sahithi is trained by her father who believes in classical form of education in chess. That's the reason why you can see some really great ideas and sacrifices in Sahithi's games. The girl if directed in a proper manner can become one of India's and world's finest players in the years to come.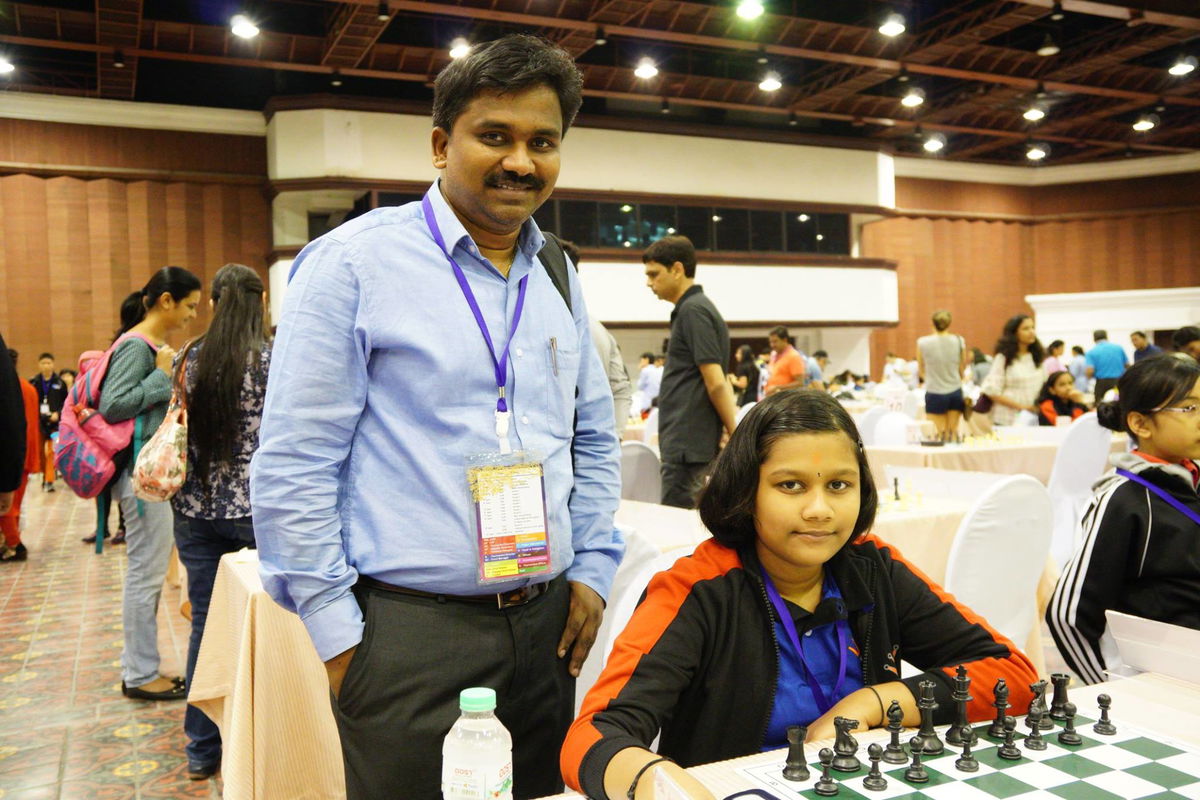 Om Kadam - gold under-10
Hailing from a humble background, Om Kadam is a pure case of talent overcoming financial difficulties to shine on the big stage! The boy is the current under-9 national champion and he proved his mettle by winning the gold at the Asian under-10 almost with a round to spare. He lost the last round, but 7.5 was a good score to win the yellow metal.
Speaking to his coach Sharad Tilak, the experienced IM said, "Om has a natural flair for handling the initiative and sharp tactical vision. Because of his young age he can be impulsive at times. He is highly talented and definitely a GM prospect."
There are two points about Om which highly impressed me when I saw him at the IIFLW 2018 in Mumbai. Firstly, the moment he got an advantage he would finish off his opponents in accurate style. His technique is fantastic. There were games against players like Divya Deshmukh where he was rated nearly 500 Elo points below them. But once he was better, he just played without any errors. This is quite rare in a ten-year-old boy. The second thing which I noticed was the tremendous dedication of his father, Manish Kadam. Manish came upto me one day and asked what was the best software for his son to take his game to the next level. I recommend the Combo of Mega Database + ChessBase 14. He immediately bought it. No questions asked. In spite of all the financial struggles the parent understood that investing in quality softwares was important for his son's progress and he did just that. It takes vision and courage to spend Rs.8250 in one go, but when it came to his child's progress there were no compromises!
Raja Rithvik gold under-14 boys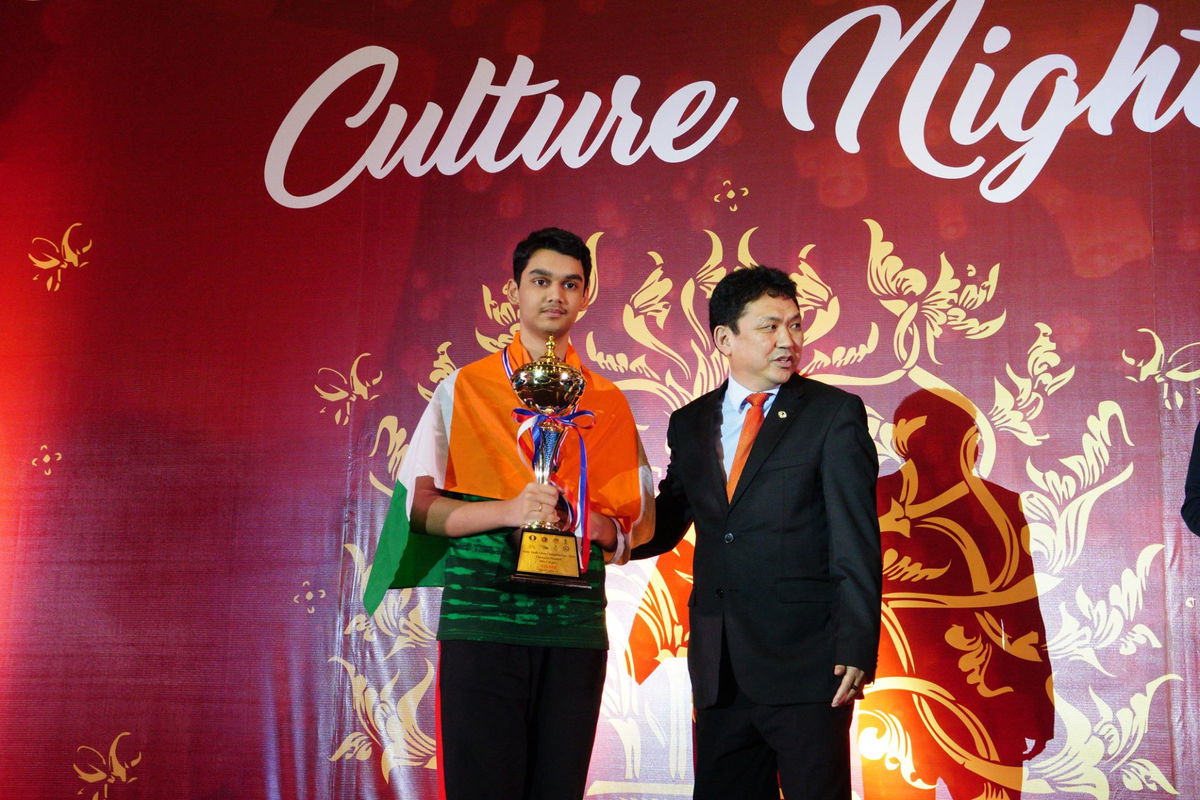 The name Raja Rithvik is becoming more and more popular. The boy from Telangana created a unique record in the year 2017. He won both the under-13 as well as under-17 national titles. Training with Raju, well-known for being Harika's coach, Rithvik is in safe hands. He comes across as a positional player who likes to put his pieces good squares. But when the time comes to calculate, he does that admirably as well. Have a look at the last round game where he positionally outplayed his opponent and then beat him by calculating all the tactical possibilities accurately.
Silver medal winners:
Vatsal Singhania, just like Aashna has shown great progress in terms of rating in the last couple of years. Just that his progress has been tremendous! Vatsal had a rating of 1769 in November 2016. Currently his rating is 2213 (including the 107 point increase at the Asian Youth). In fact Vatsal was well on track towards his gold with 6.0/7. However, he was able to score just 0.5/2 in the last two rounds and had to settle for the silver.
Bronze medal winners:
Talking to ChessBase India, AICF Secretary Bharat Singh Chauhan said,"I am happy with the performance but expected better. I felt that we should have at least half of the gold medals in the classical section." Bharat Singh also added, "One of the key factor for India moving on the way of becoming a superpower is the government support. Their support has helped us to send already two major trips in 2018 - the Aeroflot Open and the Asian Youth."
A very exciting Asian Youth 2018 comes to an with a big success for the Indian contingent. What's heartening to see is talents cropping out from different parts of the country. We have kids from big cities as well as small towns. Each one has his own story to tell and ChessBase India will try its best to bring out the stories of these champions in more detail. As of now a big thanks to the coaches: TJ Suresh Kumar, Arvind Shastry, Vishal Sareen and J.E.Kavitha, the arbiters who made every kid feel at home and the organizing committee led by Sahapol Nakhnavich.
Results of all Indians in classical section:
| | | | | | | | | | | | | | | | | | | |
| --- | --- | --- | --- | --- | --- | --- | --- | --- | --- | --- | --- | --- | --- | --- | --- | --- | --- | --- |
| SNo | | Name | RtgI | FED | 1 | 2 | 3 | 4 | 5 | 6 | 7 | 8 | 9 | Pts. | Rk. | K | rtg+/- | Group |
| 3 | | Adireddy Arjun | 1506 | IND | 1 | 1 | 1 | 1 | 1 | 0 | 0 | ½ | 1 | 6,5 | 3 | 40 | -24,80 | U8 |
| 8 | | Mitul K H | 1341 | IND | 1 | 1 | 0 | 0 | 0 | 1 | 1 | 1 | ½ | 5,5 | 15 | 40 | -40,80 | U8 |
| 9 | | Sadbhav Rautela | 1319 | IND | 1 | 1 | 0 | 1 | 1 | ½ | 0 | 1 | 1 | 6,5 | 4 | 40 | 10,00 | U8 |
| 13 | | Jain Kushagra | 1249 | IND | 1 | 0 | 1 | 0 | 0 | 1 | ½ | 1 | 0 | 4,5 | 26 | 40 | -26,40 | U8 |
| 16 | | Mrinmoy Rajkhowa | 1224 | IND | ½ | 1 | ½ | ½ | 0 | 0 | 1 | 0 | 1 | 4,5 | 33 | 40 | -25,60 | U8 |
| 19 | | Shashank V S | 1150 | IND | 1 | 1 | 0 | 0 | 1 | 1 | 0 | 0 | 0 | 4,0 | 35 | 40 | 3,60 | U8 |
| 22 | | Lakshyesh Mohan Gupta | 1123 | IND | 1 | ½ | ½ | 1 | 0 | 0 | 1 | 0 | 1 | 5,0 | 22 | 40 | 35,60 | U8 |
| 23 | | Jaivardhan Raj | 1119 | IND | 1 | 0 | 0 | 0 | 0 | 1 | 1 | ½ | 1 | 4,5 | 31 | 40 | -7,20 | U8 |
| 24 | | Rosh Jain | 1112 | IND | 1 | 0 | ½ | 1 | 0 | 0 | 1 | 0 | ½ | 4,0 | 37 | 40 | 14,00 | U8 |
| 25 | | Shashindhar Kumar R | 1081 | IND | 1 | 0 | ½ | 1 | 0 | 1 | 1 | 0 | 1 | 5,5 | 14 | 40 | 116,40 | U8 |
| 30 | | Jivitesh Singh Sethi | 1003 | IND | 0 | 1 | 0 | 1 | 0 | 1 | ½ | 1 | 0 | 4,5 | 27 | 40 | 19,20 | U8 |
| 35 | | Divitt Arora | 0 | IND | 0 | 1 | 0 | 1 | 0 | 1 | 0 | 1 | 1 | 5,0 | 21 | 0 | 0,00 | U8 |
| 37 | | Ishaan Singh Khanuja | 0 | IND | 0 | 1 | 0 | 1 | 0 | 0 | 1 | 0 | 1 | 4,0 | 36 | 0 | 0,00 | U8 |
| 40 | | Karthik G Iyer | 0 | IND | 0 | 0 | 0 | 0 | 1 | 0 | 1 | 0 | 1 | 3,0 | 51 | 0 | 0,00 | U8 |
| 5 | | Kadam Om Manish | 1788 | IND | 1 | 1 | 1 | ½ | 1 | 1 | 1 | 1 | 0 | 7,5 | 1 | 40 | 55,60 | U10 |
| 12 | | Ilamparthi A R | 1596 | IND | 1 | 1 | 0 | 0 | 1 | 1 | 1 | ½ | 0 | 5,5 | 13 | 40 | -28,40 | U10 |
| 21 | | Viswak Sen M | 1430 | IND | ½ | 1 | 0 | 1 | ½ | 1 | ½ | ½ | ½ | 5,5 | 19 | 40 | 78,80 | U10 |
| 22 | | Namish Sharma | 1417 | IND | 1 | 0 | 1 | ½ | 0 | 1 | 0 | 0 | 0 | 3,5 | 53 | 40 | -41,20 | U10 |
| 24 | | Swayham P Das | 1415 | IND | ½ | 1 | ½ | 1 | 1 | 0 | 0 | 1 | ½ | 5,5 | 17 | 40 | 60,40 | U10 |
| 25 | | Kapoor Satvik | 1414 | IND | 1 | 0 | 1 | 1 | 0 | 1 | 0 | ½ | ½ | 5,0 | 24 | 40 | 0,00 | U10 |
| 27 | | Bagwe Gaurang | 1392 | IND | 1 | 0 | 0 | 1 | 1 | ½ | 1 | ½ | ½ | 5,5 | 18 | 40 | 36,80 | U10 |
| 29 | | John Veny Akkarakaran | 1384 | IND | 0 | 1 | 1 | 0 | 1 | 0 | 1 | 1 | 0 | 5,0 | 21 | 40 | 42,80 | U10 |
| 46 | | Vaibhav Kalpaka | 1146 | IND | 0 | 1 | 0 | 1 | 0 | ½ | 1 | ½ | ½ | 4,5 | 39 | 40 | 40,40 | U10 |
| 48 | | Rajveer Pinkesh Nahar | 1097 | IND | 0 | 0 | 1 | 0 | 1 | 0 | 1 | 1 | 0 | 4,0 | 45 | 40 | 6,00 | U10 |
| 51 | | Rathi Anay Anup | 1027 | IND | 0 | 0 | 0 | 0 | 0 | 0 | 0 | 0 | 0 | 0,0 | 72 | 40 | 0,00 | U10 |
| 64 | | Pranav K | 0 | IND | 0 | 1 | 1 | 0 | 0 | 0 | 0 | ½ | 1 | 3,5 | 56 | 0 | 0,00 | U10 |
| 1 | CM | Gukesh D | 2401 | IND | 1 | 1 | 1 | 1 | 1 | ½ | 1 | ½ | 1 | 8,0 | 1 | 10 | 0,90 | U12 |
| 4 | | Pranesh M | 2025 | IND | 1 | 1 | 0 | 1 | 0 | 1 | ½ | 0 | 1 | 5,5 | 14 | 40 | -88,40 | U12 |
| 10 | CM | Tanmay Jain | 1804 | IND | 1 | ½ | 1 | 0 | 0 | 0 | 1 | ½ | ½ | 4,5 | 43 | 40 | -125,20 | U12 |
| 21 | | Aditya Bikram Paul | 1641 | IND | 1 | 0 | 1 | 1 | 1 | 1 | 0 | 0 | 0 | 5,0 | 22 | 40 | 10,80 | U12 |
| 23 | | Bhavik Ahuja | 1592 | IND | 0 | 0 | 0 | 0 | 0 | 0 | 0 | 0 | 0 | 0,0 | 74 | 40 | 0,00 | U12 |
| 33 | | Adireddy Tarun | 1476 | IND | 1 | ½ | 0 | 1 | 1 | 0 | ½ | 1 | 0 | 5,0 | 25 | 40 | 14,00 | U12 |
| 2 | FM | Raja Rithvik R | 2280 | IND | 1 | 1 | ½ | 1 | 1 | ½ | 1 | ½ | 1 | 7,5 | 1 | 20 | -3,00 | U14 |
| 3 | CM | Kushagra Mohan | 2276 | IND | 1 | 1 | 1 | ½ | 1 | ½ | 1 | ½ | ½ | 7,0 | 3 | 40 | -20,00 | U14 |
| 4 | CM | Rohith Krishna S | 2080 | IND | 1 | 1 | ½ | 1 | ½ | ½ | 0 | 1 | ½ | 6,0 | 11 | 40 | -4,40 | U14 |
| 9 | | Srihari L R | 1967 | IND | 1 | ½ | 1 | 1 | 0 | 1 | ½ | ½ | ½ | 6,0 | 10 | 40 | 13,60 | U14 |
| 34 | | Kaushik G Iyer | 1586 | IND | ½ | 0 | ½ | 1 | 1 | 0 | ½ | 1 | 1 | 5,5 | 18 | 40 | 44,40 | U14 |
| 51 | | Aryan Anand | 1290 | IND | 0 | 1 | ½ | 0 | ½ | ½ | 0 | ½ | ½ | 3,5 | 60 | 40 | 49,20 | U14 |
| 1 | | Koustav Chatterjee | 2381 | IND | 1 | 0 | 1 | 1 | 1 | 0 | 1 | 0 | 1 | 6,0 | 4 | 20 | -17,00 | U16 |
| 2 | | Sankalp Gupta | 2374 | IND | 1 | ½ | 1 | ½ | 0 | 1 | 1 | 1 | ½ | 6,5 | 3 | 20 | -15,60 | U16 |
| 4 | | Raahul V S | 2258 | IND | 1 | 1 | ½ | ½ | 0 | ½ | 0 | 1 | 1 | 5,5 | 9 | 20 | -29,40 | U16 |
| 10 | | Vatsal Singhania | 2106 | IND | 1 | 1 | ½ | ½ | 1 | 1 | 1 | 0 | ½ | 6,5 | 2 | 40 | 107,60 | U16 |
| 23 | AIM | Komal Srivatsav Sajja | 1650 | IND | 0 | ½ | 1 | 0 | 0 | 1 | 1 | 0 | 1 | 4,5 | 16 | 40 | 62,80 | U16 |
| 3 | FM | Mitrabha Guha | 2366 | IND | 1 | ½ | 1 | 0 | 1 | ½ | ½ | 0 | 1 | 5,5 | 7 | 20 | -19,20 | U18 |
| 8 | FM | Jeet Jain | 2232 | IND | ½ | ½ | 1 | 1 | 0 | 1 | ½ | ½ | 0 | 5,0 | 13 | 20 | -18,80 | U18 |
| 17 | | Manish Anto Cristiano F | 1926 | IND | 0 | 1 | 0 | 1 | 1 | 0 | 0 | 0 | 1 | 4,0 | 20 | 40 | -16,00 | U18 |
| 7 | | Kukreja Suguna | 1106 | IND | 1 | 0 | 0 | 1 | 1 | 0 | 0 | 0 | ½ | 3,5 | 28 | 40 | -2,00 | G8 |
| 8 | | Sri Harini A | 1105 | IND | 0 | 1 | 1 | 0 | 0 | 0 | 1 | 1 | 0 | 4,0 | 22 | 40 | 6,80 | G8 |
| 10 | | Hatvalne Swarali | 1072 | IND | 1 | 0 | 1 | 0 | 0 | 1 | ½ | 1 | 0 | 4,5 | 18 | 40 | -33,20 | G8 |
| 12 | | Shreya G Hipparagi | 1061 | IND | 0 | 1 | 1 | 1 | 1 | 0 | 1 | 0 | ½ | 5,5 | 9 | 40 | 38,80 | G8 |
| 13 | | Saara Jain | 1030 | IND | ½ | 1 | 0 | 1 | 0 | 0 | ½ | 1 | 1 | 5,0 | 17 | 40 | -12,00 | G8 |
| 14 | | Arshiya Das | 1022 | IND | 0 | 1 | 1 | 1 | 1 | 0 | 0 | 1 | 0 | 5,0 | 14 | 40 | 4,80 | G8 |
| 15 | WCM | Shriyana S Mallya | 1005 | IND | 1 | 1 | 1 | 0 | 0 | 1 | 0 | 1 | 0 | 5,0 | 13 | 40 | -30,80 | G8 |
| 17 | | Amaira Mittal | 0 | IND | 1 | 0 | 0 | 1 | 0 | 0 | 1 | 0 | 1 | 4,0 | 23 | 0 | 0,00 | G8 |
| 18 | | Anaishaa Pinkesh Nahar | 0 | IND | 0 | 0 | 0 | 1 | 0 | 1 | ½ | 1 | 1 | 4,5 | 19 | 0 | 0,00 | G8 |
| 27 | | Priyansha Shetty M P | 0 | IND | 0 | 0 | 0 | 0 | 0 | 0 | 1 | 0 | 0 | 1,0 | 36 | 0 | 0,00 | G8 |
| 32 | | Sahana Mathivanan | 0 | IND | 1 | 0 | 0 | 0 | 0 | ½ | 1 | 0 | 1 | 3,5 | 29 | 0 | 0,00 | G8 |
| 33 | | Shriya Patil | 0 | IND | 0 | 1 | 0 | 0 | 1 | 0 | 0 | 1 | ½ | 3,5 | 27 | 0 | 0,00 | G8 |
| 35 | | Tanishka Jain | 0 | IND | 0 | 0 | 1 | 0 | 1 | 0 | 0 | 0 | ½ | 2,5 | 33 | 0 | 0,00 | G8 |
| 5 | | Rajanya Datta | 1373 | IND | 1 | 1 | 0 | 1 | 1 | 1 | 0 | 1 | ½ | 6,5 | 3 | 40 | 34,40 | G10 |
| 7 | | Anupam M Sreekumar | 1343 | IND | 0 | 0 | 1 | 1 | 1 | 1 | 1 | 1 | 1 | 7,0 | 2 | 40 | 42,00 | G10 |
| 10 | | Rout Yashita | 1318 | IND | 1 | ½ | 1 | ½ | 0 | 1 | ½ | ½ | 0 | 5,0 | 20 | 40 | 16,40 | G10 |
| 12 | WCM | Shefali A N | 1274 | IND | 0 | 1 | 1 | 1 | 0 | 0 | 0 | 0 | 1 | 4,0 | 29 | 40 | -32,00 | G10 |
| 16 | | Pragnya H G | 1213 | IND | 1 | 0 | 1 | 1 | ½ | ½ | 1 | 1 | ½ | 6,5 | 4 | 40 | 54,80 | G10 |
| 19 | | Rianna Netta B | 1168 | IND | 1 | 0 | 1 | ½ | 1 | ½ | ½ | ½ | 1 | 6,0 | 9 | 40 | 26,00 | G10 |
| 21 | | Falak Joni Naik | 1086 | IND | 1 | ½ | 0 | ½ | ½ | 1 | 0 | 1 | 0 | 4,5 | 24 | 40 | -5,60 | G10 |
| 22 | | Jaanvi D | 1061 | IND | 1 | 0 | 0 | 1 | 0 | 1 | ½ | 0 | 0 | 3,5 | 32 | 40 | 22,40 | G10 |
| 4 | | Sagar Siya | 1697 | IND | 1 | 0 | 0 | 1 | 1 | 1 | 0 | 0 | ½ | 4,5 | 21 | 40 | -119,60 | G12 |
| 8 | | Savitha Shri B | 1615 | IND | 1 | 1 | 1 | 0 | 1 | ½ | 1 | ½ | 0 | 6,0 | 8 | 40 | 22,80 | G12 |
| 9 | WCM | Sahithi Varshini M | 1573 | IND | 1 | 0 | 0 | 1 | 1 | 1 | 1 | 1 | 1 | 7,0 | 1 | 40 | -2,40 | G12 |
| 10 | WCM | Vishwa Vasnawala | 1558 | IND | 1 | 1 | ½ | 1 | ½ | ½ | 0 | 1 | 1 | 6,5 | 4 | 40 | 59,60 | G12 |
| 11 | | Velpula Sarayu | 1541 | IND | 1 | 1 | 1 | 0 | 1 | 0 | 1 | 0 | 1 | 6,0 | 5 | 40 | 58,40 | G12 |
| 15 | | Boramanikar Tanisha S | 1483 | IND | 1 | 1 | 1 | 1 | 0 | ½ | ½ | 0 | 0 | 5,0 | 15 | 40 | 30,40 | G12 |
| 23 | | Shivika Rohilla | 1384 | IND | 1 | 1 | ½ | 0 | 1 | 0 | 1 | 1 | ½ | 6,0 | 11 | 40 | 110,00 | G12 |
| 24 | WCM | Patel Riddhi R | 1376 | IND | 0 | 1 | 1 | 0 | 1 | 0 | 0 | ½ | 1 | 4,5 | 24 | 40 | -46,80 | G12 |
| 26 | | Mahi Amit Doshi | 1351 | IND | 0 | 1 | 1 | 0 | 0 | ½ | 1 | 0 | 0 | 3,5 | 34 | 40 | -6,00 | G12 |
| 28 | | Yash Jyoti Bir | 1338 | IND | 0 | 1 | ½ | ½ | 1 | 1 | 0 | 0 | 1 | 5,0 | 16 | 40 | 50,80 | G12 |
| 31 | | Shah Kritee | 1302 | IND | 0 | 1 | 1 | 1 | ½ | 1 | 0 | 0 | 0 | 4,5 | 19 | 40 | 62,80 | G12 |
| 33 | | Anya Seth Syed | 1289 | IND | 0 | 1 | ½ | ½ | 0 | 1 | 0 | 0 | 1 | 4,0 | 32 | 40 | -6,00 | G12 |
| 42 | | Sachika Tomer | 0 | IND | 0 | 0 | 1 | ½ | 0 | 0 | 1 | 0 | 1 | 3,5 | 37 | 0 | 0,00 | G12 |
| 1 | | Rakshitta Ravi | 2270 | IND | 0 | 1 | 0 | 1 | ½ | ½ | 1 | ½ | ½ | 5,0 | 19 | 40 | -126,80 | G14 |
| 2 | WFM | Divya Deshmukh | 2220 | IND | 1 | 1 | 0 | 0 | 1 | 0 | 1 | 1 | 1 | 6,0 | 4 | 40 | -82,00 | G14 |
| 5 | WCM | Mrudul Dehankar | 2022 | IND | 1 | 1 | 0 | 0 | 1 | 1 | ½ | ½ | 1 | 6,0 | 5 | 40 | -1,20 | G14 |
| 8 | | Jain Nityata | 1894 | IND | 1 | 1 | 1 | 0 | 1 | ½ | ½ | ½ | 1 | 6,5 | 3 | 40 | 67,20 | G14 |
| 9 | WCM | Jyothsna L | 1847 | IND | 1 | ½ | 1 | ½ | 1 | ½ | 1 | 0 | 0 | 5,5 | 10 | 40 | 17,20 | G14 |
| 16 | | Bristy Mukherjee | 1720 | IND | 1 | 0 | 1 | 0 | 1 | 1 | 1 | 1 | ½ | 6,5 | 2 | 40 | 94,40 | G14 |
| 17 | WFM | Dhyana Patel | 1713 | IND | 1 | 0 | 1 | ½ | 0 | 1 | ½ | ½ | 1 | 5,5 | 11 | 40 | 38,80 | G14 |
| 40 | | Pranitha S R | 1196 | IND | 0 | 0 | ½ | 1 | 1 | 0 | 0 | ½ | 0 | 3,0 | 38 | 40 | 46,00 | G14 |
| 1 | WFM | Salonika Saina | 2182 | IND | 1 | 1 | ½ | 1 | ½ | ½ | ½ | 1 | ½ | 6,5 | 4 | 40 | -34,80 | G16 |
| 4 | | Makhija Aashna | 2083 | IND | 1 | 0 | 1 | 1 | 1 | ½ | ½ | 1 | ½ | 6,5 | 2 | 40 | 0,80 | G16 |
| 6 | | Sanskriti Goyal | 1943 | IND | 1 | 1 | ½ | ½ | 1 | 0 | 0 | 0 | 1 | 5,0 | 12 | 40 | -45,20 | G16 |
| 12 | | Tejasvi M | 1754 | IND | ½ | 1 | 0 | 1 | 1 | 0 | 0 | 1 | ½ | 5,0 | 15 | 40 | -33,60 | G16 |
| 23 | | Sanjana Raghunath | 1472 | IND | 0 | 1 | 0 | 1 | 0 | 1 | 0 | 0 | 1 | 4,0 | 21 | 40 | 1,60 | G16 |
| 30 | | Anaidaa Santosh | 1150 | IND | ½ | 0 | 0 | 0 | 1 | 0 | 1 | 1 | ½ | 4,0 | 25 | 40 | 54,40 | G16 |
| 1 | WIM | Aakanksha Hagawane | 2333 | IND | 1 | 1 | 1 | ½ | 1 | 0 | 1 | 0 | ½ | 6,0 | 5 | 20 | -36,00 | G18 |
| 2 | WFM | Arpita Mukherjee | 2151 | IND | 1 | 1 | 1 | ½ | ½ | ½ | ½ | 0 | ½ | 5,5 | 12 | 40 | -35,60 | G18 |
| 3 | WIM | Tejaswini Sagar | 2146 | IND | ½ | 1 | ½ | ½ | ½ | 0 | 1 | 0 | 0 | 4,0 | 26 | 20 | -56,60 | G18 |
| 4 | WFM | Tarini Goyal | 2088 | IND | ½ | ½ | 1 | 1 | 0 | ½ | ½ | ½ | 0 | 4,5 | 21 | 40 | -106,80 | G18 |
| 6 | | Priyanka K | 2057 | IND | 1 | 1 | 0 | 1 | 0 | 1 | ½ | 1 | ½ | 6,0 | 6 | 40 | -1,60 | G18 |
| 25 | | Kavisha S Shah | 1702 | IND | 0 | 1 | 0 | 1 | 1 | 0 | ½ | ½ | 1 | 5,0 | 14 | 40 | 21,20 | G18 |
| 29 | | Niharika Ch | 1624 | IND | 0 | 0 | 1 | 1 | 0 | ½ | 0 | 1 | 0 | 3,5 | 31 | 40 | -3,60 | G18 |
| 37 | | Shrinidhi N | 1022 | IND | 1 | 0 | 0 | 0 | 0 | ½ | ½ | 1 | 0 | 3,0 | 35 | 40 | 26,00 | G18 |
Classical final results:
Gold:
Kadam Om Manish 7.5/9 - Under 10 Boys
CM Gukesh D 8.0/9 - Under 12 Boys
WCM Sahithi Varshini M 7.0/9 - Under 12 Girls
FM Raja Rithvik R 7.5/9 - Under 14 Boys
Silver:
Anupam M Sreekumar 7.0/9 - Under 10 Girls
Bristy Mukherjee 6.5/9 - Under 14 Girls
Vatsal Singhania 6.5/9 - Under 16 Boys
Aashna Makhija 6.5/9 - Under 16 Girls
Bronze:
Adireddy Arjun 6.5/9 - Under 8 Boys
Rajanya Datta 6.5/9 - Under 10 Girls
CM Kushagra Mohan 7.0/9 - Under 14 Boys
Nityata Jain 6.5/9 - Under 14 Girls
Sankalp Gupta 6.5/9 - Under 16 Boys
Rapid final results:
Gold:
Adireddy Arjun (under-8)
Gukesh (under-12)
Sahithi Varsini (under-12)
Mrudul Dehankar (under-14)
Saina Salonika (under-16 girls)
Arpita Mukherjee (under-18 girls)
Silver:
Savitha Shree - (under-12 girls)
LR Srihari (under-14)
Koustav Chatterjee (under-16)
Bronze:
Mitrabha Guha (under-18)
Blitz final results:
Gold:
Gukesh D 8.5/9 - under 12
Raja Rithvik 8.0/9 - under 14
Divya Deshmukh 9.0/9 - under-14
Mitrabha Guha 7.0/9 under 18
Silver:
Srihari L.R 7.0/9 - under 14
Mrudul Dehankar 7.5/9 - under 14 girls
Sanskriti Goyal 6.5/9 - under 16 girls
Bronze:
Sahithi Varshini 7.0/9 - under 12 girls
Jyotsna L 6.5/9 - under-14 girls
Raahul V S 6.5/9 - under 16
---