Asian Amateur 2017 gets underway in Thailand
The Asian Amateur 2017 is currently being held in Chiang Mai, Thailand from the 23rd to the 29th of November 2017. The tournament is for players below the rating of 2100. Being held in a touristic destination the tournament has received a great response. More than hundred players in open and women section from 23 different countries are seen in action. Three rounds have been completed and in the open section you have five players with 3.0/3, while in the women's section we have four players with 100% score including Indian player G. Sandhya.
Report by Peter Long and Photos by Suchart Srisawat
From 23-29 November, beautiful Chiang Mai in Thailand is proudly hosting the Asian Amateur Chess Championship 2017. The venue chosen by the Thailand Chess Federation (TCA) Secretary and International Organiser Sahapol Nakvanich is the wonderfully located Lotus Pang Suan Khew Hotel some 20 minutes from the airport, linked to the Kad Suan Kaew Shopping Mall and in the heart of Chiang Mai which boasts Nimman - the coolest and trendiest neigbourhood in the city. It has a wonderful selection of dinning, spa and hang-outs.
In the Open Championship there is a record number of 23 countries participating from a total of 95 entries of which only 33 are from the host country while in the Women Championship there are 10 countries with 33 participants, again an unprecedented turnout. Thailand will be the host of the Asian Youth Championships in April 2018 and Thailand Chess Association has been putting together a team this year to meet the challenge of this major event. The Phitsalunok Open was the first test and the second one is the current Asian Amateur Championships. I am proud to have been associated with both events as Chief Arbiter and be able to help contribute to the extensive preparations.
Rank after round 3 in Open section
| | | | | | | | | | |
| --- | --- | --- | --- | --- | --- | --- | --- | --- | --- |
| Rk. | SNo | | Name | FED | Rtg | Pts. | TB1 | TB2 | TB3 |
| 1 | 31 | CM | Al-Zaabi Sultan | UAE | 1875 | 3,0 | 0,0 | 4,0 | 2,0 |
| 2 | 3 | | Djumaev Bakhtiyor | UZB | 2052 | 3,0 | 0,0 | 4,0 | 2,0 |
| 3 | 27 | | Akharaboollasez Akharin | THA | 1916 | 3,0 | 0,0 | 3,5 | 2,0 |
| 4 | 15 | | Lau Ende Matthew | SGP | 1980 | 3,0 | 0,0 | 3,5 | 2,0 |
| 5 | 26 | | Hirao Satoshi | JPN | 1922 | 3,0 | 0,0 | 3,0 | 2,0 |
| 6 | 23 | | Baisynov Islam | KGZ | 1942 | 2,5 | 0,0 | 4,5 | 2,5 |
| 7 | 17 | | Ahmad Nazari Emir Rusyaidi | MAS | 1965 | 2,5 | 0,0 | 4,5 | 2,5 |
| 8 | 8 | FM | Hj Azahari Md Aliuddin | BRU | 2029 | 2,5 | 0,0 | 4,5 | 2,5 |
| 9 | 1 | | Shiomi Ryo | JPN | 2095 | 2,5 | 0,0 | 4,0 | 2,5 |
| 10 | 2 | | Ganduulga Dagii | MGL | 2068 | 2,5 | 0,0 | 4,0 | 2,0 |
Pairings for round four on 26th of November in Open section
Standings after round 3 in women section:
| | | | | | | | | | |
| --- | --- | --- | --- | --- | --- | --- | --- | --- | --- |
| Rk. | SNo | | Name | FED | Rtg | Pts. | TB1 | TB2 | TB3 |
| 1 | 2 | | Sandhya G | IND | 1929 | 3,0 | 0,0 | 4,0 | 2,0 |
| 2 | 5 | CM | Aparajita Gochhikar | IND | 1724 | 3,0 | 0,0 | 4,0 | 2,0 |
| 3 | 4 | | Ohnmar Soe | MYA | 1725 | 3,0 | 0,0 | 4,0 | 2,0 |
| 4 | 1 | | Cuizon Loreshyl | PHI | 2019 | 3,0 | 0,0 | 3,0 | 1,5 |
| 5 | 3 | | Su Laet Nandar | MYA | 1886 | 2,5 | 0,0 | 2,5 | 1,5 |
| 6 | 13 | | Thongsuk Supawaree | THA | 1372 | 2,0 | 0,0 | 5,0 | 3,0 |
| 7 | 6 | WCM | Fong Mi Yen | MAS | 1721 | 2,0 | 0,0 | 5,0 | 3,0 |
| 8 | 10 | | Ranasinghe Shalini | SRI | 1562 | 2,0 | 0,0 | 4,5 | 3,0 |
| 9 | 8 | | Thapa Shanta | NEP | 1637 | 2,0 | 0,0 | 4,5 | 3,0 |
| 10 | 12 | | Chuensuwonkul Pariyakul | THA | 1373 | 2,0 | 0,0 | 4,5 | 3,0 |
Pictures from the event: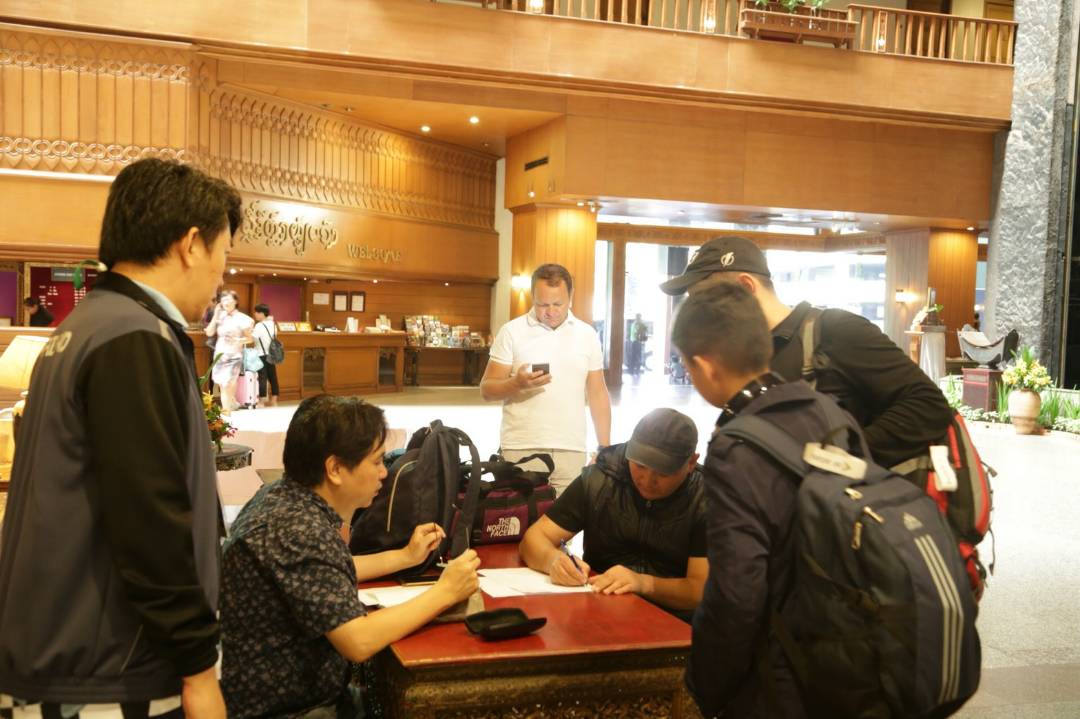 ---