Bring the World Rapid Champion 2017 to your study room!
Anand becoming the World Rapid Champion is a big moment in Indian chess! After Vishy Anand lost his World Championship crown to Magnus in 2013, it seemed very difficult that he would ever regain it. Age was not on his side, but Vishy has always braved all odds in his career and he did it once again to win the World Rapid Championship in Riyadh, Saudi Arabia on 27th of December 2017. ChessBase India has two DVDs of Anand on his career. Anand himself takes you on a journey from being a talented youngster to a World Champion! 8 hours of highly instructional content and we are offering it you at 50% off!
ChessBase India is elated at the fact that Vishy Anand became the World Rapid Champion at the age of 48. A feat that is unparalleled in the world of chess! We all know what a great champion Anand is. However, very few of us know about the way in which he started playing chess. How did he develop into the classy player that he is! Which are some of the gems that he played when he was 14 years old! All of us would like to know how the lightning kid developed into the fierce Madras Tiger! And what better way to know about Vishy Anand than from the man himself!
Anand: My Career Vol. 1
The first DVD with videos from Anand's chess career reflects the very beginning of that career and goes as far as 1999. It starts with his memories of how he first learned chess and shows his first great games (including those from the 1984 World Championship for juniors). The high point of his early developmental phase was the winning of the 1987 WCh for juniors. After that, things continue in quick succession: the first victories over Kasparov, World Championship candidate in both the FIDE and PCA cycles, and the high point of the World Championship match against Kasparov in 1995.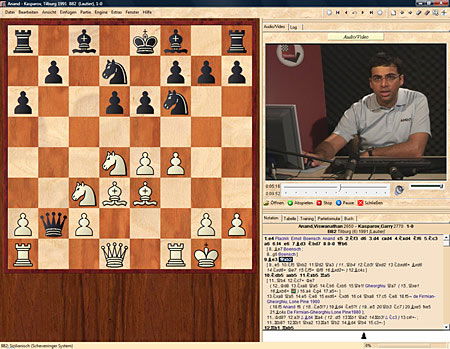 Anand: My Career Vol. 2
The second DVD begins in 2000, when Anand became FIDE World Champion, and it ends with his victory in the 2007 World Championship in Mexico. Anand not only analyses his best games, but casts a look back at the World Championshp in Delhi/Teheran in 2000 and the years before, he discusses the situation in the Bundesliga and Kasparov's retirement from tournament chess.
Vishy Anand career Vol.1 lasts for four hours and Vol.2 is also of the same duration. It's eight hours of high class training.
The cost of Vol.1 is Rs.999 and the cost of Vol. 2 is Rs.999 as well.
If you buy the bundle together it costs you Rs.1799/-
50% off!!
However, because Anand won the World Rapid Championship 2017, we are offering you this high quality content for half the price! All you have to do is apply the coupon code: ANAND48 while checking out. Don't miss the opportunity of learning from the best mind that the game of chess has ever seen:
Anand: My career Volume 1
Anand: My career Volume 2
Anand: My career Volume 1+2
*The coupon code is ANAND48
**Offer lasts until 31st of December 2017
---