Akshayakalpa Karnataka State Day two: The build-up before the showdown!
What can you expect when players of 900 - 1000 points Elo difference play against each other? Well, definitely the higher rated player should win with ease, right? You can see that the trend is - it is becoming increasingly difficult for the stronger players to score easy wins because the overall level of play has gone up. You can see this very clearly when players like Thejkumar and Stany who are nearly 2500 rated faced off against 1600 Elo opposition. Akshayakalpa Karnataka State is also setting benchmark in how players and parents are being entertained and educated in between the rounds. Speakers like environmentalist Vani Murthy, GM Srinath Narayanan, IM Sagar Shah and FI Niklesh Jain shared all their knowledge with the audience.
What does a corporate look for when he sponsors an event like the State Championship and spends nearly Rs.40 lakhs behind it? Different companies have different intentions. But at the Karnataka State 2018, Akshayakalpa's intention is to bring together agriculture and chess. The main idea of Shashi Kumar, the CEO of Akshayakalpa was to engage the participants of the championship in a way that they go back with more knowledge about agriculture, sustainable and eco-friendly living than what they had come with.
Vani Murthy is a waste management expert and she spoke about how each and every one of us is responsible for creating a sustainable environment. We shouldn't be blaming the authorities, rather we should take up the responsibility and do everything that we can to make a difference on our own.
This has always been Shashi Kumar and Akshayakalpa's strategy - make a difference by transforming individuals. It's only when individuals believe that they can create an eco-friendly environment will they actually do something about it. And these talks go a long way in educating individuals about how to create an eco-friendly world. As Vani Murthy says. "All of us are so busy improving the quality of life of our children, why not try to improve the quality of the world that they will be living in."
GM Srinath Narayanan was also one of guest speakers on the second day of the Akshayakalpa Talks. Srinath spoke on the topic of chess improvement for youngsters. He divided the process of improvement into three concepts:
1. Pattern Recognition
2. Application of Patterns in practical games or similar situations
3. Heuristics
He explained the idea via examples from real games. Several parents also took the opportunity to ask the most pressing questions on the top of their minds. Here is one position from Srinath's lecture which you must definitely try to solve. It is really beautiful.
I was one of the viewers when GM Srinath gave this position. I was thinking for a long time to about how to save the piece. The main ideas revolved around Qf8 and trying to play Bf5. So something like Qf8 (or f7) gxh6 and then Black goes Bf5, but after Bxf5 Qxf5, I could hardly see a way to make progress. And that's when it dawned on me! The rook is opposite the white king and hence there have to be certain tactical opportunities! Qe7! (or Qe6 is also fine) and now after gxh6 you have the very nice shot....
Day two: Top seeds progress, Kalki beats Gavi Siddayya
The second day (rounds three and four) were still not very difficult for our top players. But the difficulty is surely increasing. The amount of time that they are spending inside the playing hall is also increasing. Of course, all of us are looking down at the showdown between Stany and Thejkumar but who knows there could well be an accident before that actual game takes place. Until now things have been smooth and all the top seeds have raced to 4.0/4.
Let's have a look at Thej's fourth round game to understand his fine positional understanding:
The biggest upset of the day was Kalki Eshwar rated just 1500 beating his 2000 rated opponent Gavi Siddayya. It is not uncommon to see 1500 rated players beat 2000 rated opponents, but the way Kalki played really made it feel as if he is much stronger than what his rating suggests. Have a look at how he launched a vicious attack against her opponent's king.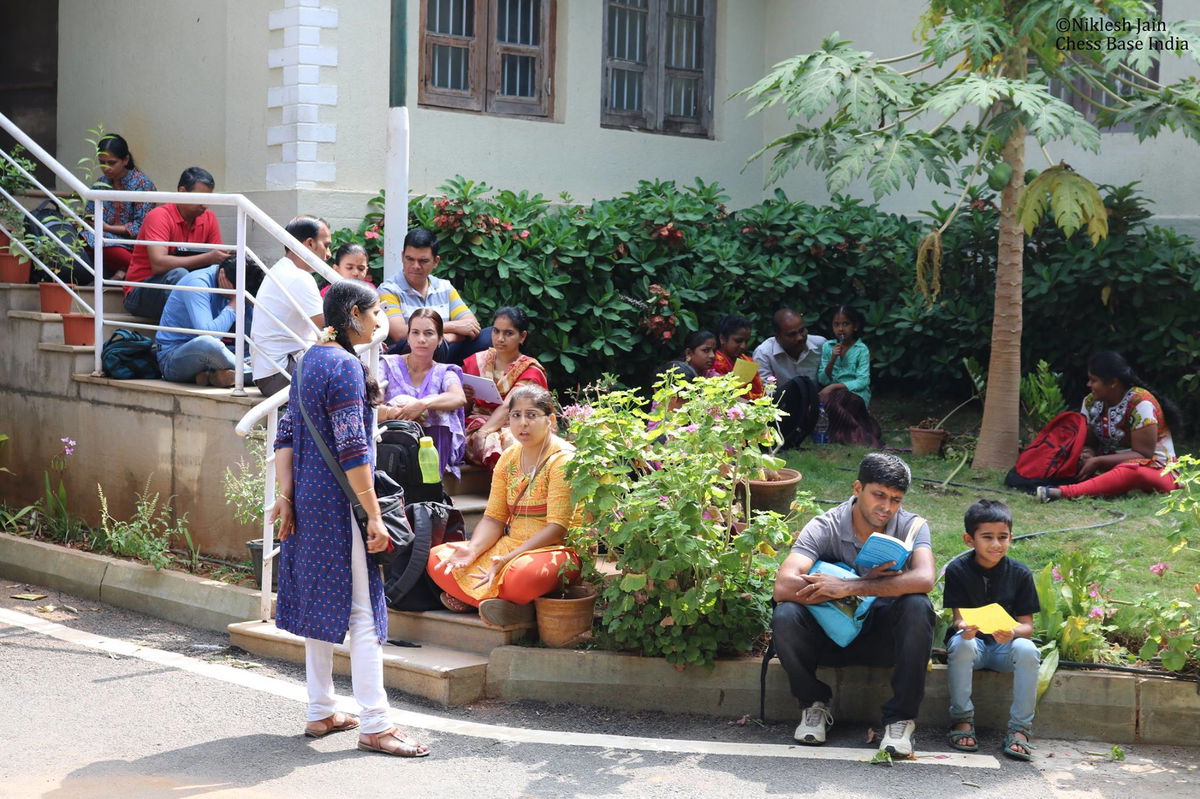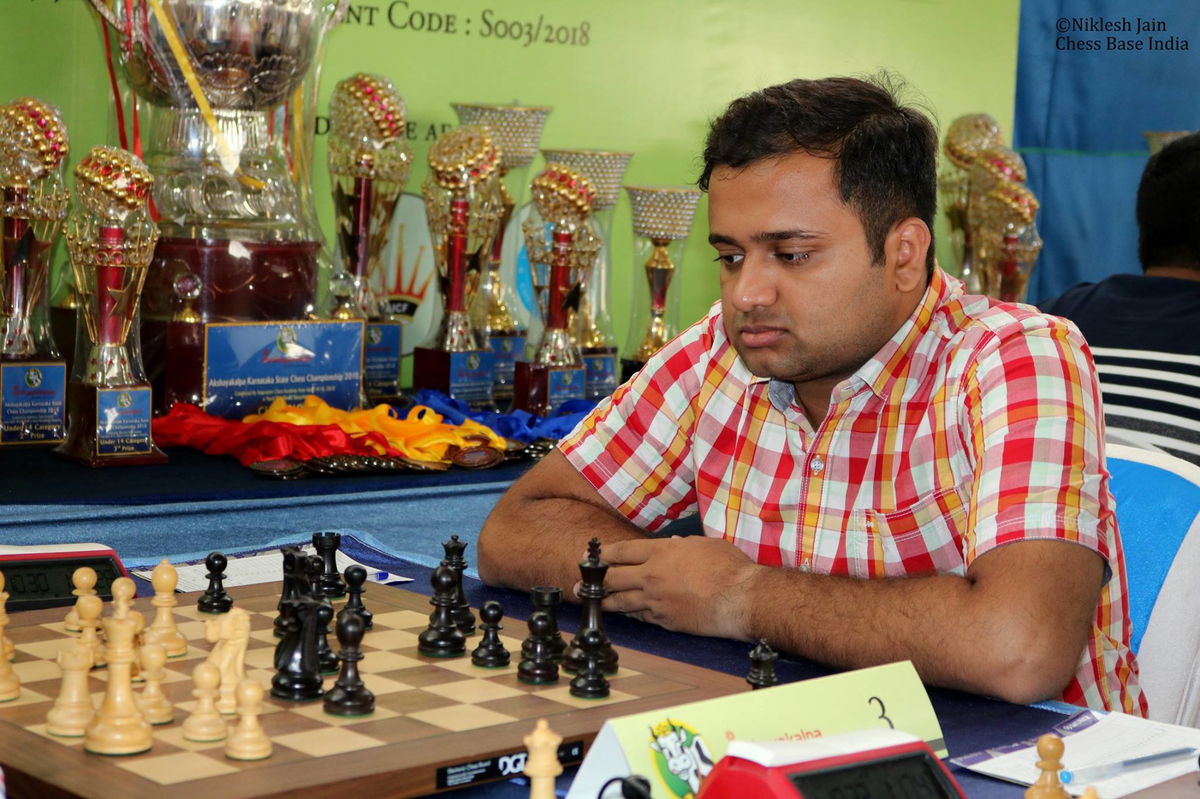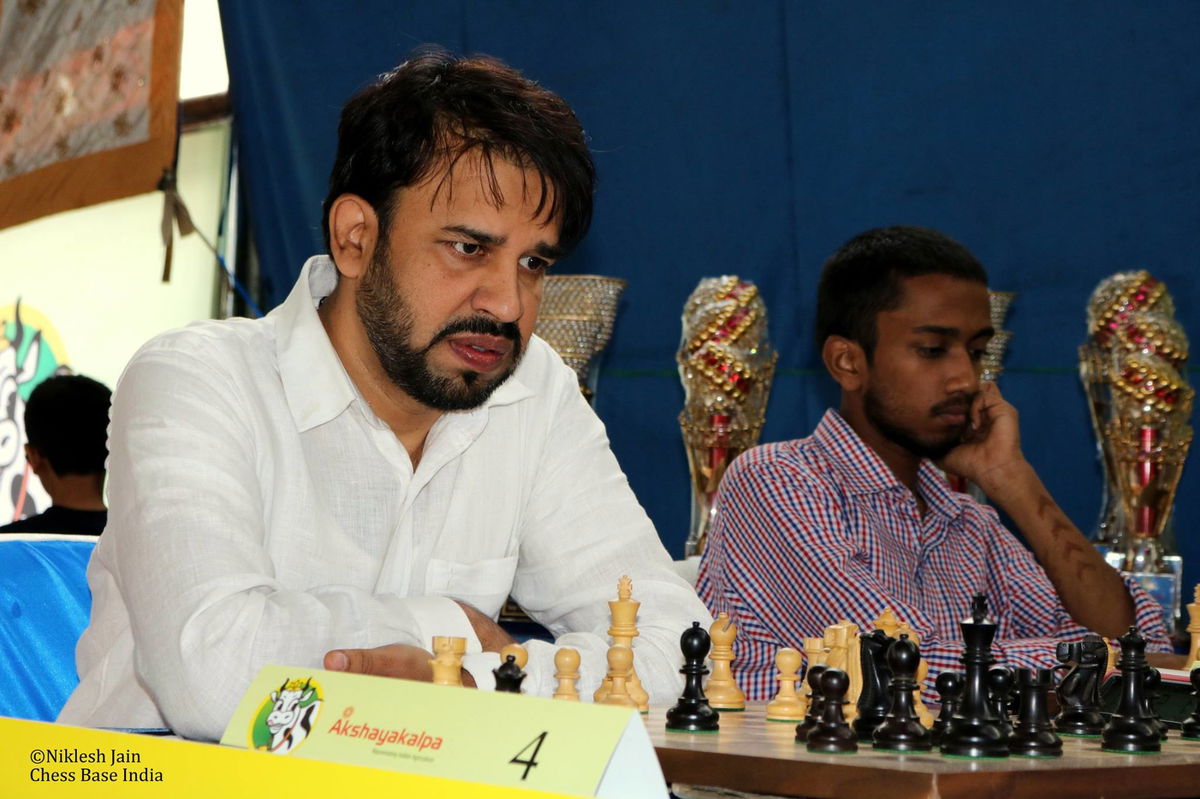 Standings after round four:
| | | | | | | | | | | | |
| --- | --- | --- | --- | --- | --- | --- | --- | --- | --- | --- | --- |
| Rk. | SNo | | Name | Typ | sex | Rtg | Club/City | Pts. | TB1 | TB2 | TB3 |
| 1 | 4 | | Sanjay N. | | | 2346 | | 4,0 | 0,0 | 8,5 | 11,5 |
| 2 | 1 | GM | Thejkumar M. S. | | | 2493 | Mys | 4,0 | 0,0 | 8,0 | 11,0 |
| | 8 | | Kulkarni Vinayak | | | 2179 | Blu | 4,0 | 0,0 | 8,0 | 11,0 |
| | 16 | | Manjunath J. | | | 1986 | Blu | 4,0 | 0,0 | 8,0 | 11,0 |
| | 18 | | Santoshkashyap Hg | | | 1929 | Blu | 4,0 | 0,0 | 8,0 | 11,0 |
| | 45 | | Dilip Kumar Pedda | | | 1653 | | 4,0 | 0,0 | 8,0 | 11,0 |
| 7 | 19 | WCM | Isha Sharma | | w | 1926 | Dka | 4,0 | 0,0 | 7,5 | 10,5 |
| | 36 | | Keshav Kothari | U14 | | 1715 | Blu | 4,0 | 0,0 | 7,5 | 10,5 |
| 9 | 198 | | Owais Md Q | U14 | | 1209 | | 4,0 | 0,0 | 7,0 | 10,0 |
| 10 | 3 | IM | Girish A. Koushik | | | 2401 | Mys | 4,0 | 0,0 | 7,0 | 10,0 |
| | 5 | | Gahan M G | | | 2281 | Dka | 4,0 | 0,0 | 7,0 | 10,0 |
| | 9 | | Arvind Shastry | | | 2175 | Blu | 4,0 | 0,0 | 7,0 | 10,0 |
| | 17 | | Kishan Gangolli | | | 1974 | Shi | 4,0 | 0,0 | 7,0 | 10,0 |
| | 26 | | Hardik Jha | | | 1882 | | 4,0 | 0,0 | 7,0 | 10,0 |
| | 29 | | Chincholimath Halsagar | | | 1831 | | 4,0 | 0,0 | 7,0 | 10,0 |
| | 33 | | Nikhil R. Umesh | | | 1734 | Shi | 4,0 | 0,0 | 7,0 | 10,0 |
| | 49 | | Nitish Bhat | | | 1637 | | 4,0 | 0,0 | 7,0 | 10,0 |
| | 50 | | Anand Vittal T R | | | 1624 | | 4,0 | 0,0 | 7,0 | 10,0 |
| | 53 | | Audipudy Sitaram | | | 1610 | | 4,0 | 0,0 | 7,0 | 10,0 |
| | 82 | | Sanjana Raghunath | F14 | w | 1472 | Blu | 4,0 | 0,0 | 7,0 | 10,0 |
Pairing of round 5:
---