Abhimanyu Puranik wins silver medal at World Juniors 2018
It is one of the most powerful performances that you would see by an Indian player at the World Junior Championships in recent times. Abhimanyu Puranik scored 8.5/11 with a performance of 2683 and won the silver medal at the World Juniors 2018. En route to winning the medal he beat GM Jorden van Foreest, GM Alreiza Firouzja and GM Aram Hakobyan. The last round was extremely critical as Abhimanyu had to score a win with the black pieces against a 2554 GM. He did so in fantastic style. This entire final game has been explained in the report. Isha Sharma from Karnataka performed admirably gaining not just 140 Elo points but also her second WIM norm. Full report from Gebze in Turkey by Sagar Shah and Amruta Mokal.
He is one of them!
Have a look at these three players in the pictures below:
Each of the above three players are the best from their country. They are well known in the chess world for their exploits and their skills over the board have been discussed by many experts. For example: Jorden van Foreest got the better of B. Adhiban in a 6-game match that was held in Netherlands, Alireza Firouzja is dubbed as World Champion material by the experienced Ivan Sokolov, and seeing Aram Hakobyan play blitz is enough to convince you that this boy has the capability to be the next Levon Aronian from Armenia. All three of them were beaten in rounds 8,9 and 11 by one player from India:
And the boy made it look so easy! I interviewed him after each of his above three victories. For Abhimanyu, there was no elation in voice, or relief of having won in his expressions. For him fighting and winning against these stars was normal. For him it was just another day at the office.
Abhimanyu became the 49th GM of India in August 2017 at the Abu Dhabi Masters at the age of 17 years, 6 months and 11 days. At the start of 2016 Abhimanyu didn't have a single GM norm. He scored his first GM norm at the Zalakaros Open in Hungary in 2016, second one in the same tournament in 2017 and third one at Abu Dhabi Masters. Within a span of a year he had achieved his GM title. When so many players from India were struggling to get their third GM norm, or cross 2500 on the Elo scale, Abhimanyu came out of the blue and achieved the coveted title. That's when you start to realize that this boy has a talent to make things look easy. With that same ease he achieved another great feat in his chess career - silver at the World Juniors 2018.
On the last day of the event, Abhimanyu was in a must win situation against GM Aram Hakobyan. A draw would not suffice as Abhimanyu had a worse tiebreak than Aram. But to play for a win with the black pieces against such a strong opponent is never easy. But, Abhimanyu made it possible. Here are a few things that he did right:
1. He chose an opening which wasn't ultra aggressive. It was solid (Guioco Piano or the Italian from Black) but at the same time kept pieces on the board and gave Black chances to capitalize on his opponent's mistake if he ever went wrong.
2. Calm and composed. If you look at the video at the start of the game, you realize that Abhimanyu had the perfect mix of determination coupled with aggression and calmness. His moves and attitude showed that he wanted to win, but at the same time there was no desperation. This balance is not so easy to strike.
3. When things were looking drawish, he kept playing the best moves in the position not worrying about the result of the game. The result, medal and the prize giving ceremony happen later. What is more important is to keep making the best moves in the position.
4. Not getting under time pressure. Abhimanyu always makes sure to play at a good pace so as to put his opponents under pressure. He himself hardly gets under time pressure. That's a big plus point when you are playing a crucial game. Mistakes happen when you are short on time under high pressure scenarios.
Here's the game first with some annotations for you to go over, then you can look at the last 12 minutes of the game as to how calmly Abhimanyu made his way towards victory and finally we have a 13-minute interview with Abhimanyu where he goes over the game and thanks all the people who have helped him in his journey to be where he is right now!
With the glittering trophy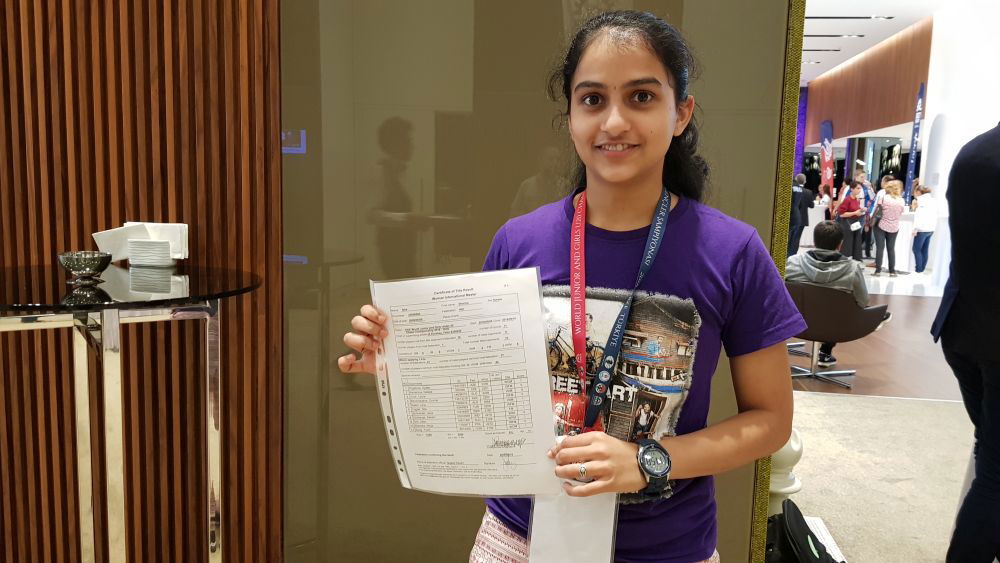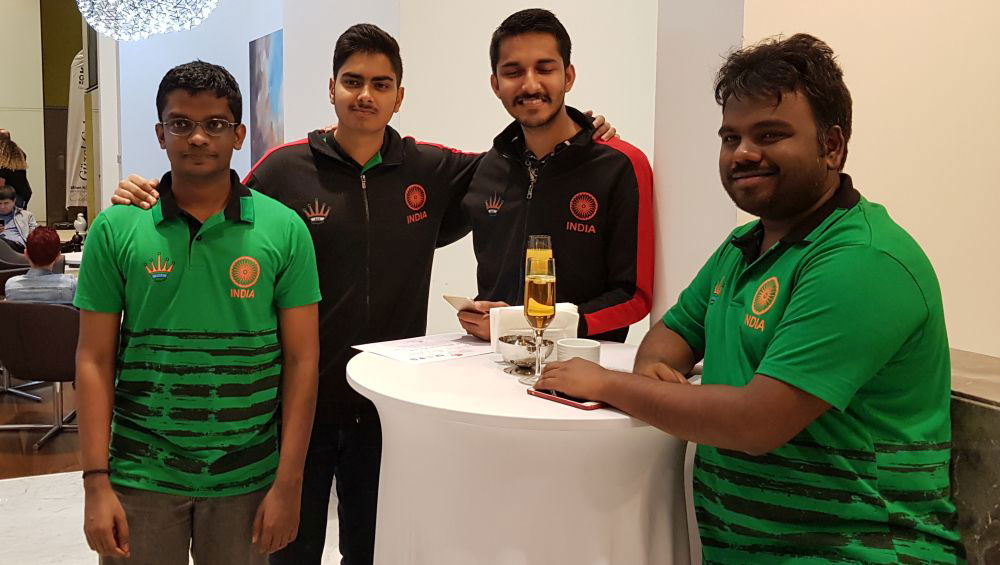 Overview of Indian performances:
| | | | | | | | | | | | | | | | | | | | | |
| --- | --- | --- | --- | --- | --- | --- | --- | --- | --- | --- | --- | --- | --- | --- | --- | --- | --- | --- | --- | --- |
| SNo | | Name | Rtg | FED | 1 | 2 | 3 | 4 | 5 | 6 | 7 | 8 | 9 | 10 | 11 | Pts. | Rk. | K | rtg+/- | Group |
| 4 | GM | Karthikeyan Murali | 2605 | IND | 1 | 1 | ½ | ½ | ½ | 1 | ½ | ½ | 0 | 1 | 1 | 7,5 | 14 | 10 | -0,50 | Open |
| 10 | GM | Aravindh Chithambaram Vr. | 2578 | IND | 1 | 1 | 1 | 0 | 1 | 0 | ½ | ½ | ½ | 1 | 1 | 7,5 | 15 | 10 | 1,30 | Open |
| 13 | GM | Sunilduth Lyna Narayanan | 2573 | IND | 1 | ½ | 1 | 0 | 1 | 1 | 0 | 1 | ½ | 1 | ½ | 7,5 | 12 | 10 | 1,90 | Open |
| 23 | GM | Puranik Abhimanyu | 2524 | IND | 1 | ½ | 1 | 1 | 0 | 1 | ½ | 1 | 1 | ½ | 1 | 8,5 | 2 | 10 | 22,60 | Open |
| 27 | IM | Karthik Venkataraman | 2519 | IND | 1 | 1 | ½ | ½ | 1 | 1 | 1 | 0 | 0 | ½ | ½ | 7,0 | 20 | 10 | 18,10 | Open |
| 40 | IM | Harsha Bharathakoti | 2474 | IND | 1 | 1 | 1 | 1 | 0 | 0 | ½ | ½ | ½ | 1 | 1 | 7,5 | 9 | 10 | 18,20 | Open |
| 50 | IM | Mohammad Nubairshah Shaikh | 2443 | IND | ½ | 1 | ½ | 0 | 1 | ½ | ½ | 1 | 0 | 1 | 0 | 6,0 | 59 | 10 | -3,40 | Open |
| 56 | IM | Raja Harshit | 2419 | IND | 1 | 0 | ½ | 1 | 1 | 0 | 0 | 1 | ½ | 1 | ½ | 6,5 | 45 | 10 | 1,00 | Open |
| 77 | IM | Krishna Teja N | 2356 | IND | 1 | 0 | 0 | 1 | 1 | 0 | 1 | 0 | 1 | 0 | 0 | 5,0 | 108 | 10 | -16,30 | Open |
| 94 | FM | Shailesh Dravid | 2325 | IND | 0 | 1 | 1 | 0 | ½ | 0 | 1 | ½ | 1 | ½ | ½ | 6,0 | 68 | 20 | 8,60 | Open |
| 12 | WIM | Chitlange Sakshi | 2279 | IND | 1 | ½ | ½ | ½ | ½ | ½ | 1 | 1 | 0 | 1 | 0 | 6,5 | 23 | 40 | -42,40 | Girls |
| 21 | WIM | Mahalakshmi M | 2213 | IND | ½ | 1 | ½ | 1 | ½ | ½ | 0 | ½ | 0 | ½ | 1 | 6,0 | 33 | 20 | -15,00 | Girls |
| 32 | WIM | Varshini V | 2173 | IND | 1 | 0 | 1 | ½ | 0 | 1 | 1 | 1 | 1 | ½ | 0 | 7,0 | 13 | 20 | 22,20 | Girls |
| 36 | WIM | Ivana Maria Furtado | 2144 | IND | 1 | ½ | 1 | 0 | ½ | ½ | 0 | 0 | 1 | ½ | ½ | 5,5 | 46 | 20 | -5,40 | Girls |
| 55 | WCM | Isha Sharma | 2012 | IND | 1 | 0 | ½ | 0 | 1 | 1 | 1 | 0 | 1 | 0 | 1 | 6,5 | 22 | 40 | 139,20 | Girls |
| 65 | | Meenal Gupta | 1963 | IND | ½ | 0 | 1 | 1 | ½ | 1 | 0 | 1 | 0 | 0 | 0 | 5,0 | 58 | 40 | 102,40 | Girls |
Final rankings of open section:
| | | | | | | | | | | | | | | |
| --- | --- | --- | --- | --- | --- | --- | --- | --- | --- | --- | --- | --- | --- | --- |
| Rk. | SNo | | | Name | FED | Rtg | Pts. | TB1 | TB2 | TB3 | TB4 | TB5 | K | rtg+/- |
| 1 | 1 | | GM | Maghsoodloo Parham | IRI | 2649 | 9,5 | 0,0 | 70,5 | 76,0 | 5 | 9 | 10 | 20,7 |
| 2 | 23 | | GM | Puranik Abhimanyu | IND | 2524 | 8,5 | 0,0 | 69,5 | 73,0 | 6 | 7 | 10 | 22,6 |
| 3 | 21 | | IM | Lobanov Sergei | RUS | 2535 | 8,5 | 0,0 | 66,0 | 70,5 | 5 | 7 | 10 | 16,2 |
| 4 | 6 | | GM | Esipenko Andrey | RUS | 2593 | 8,5 | 0,0 | 65,0 | 68,5 | 5 | 7 | 10 | 11,5 |
| 5 | 11 | | GM | Tabatabaei M.Amin | IRI | 2576 | 8,0 | 0,0 | 69,0 | 74,5 | 6 | 8 | 10 | 10,4 |
| 6 | 17 | | GM | Bai Jinshi | CHN | 2556 | 8,0 | 0,0 | 65,0 | 69,0 | 5 | 6 | 10 | 9,8 |
| 7 | 22 | | IM | Christiansen Johan-Sebastian | NOR | 2525 | 7,5 | 0,0 | 74,0 | 78,5 | 5 | 6 | 10 | 16,0 |
| 8 | 18 | | GM | Hakobyan Aram | ARM | 2554 | 7,5 | 0,0 | 71,0 | 76,0 | 5 | 6 | 10 | 11,3 |
| 9 | 40 | | IM | Harsha Bharathakoti | IND | 2474 | 7,5 | 0,0 | 70,5 | 75,0 | 5 | 6 | 10 | 18,2 |
| 10 | 8 | | GM | Firouzja Alireza | IRI | 2582 | 7,5 | 0,0 | 68,5 | 73,5 | 5 | 6 | 10 | 8,4 |
| 11 | 3 | | GM | Donchenko Alexander | GER | 2614 | 7,5 | 0,0 | 68,0 | 73,0 | 5 | 5 | 10 | 2,3 |
| 12 | 13 | | GM | Sunilduth Lyna Narayanan | IND | 2573 | 7,5 | 0,0 | 67,0 | 71,5 | 6 | 6 | 10 | 1,9 |
| 13 | 2 | | GM | Van Foreest Jorden | NED | 2624 | 7,5 | 0,0 | 65,5 | 70,0 | 5 | 5 | 10 | -6,5 |
| 14 | 4 | | GM | Karthikeyan Murali | IND | 2605 | 7,5 | 0,0 | 65,0 | 70,0 | 5 | 5 | 10 | -0,5 |
| 15 | 10 | | GM | Aravindh Chithambaram Vr. | IND | 2578 | 7,5 | 0,0 | 63,5 | 68,5 | 5 | 6 | 10 | 1,3 |
| 16 | 5 | | GM | Martirosyan Haik M. | ARM | 2597 | 7,5 | 0,0 | 63,5 | 68,0 | 6 | 6 | 10 | -4,4 |
| 17 | 26 | | IM | Yakubboev Nodirbek | UZB | 2521 | 7,5 | 0,0 | 62,0 | 67,0 | 5 | 5 | 10 | 0,8 |
| 18 | 19 | | IM | Lomasov Semyon | RUS | 2545 | 7,5 | 0,0 | 62,0 | 66,5 | 6 | 5 | 10 | -5,0 |
| 19 | 38 | | IM | Sindarov Javokhir | UZB | 2484 | 7,0 | 0,0 | 74,5 | 78,5 | 5 | 6 | 10 | 16,2 |
| 20 | 27 | | IM | Karthik Venkataraman | IND | 2519 | 7,0 | 0,0 | 74,0 | 78,5 | 5 | 5 | 10 | 18,1 |
Final rankings of girls section:
Rk.
SNo
Name
FED
Rtg
Pts.
TB1
TB2
TB3
TB4
TB5
K
rtg+/-
1
19
Maltsevskaya Aleksandra
RUS
2234
8,5
1,0
73,0
77,0
5
6
20
55,6
2
4
WGM
Tokhirjonova Gulrukhbegim
UZB
2369
8,5
0,0
68,5
73,5
5
7
20
16,2
3
9
WIM
Khomeriki Nino
GEO
2313
8,0
0,0
71,0
75,5
6
7
20
20,6
4
45
WFM
Nurgali Nazerke
KAZ
2080
8,0
0,0
69,0
73,0
6
7
40
182,8
5
7
WIM
Dordzhieva Dinara
RUS
2318
8,0
0,0
68,5
73,5
6
5
20
21,8
6
1
IM
Tsolakidou Stavroula
GRE
2393
8,0
0,0
65,5
71,0
6
7
10
-0,3
7
5
WIM
Zhu Jiner
CHN
2364
8,0
0,0
61,5
66,5
6
7
20
-3,8
8
3
FM
Assaubayeva Bibisara
RUS
2371
7,5
0,0
73,0
78,0
5
5
10
1,2
9
11
FM
Antova Gabriela
FID
2292
7,5
0,0
66,5
71,5
5
6
20
7,8
10
46
Bai Xue
CHN
2073
7,5
0,0
56,0
59,5
5
7
40
76,0
11
23
WFM
Caglar Sila
TUR
2208
7,5
0,0
55,0
58,5
6
6
40
-24,4
12
20
WGM
Paramzina Anastasya
RUS
2222
7,0
0,0
72,0
76,0
5
7
20
21,4
13
32
WIM
Varshini V
IND
2173
7,0
0,0
68,0
72,5
5
6
20
22,2
14
8
FM
Gorti Akshita
USA
2315
7,0
0,0
66,5
72,0
5
6
20
-4,8
15
24
WIM
Ghukasyan Siranush
ARM
2205
7,0
0,0
64,5
69,5
5
5
20
15,2
16
14
WFM
Potapova Margarita
RUS
2277
7,0
0,0
64,0
68,5
5
6
20
7,2
17
2
IM
Nomin-Erdene Davaademberel
MGL
2377
7,0
0,0
61,0
65,5
5
6
10
-19,5
18
15
WFM
Sliwicka Alicja
POL
2272
6,5
0,0
68,0
73,0
6
6
20
-8,4
19
28
WFM
Kanakova Natalie
CZE
2201
6,5
0,0
66,0
70,0
5
5
20
2,2
20
10
WIM
Unuk Laura
SLO
2299
6,5
0,0
63,5
68,5
5
5
20
-27,2
---