3rd Vizag GM Open R5-7: Ameya and Himal in a three-way lead
IM Himal Gusain ended IM P Konguvel's fantastic run by handing him his first loss in the seventh round. IM Ameya Audi beat GM Mitrabha Guha and drew with the top seed of the event GM Farrukh Amonatov in the sixth and seventh round respectively. Ameya, Himal and Amonatov are in a three-way lead 6/7 at GITAM University 3rd Vizag GM Open 2022. 12-year-old Ilamparthi A R is in pursuit 5.5/7. He scored two impressive wins against GM Nguyen Duc Hoa (VIE) and IM Shota Azaladze (GEO). The boy swindled the Georgian from a completely lost endgame into a win. Round 8 starts today at 10 a.m. IST. Photo: Aditya Sur Roy
Ilamparthi scores two big wins
The two-time former National champion (Under-13 Girls and Schools Under-14 Girls), Sarayu Velpula capitalized on GM Nguyen Van Huy's (VIE, 2383) mistake in the endgame. She is now the highest scorer among female participants at 5/7.
Round 6: Ameya - Mitrabha: 1-0
IM Ameya Audi (2395) won against GM Mitrabha Guha (2499) using his knights masterfully.
White sacrificed an exchange few moves ago to gain a substantial advantage. 39.Ne5 makes a deadly threat of taking on g6. Black decided to reduce the intensity of the attack 39...Rxf4 40.gxf4 Kh7 41.Nf3. White might only have one extra pawn and fragmented pawn islands on the kingside. However, White has a lot of deadly threats on his opponent's king. Thus, queen exchange became inevitable and the resultant knight endgame is completely winning for White.
Nikitenko - Himal: 0-1
IM Himal Gusain (2371) outplayed his opponent GM Mihal Nikitenko (2475).
28...Nc4 completely binds the bishops on the queenside. The d5-pawn cannot be taken because of Re1+ followed by Rxd1 threat. The game continued 29.Bc1 Rce8 30.Qf1. Try to find out the a strong plan for Black which Himal executed in the game.
Mounika - Ortik: 0.5-0.5
WIM Mounika Akshaya (2108) had a good opportunity to push for a win against IM Nigmatov Ortik (UZB, 2462).
The game continued 36.Qa2+ Kg7 37.Qa1+ Nf6 38.Rxd6 Rxd6 39.Kf1 and it meandered into a draw. Instead, 36.Rxd6 Rxd6 37.g3 threatening to take on b5 would have been a try worthy for a win.
Ilamparthi - Duc Hoa: 1-0
Ilamparthi A R (2066) made the most out of his passed pawn when his opponent GM Nguyen Duc Hoa (VIE, 2398) did not capture it at the right time.
Once again Aron Nimzowitsch's words were proved, "The passed Pawn is a criminal, who should be kept under lock and key. Mild measures, such as police surveillance, are not sufficient". Black should have played 33...Qxb6 to stay in the game 34.Qxf5+ Qf6 would have been fine. Find out the winning continuation for White after 33...Ne5.
Round 7: Shota - Ilamparthi: 0-1
IM Shota Azaladze (GEO, 2429) was winning for the better part of the game against Ilamparthi A R (2066).
A couple of moves ago White could have eliminated all threats 30.Rxf6 Rxd5 31.Rc6 Bf5 32.Rxa6+-. Instead, he opted for 30.Rd7 Bb3 31.Rxf7 now White is threatening Rf8#. There is only way to save the game for White. Find out how. A big mistake by White cost him the game, while it was still salvageable.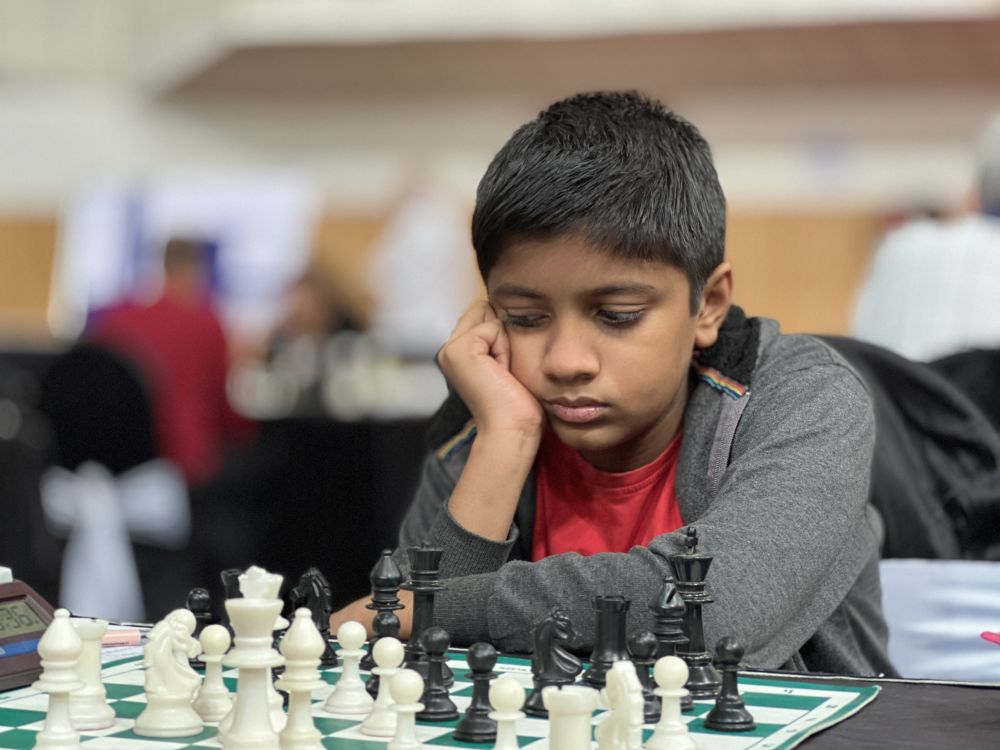 A total of 142 players including 16 GMs, 10 IMs and 2 WIMs are taking part from 13 countries across the world including India. The tournament is organized by Andhra Chess Association from 10th to 17th June 2022 at GITAM University, Visakhapatnam, Andhra Pradesh. The ten-round Swiss league tournament has a time control of 90 minutes + 30 seconds increment from move no.1.
Replay Round 5-7 games
Round 7 results
Round 8 pairings
---