Ilamparthi A R and Sneha Halder win 32nd National under-9
Ilamparthi suffered his first and only loss in the last round against Kush Bhagat of Maharashtra. However, that did not change anything for him, as Ilamparthi had already become champion after the conclusion of 10th round. Sneha drew her final round game against Indira. She needed Suhaani to win for her to become champion and that is what exactly happened. Mayank Chakraborty, Yash Bharadia and Kush Bhagat all three of them scored 9.0/11 and they secured 2nd, 3rd and 4th position respectively. In the girls section, Suhaan Lohia scored 9.0/11 and finished 2nd, while Indira Priyadharshini Subbu scored 8.5/11 and secured 3rd position. Photo: Shahid Ahmed
Ilamparthi and Sneha are the best in National under-9
CM Kush Bhagat's biggest takeaway from this tournament would be to defeat the champion in his category, Ilamparthi A R.
Here is a game annotated by the champion Ilamparthi himself:
Mayank got an early advantage when his opponent made a mistake in Nimzo-Indian Defence. However, he allowed his opponent Aakash G of Tamil Nadu to escape with a compensation of two pawns for a Knight. In a few moves, he managed to trap Aakash's Bishop and eventually checkmate him in another 10 moves.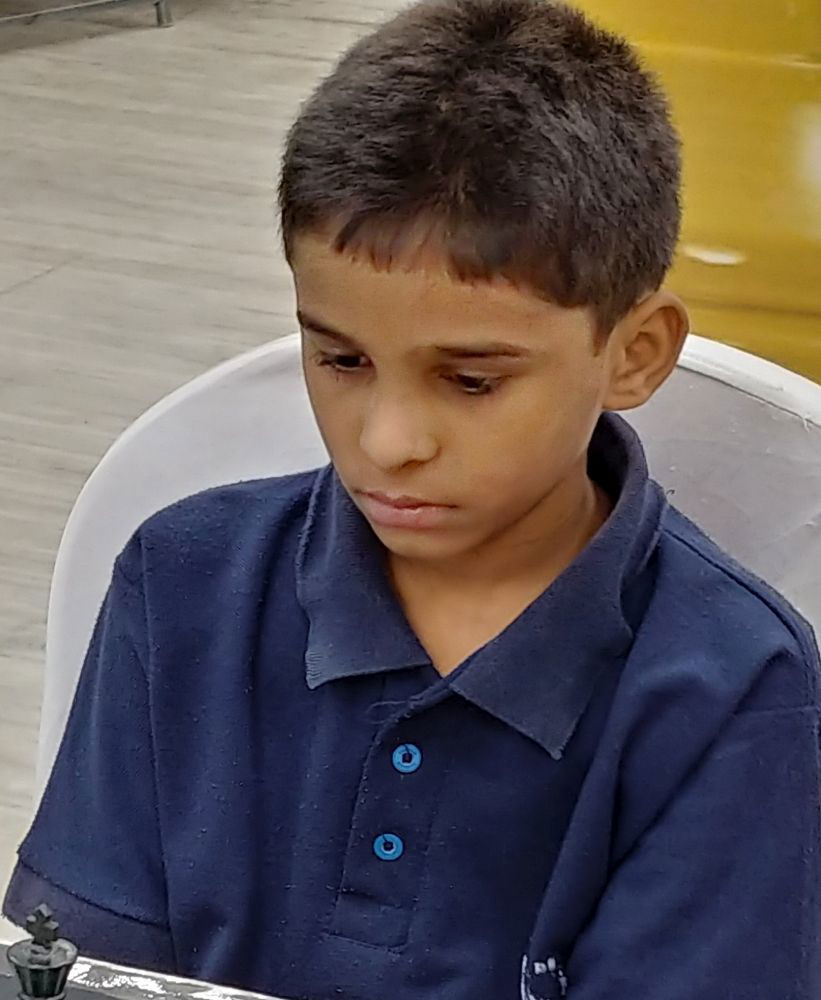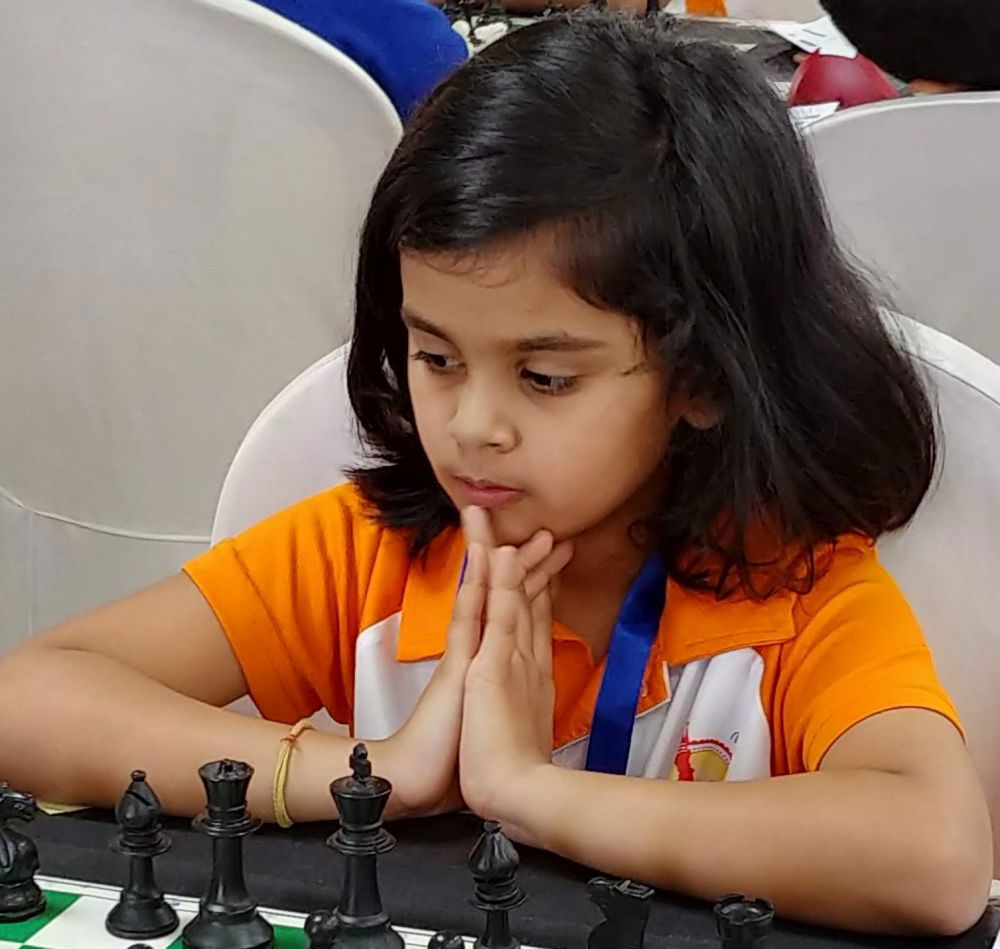 Prize Distribution Ceremony photos: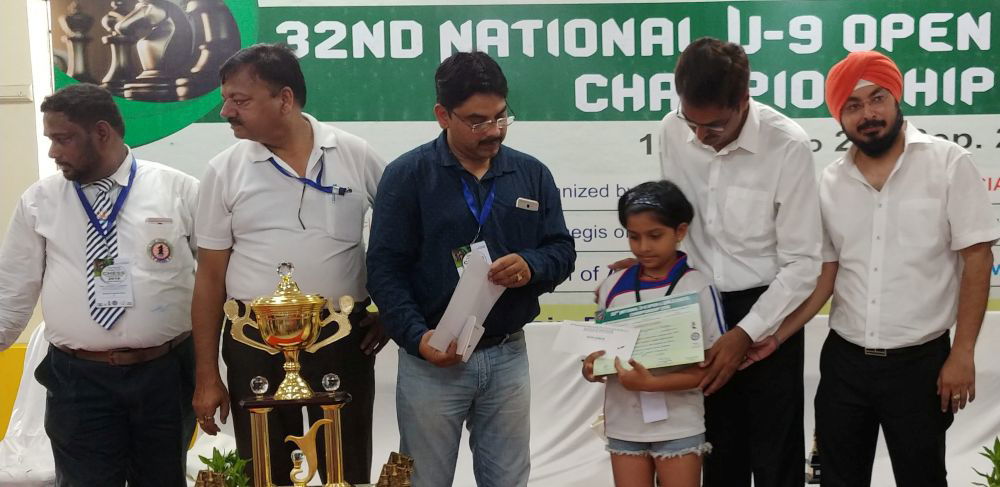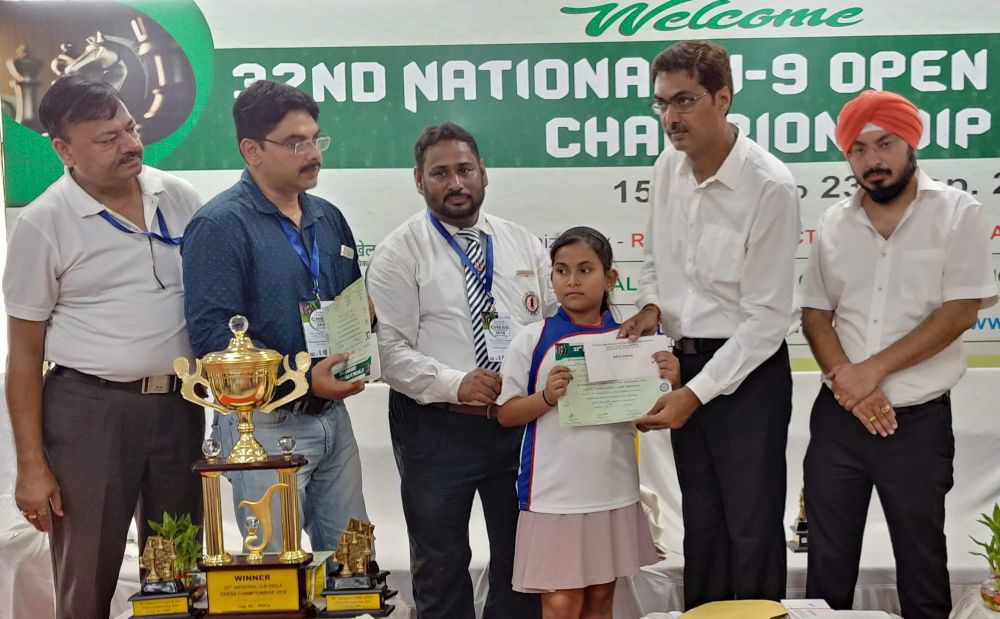 Video Gallery:
Deepak Kumar Maroo, President of Jharkhand Chamber of Commerce and industry was the Chief Guest of the Prize Distribution Ceremony. The tournament witnessed over 425 players from over 25 different states all across the country. The tournament was organized by Ranchi District Chess Association at Digambar Jain Bhawan in Ranchi, Jharkhand from 15th to 23rd September 2018.
Round 11 results in open category
Round 11 results in girls category
Final standings in open category
| | | | | | | | | | | | | | |
| --- | --- | --- | --- | --- | --- | --- | --- | --- | --- | --- | --- | --- | --- |
| Rk. | SNo | | Name | sex | FED | Rtg | Club/City | Pts. | TB1 | TB2 | TB3 | TB4 | TB5 |
| 1 | 1 | | Ilamparthi A R | | IND | 1926 | Tamil Nadu | 10,0 | 0,0 | 79,5 | 85,0 | 76,00 | 10 |
| 2 | 4 | | Mayank Chakraborty | | IND | 1655 | Assam | 9,0 | 0,0 | 80,0 | 85,0 | 66,50 | 8 |
| 3 | 9 | | Bharadia Yash | | IND | 1525 | Rajasthan | 9,0 | 0,0 | 77,0 | 82,0 | 64,50 | 8 |
| 4 | 8 | CM | Bhagat Kush | | IND | 1539 | Maharashtra | 9,0 | 0,0 | 74,5 | 79,0 | 65,00 | 7 |
| 5 | 7 | | Kshatriya Nitin Vekhande | | IND | 1574 | Maharashtra | 8,5 | 0,0 | 72,0 | 78,0 | 58,75 | 8 |
| 6 | 15 | | Sparsh Bisht | | IND | 1396 | Haryana | 8,5 | 0,0 | 70,5 | 75,5 | 57,75 | 6 |
| 7 | 12 | | Raghu Ram Reddy Seelam | | IND | 1445 | Telengana | 8,5 | 0,0 | 70,5 | 74,0 | 55,50 | 6 |
| 8 | 16 | | Abhyuday Santhosh | | IND | 1393 | Karnataka | 8,0 | 0,0 | 77,0 | 81,0 | 54,25 | 6 |
| 9 | 2 | | Aakash G | | IND | 1673 | Tamil Nadu | 8,0 | 0,0 | 76,5 | 81,0 | 54,50 | 7 |
| 10 | 45 | | Md Imran | | IND | 1249 | Andhra Pradesh | 8,0 | 0,0 | 74,5 | 78,5 | 52,25 | 7 |
| 11 | 29 | | Daakshin Arun | | IND | 1326 | Tamil Nadu | 8,0 | 0,0 | 73,0 | 78,5 | 52,50 | 8 |
| 12 | 3 | | Sadbhav Rautela | | IND | 1670 | Uttaranchal | 8,0 | 0,0 | 73,0 | 77,0 | 53,50 | 6 |
| 13 | 105 | | Agarwal Mukund H | | IND | 1095 | Gujrat | 8,0 | 0,0 | 72,5 | 78,0 | 53,25 | 7 |
| 14 | 10 | | Apoorv Kamble | | IND | 1502 | Karnataka | 8,0 | 0,0 | 71,0 | 74,5 | 51,00 | 8 |
| 15 | 44 | | Vaibhav Kalpaka | | IND | 1250 | Karnataka | 8,0 | 0,0 | 68,5 | 73,5 | 49,00 | 7 |
| 16 | 5 | | Daaevik Wadhawan | | IND | 1620 | Delhi | 8,0 | 0,0 | 68,0 | 72,5 | 51,00 | 6 |
| 17 | 23 | | Mrinmoy Rajkhowa | | IND | 1347 | Assam | 8,0 | 0,0 | 67,0 | 72,0 | 50,75 | 7 |
| 18 | 6 | | Priansh Das | | IND | 1594 | Odisha | 7,5 | 0,0 | 73,0 | 78,5 | 49,25 | 7 |
| 19 | 28 | | Suhaas A | | IND | 1327 | Telengana | 7,5 | 0,0 | 73,0 | 78,0 | 48,50 | 6 |
| 20 | 51 | | Panda Hrishikesh | | IND | 1223 | Odisha | 7,5 | 0,0 | 73,0 | 74,0 | 45,50 | 5 |
Final standings in girls category
| | | | | | | | | | | | | | |
| --- | --- | --- | --- | --- | --- | --- | --- | --- | --- | --- | --- | --- | --- |
| Rk. | SNo | | Name | sex | FED | Rtg | Club/City | Pts. | TB1 | TB2 | TB3 | TB4 | TB5 |
| 1 | 5 | | Sneha Halder | w | IND | 1245 | Bengal | 9,0 | 1,0 | 72,5 | 76,5 | 58,50 | 8 |
| 2 | 6 | WCM | Suhaani Lohia | w | IND | 1235 | Maharashtra | 9,0 | 0,0 | 71,0 | 74,5 | 60,00 | 8 |
| 3 | 10 | | Indira Priyadharshini Subbu | w | IND | 1178 | Tamil Nadu | 8,5 | 0,0 | 77,5 | 82,5 | 61,50 | 8 |
| 4 | 38 | | Debapriya Manna | w | IND | 1036 | Bengal | 8,5 | 0,0 | 77,5 | 82,0 | 61,00 | 8 |
| 5 | 1 | WCM | Shriyana S Mallya | w | IND | 1278 | Karnataka | 8,5 | 0,0 | 75,0 | 79,0 | 58,50 | 8 |
| 6 | 7 | WCM | Shefali A N | w | IND | 1224 | Karnataka | 8,5 | 0,0 | 70,0 | 73,0 | 52,25 | 7 |
| 7 | 104 | | Patil Disha | w | IND | 0 | Maharashtra | 8,0 | 0,0 | 76,5 | 83,0 | 58,00 | 8 |
| 8 | 3 | | Panchal Hiya | w | IND | 1267 | Gujrat | 8,0 | 0,0 | 75,0 | 79,0 | 52,50 | 8 |
| 9 | 17 | | Pournami S | w | IND | 1126 | Kerala | 8,0 | 0,0 | 74,0 | 75,0 | 51,75 | 7 |
| 10 | 20 | | Devaki Nandana | w | IND | 1110 | Andhra Pradesh | 8,0 | 0,0 | 67,0 | 71,5 | 50,75 | 7 |
| 11 | 25 | | Srishanthi G | w | IND | 1090 | Telengana | 8,0 | 0,0 | 65,0 | 69,0 | 46,50 | 7 |
| 12 | 29 | | Vaishnavi R Rao | w | IND | 1075 | Karnataka | 8,0 | 0,0 | 64,5 | 68,5 | 48,00 | 8 |
| 13 | 12 | | Sanikommu Manasvi | w | IND | 1164 | Karnataka | 7,5 | 0,0 | 73,0 | 78,0 | 48,75 | 7 |
| 14 | 2 | | Palak Mohapatra | w | IND | 1267 | Odisha | 7,5 | 0,0 | 72,5 | 76,5 | 47,25 | 7 |
| 15 | 67 | | Behera Snehayukta | w | IND | 0 | Odisha | 7,5 | 0,0 | 72,5 | 76,5 | 47,00 | 7 |
| 16 | 39 | | Mukherjee Shreya | w | IND | 1036 | Maharashtra | 7,5 | 0,0 | 72,0 | 74,5 | 46,75 | 6 |
| 17 | 49 | | Aanya Agrawal | w | IND | 0 | Haryana | 7,5 | 0,0 | 70,5 | 76,0 | 48,50 | 7 |
| 18 | 16 | | Arushi Srichandan | w | IND | 1132 | Odisha | 7,5 | 0,0 | 69,0 | 74,0 | 45,25 | 7 |
| 19 | 47 | | Arshiya Das | w | IND | 1006 | Tripura | 7,5 | 0,0 | 61,5 | 65,5 | 43,25 | 7 |
| 20 | 46 | | Jasmaira Gumber | w | IND | 1012 | Uttaranchal | 7,5 | 0,0 | 59,5 | 63,0 | 41,50 | 6 |
---