Live show with Adhiban's second: GM Vishnu Prasanna
B. Adhiban played some amazing chess at the Tata Steel Masters 2017 in Wijk Aan Zee. After the tournament ended Adhiban said, "My good friend Vishnu Prasanna was my second for the tournament. His role was to ensure that I wouldn't lose in the opening!" Vishnu performed his role to perfection and Adhiban finished third! On 1st of March at 9 p.m. we have the ChessBase India online show on playchess that features Vishnu. And you can ask him all the questions that you would like to ask about Tata Steel, chess improvement or just about anything!
All of you are aware of the different shows available on the Playchess server. There is the Powerplay show by Daniel King, the Endgame Magic by Karsten Mueller, Simon Says by Simon Williams. It is now time to have our own ChessBase India show! 
On 1st March 2017, ChessBase India will have the second live show on the Playchess server. And the best part about the show is that it is completely free!
The show will be broadcasted live on the playchess server at 9 p.m. IST. Anyone can see this show live and join us with your questions.
How to see the show live
Firstly you have to download the free native Windows software. You should go to play.chessbase.com and scroll down to the bottom of the screen. Click on the Free Download button.
After you have installed the Playchess client. You must login.
Enter your playchess username and password if you have one. (Note, the ChessBase Account credentials will work). Even if you do not have a Username or Password, you can enter as a guest. But it is better to create an account so that we know your identity when you are asking the question.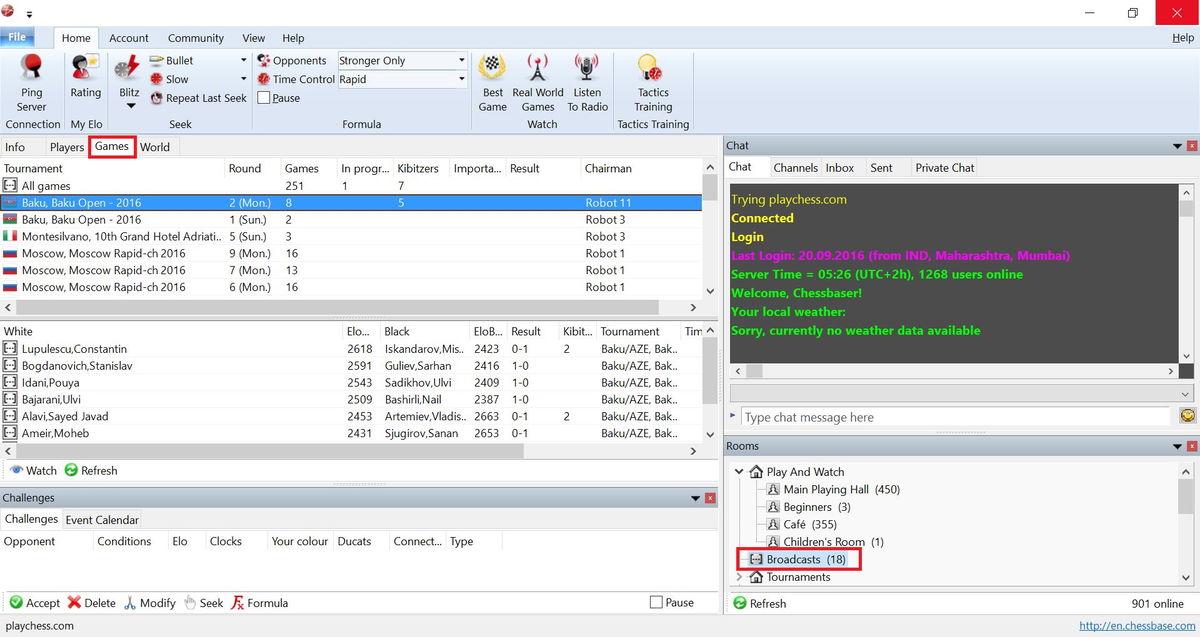 On the bottom right hand corner click on the room broadcasts and then click on the tab Games on the top. In the list you will find the second ChessBase India show with Vishnu Prasanna at 9 p.m. IST
This is the second time that such a live show will be taking place from our studio in Mumbai. We hope that you will enjoy it, and will be there to ask your doubts and questions to GM Vishnu Prasanna and in general enjoy the chess discussion!
---