Bhubaneshwar Girls Open, 2015
The Khordha District Chess Association, under the leadership of Subhasis Patnaik, organized the 5th Bhubaneswar All India FIDE Rating Open Championship for Girls Only between 10-15 December 2015 at the Infocity Campus in Bhubaneshwar. The event, despite being organized in the best possible manner, did not quite receive the kind of reception a tournament of such ilk richly deserves. The local star WGM Kiran Manisha Mohanty won the tournament ahead of WGM Bhakti Kulkarni, WGM Mary Ann Gomes and IM Nisha Mohota, who sent us a beautifully illustrated report.
Bhubaneshwar Girls Open, 2015
The Khordha District Chess Association organized the 5th Bhubaneswar All India FIDE Rating Open Championship for Girls Only between 10-15 December, 2015. The IT major Infosys provided the much needed infrastructure for the successful conduct of the tournament. The venue was the beautiful Infocity Campus of Bhubaneswar. 
The moment I walked into the venue, I felt I was in a different world: everything was green; full of trees and plants, and it was all extremely well maintained. It brought back sweet memories of the year 2010 when our National Women Premier was held in the same venue. Infosys has shown what is possible in India with discipline! Every entrant - human or luggage- is well scanned, which makes it very safe for the people inside. I was extremely tempted to take photographs within the campus area, but the identity card, which everyone inside had to wear all through, mentioned that I should not be taking pictures and I completely respect their rules. The tournament hall was huge and could be comfortable for up to 250-300 participants. The rooms provided to the players in the hostel in the campus were very spacious and in the class of any good hotel. The food in the canteen was delicious and came at a reasonable price.
The ideal playing condition for most players is when we have a comfortable stay, food and get to play at the same place, and Infosys provided us just that!
Although the prospectus says that it was the 5th All India FIDE Rating Open, it was the first time Bhubaneswar conducted an event exclusively for women in India. Such events are very useful for us, we players are very thankful to the organisers and the All India Chess Federation for starting such prize money FIDE rated events for women. There are times in our lives when we want to win a tournament to boost our self-confidence. The Nationals, due to their prestige, bring in a lot of pressure, and at times, we collapse under it. Such open tournaments are a great platform to perform at our best without any pressure.
The tournament attracted only forty-six players out of which there were nine titleholders including one IM, three WGMs, four WFMs and one WCM. From the organizer's point of view, the total number of players was really less, especially considering the fact that they were providing the best of the facilities to the players.
The overall situation was a little unfortunate. The Chennai floods had kept many strong players from making it to the event. India's first WGM, S. Vijayalakshmi, could not make it due to the difficult situation in her hometown. The tournament was announced a little late and most players had already made their commitments elsewhere. I truly believe that if this tournament can be conducted during the school vacations, or at a more appropriate time, it will receive an extremely good response. Nevertheless, from the players' point of view, it is much more comfortable to play a tournament with lesser but stronger field rather than a competition with 300-400 participants. So personally, I did not mind the lesser numbers!
There were many youngsters in this tournament which reminded me of my childhood days when we used to play in Sangli - the only women open event at the time! The prize money in these tournaments attract the strong players who in turn attract the budding youngsters - the future champions!
Four players tied for the top spot at the end of the tournament with 6.0/8: WGM Kiran Manisha Mohanty, WGM Mary Ann Gomes, WGM Bhakti Kulkarni and the surprise of the tournament Ankitha Goud Palle of Telangana.
Fourth seeded Kiran had the best buchholz and was crowned the champion. This win can become the turning point in her career as she had been struggling with her form for a long time prior to this tournament. She played consistently here with four wins and an equal number of draws. Her victims included the top seed Bhakti and yours truly! She went home richer by Rs.75,000/-, a glittering trophy, fifteen rating points and a lot of optimism!
Mary and Bhakti were very close on tiebreaks, and as it turned out, Mary finished second while Bhakti had to settle for the third place. It is a big achievement for Ankitha to finish on equal points with the three WGMs. She had to settle for the fourth spot. I hope this performance boosts her confidence.
Mr Subhasis Patnaik, the man behind this wonderful event, believes in creating value by serving quality! I was very surprised to find that he himself came to receive Bhakti and me at the airport. Unfortunately, he met with an accident during the tournament and fractured his hand, but this did not deter him from seeing me off to the airport! Let's wish this player-friendly organizer a speedy recovery!
Final Ranking:
| | | | | | | | | | |
| --- | --- | --- | --- | --- | --- | --- | --- | --- | --- |
| Rk. | SNo |   | Name | FED | Rtg | Pts. |  TB1  |  TB2  |  TB3  |
| 1 | 4 | WGM | Kiran Manisha Mohanty | IND | 2150 | 6,0 | 39,5 | 34,5 | 32,00 |
| 2 | 2 | WGM | Gomes Mary Ann | IND | 2315 | 6,0 | 38,0 | 33,5 | 30,75 |
| 3 | 1 | WGM | Kulkarni Bhakti | IND | 2328 | 6,0 | 38,0 | 33,5 | 30,50 |
| 4 | 14 |   | Ankitha Goud Palle | IND | 1736 | 6,0 | 33,0 | 29,5 | 24,00 |
| 5 | 5 |   | Bala Kannamma P | IND | 2001 | 5,5 | 37,5 | 33,0 | 27,75 |
| 6 | 6 |   | Priyanka K | IND | 1970 | 5,5 | 36,0 | 31,5 | 26,00 |
| 7 | 3 | IM | Mohota Nisha | IND | 2255 | 5,5 | 36,0 | 31,5 | 25,50 |
| 8 | 11 | WFM | Tarini Goyal | IND | 1826 | 5,5 | 35,5 | 32,5 | 24,00 |
| 9 | 8 | WFM | Swati Mohota | IND | 1963 | 5,0 | 35,0 | 31,0 | 21,00 |
| 10 | 15 | WFM | Bidhar Rutumbara | IND | 1734 | 5,0 | 34,5 | 30,5 | 20,50 |
| 11 | 16 |   | Mishra Anisha | IND | 1644 | 5,0 | 33,0 | 29,5 | 20,25 |
Check the complete standings here.
The organizers plan to make this tournament an annual affair, and this is very good news for us women players. I will try to make it to Bhubaneswar whenever there is an event in the Infocity Campus, as it is a lovely venue to play in!
About the author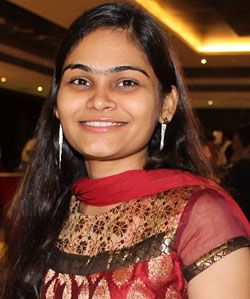 Nisha Mohota started playing chess at the age of seven. She became India's youngest WIM in 1995 and India's fourth WGM in 2003. Since February 2011 she is a full IM – her highest ever Elo rating was 2416.
Nisha has represented India in 25 countries. Her accomplishments include qualifying for the 2001 and 2008 Women World Chess Championships as well as playing for India in 2004, 2008 and 2010 (Women) Olympiads. She won the Indian National Women Premier title in 2005.
Nisha's first love, chess, helps her continue her other passion: writing, photography and travelling. She also loves to learn foreign languages and has a diploma in Spanish, which she wants to master in future! She is employed with Oil India Limited (OIL), a petroleum company, as a sportsperson.
Links: 
Games in PGN.
---