Indefatigable Arjun Erigaisi scores a hat-trick by winning 19th Delhi GM Open 2022
GM Arjun Erigaisi clinched his third individual and fourth overall tournament of the year 2022. He started the year by winning Tata Steel Challengers, then he conquered MPL 58th National Senior Open. He was instrumental in Bangladesh Police's hat-trick triumph at Bangladesh Premier League. Nine days later, Arjun clinched the 19th Delhi International GM Open 2022. GM D Gukesh and GM Harsha Bharathakoti also scored the same 8.5/10. They were placed second and third according to the tie-breaks. The total prize fund of the tournament was ₹25,00,000. Top three earned ₹400,000, ₹350,000 and ₹300,000 each respectively along with a trophy each. Photo: Aditya Sur Roy
Arjun Erigaisi, Gukesh and Harsha score 8.5/10
IM Neelash Saha is the only Indian IM to finish in top 10 at ninth position. Mahdi Gholami Orimi (IRI) is the only untitled player to finish in top 25. He secured tenth position. FM Seyed Kian Poormosavi (IRI) scored the only IM-norm of the event. Reigning National Women's champion WGM Divya Deshmukh is the highest finisher among women participants.
Abhijeet - Gukesh: 0-1
GM D Gukesh (2614) despite having the black pieces in the final pieces, he was playing from the win from the get go. It was evident in his play.
42.Kf3 turned things in Black's favor due to 42...Ne5+ 43.Ke4 and now Kc4. White is unable to play Rc6+ and the king is also out of place.
50...Rxf4+ was the final nail in the coffin, as Black's connected passed pawns on the queenside are much faster.
Sethuraman - Harsha: 0-1
GM Sethuraman S P (2619) misplayed a relatively equal knight endgame against GM Harsha Bharathakoti (2499).
48.g5 would have kept White in the game. 48.Ng3 allows Black to go for 48...f5 break. The rest is just a matter of technique which Harsha converted without any difficulty.
Arjun Erigaisi - Karthik: 1-0
GM Karthik Venkataraman (2485) put up a very good fight, until he caved in the endgame against GM Arjun Erigaisi (2660).
37...h4 turned the tide completely into White's favor. 38.Rf4 Qg3 39.Qd4 Nh5 40.Ne4 Qe1 41.Ng5+ Kg8 42.Rxh4 and Black loses material.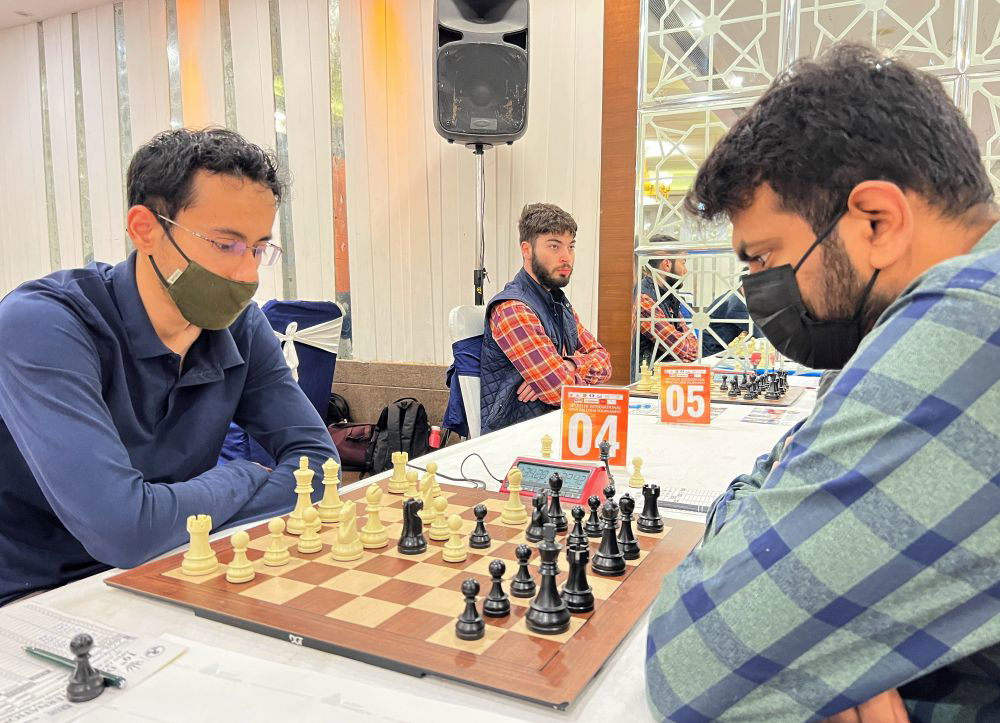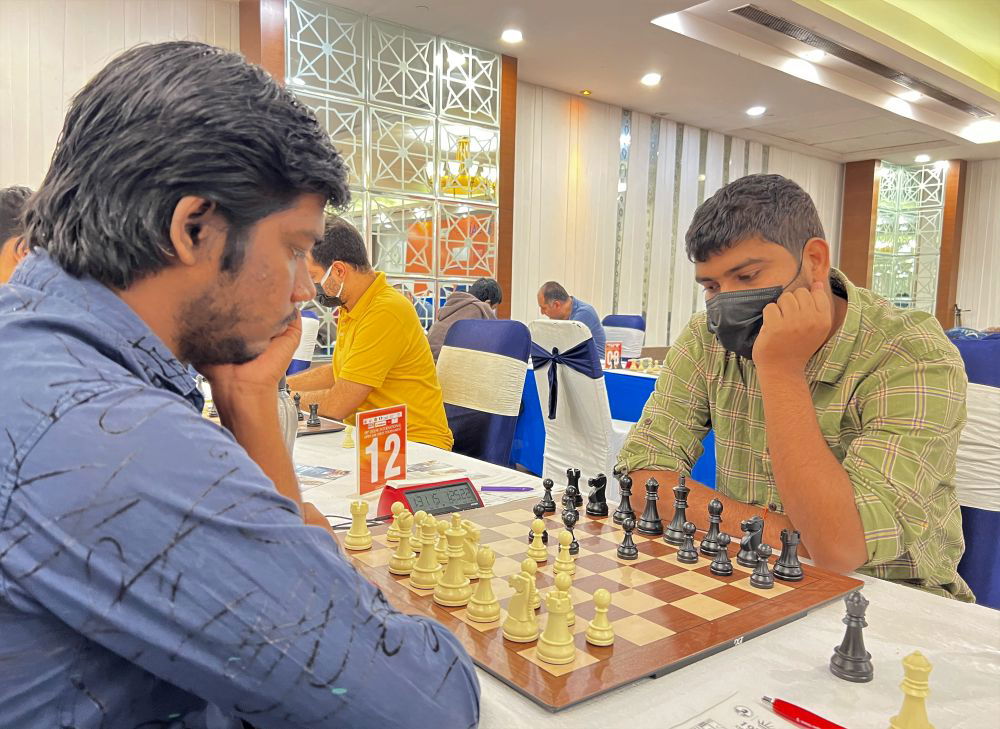 Photo Gallery
For more Round 10 and Prize Distribution Ceremony photos, please click at the respective links.
A total of 298 players including 21 GMs, 26 IMs, 3 WGMs and 6 WIMs took part from 13 federations across the world including India. The tournament was organized by Delhi Chess Association from 22nd to 29th March 2022 at Tivoli Grand Resort Hotel, New Delhi. The ten-round Swiss league tournament had a time control of 90 minutes + 30 seconds increment from move no.1. Accelerated pairings were used in the first three rounds.
Replay Round 10 games
Round 10 results
Final standings
| | | | | | | | | | | | | | |
| --- | --- | --- | --- | --- | --- | --- | --- | --- | --- | --- | --- | --- | --- |
| Rk. | SNo | | | Name | Typ | sex | FED | Rtg | Club/City | Pts. | TB1 | TB2 | TB3 |
| 1 | 1 | | GM | Erigaisi Arjun | | | IND | 2660 | India | 8,5 | 66,0 | 71,0 | 59,00 |
| 2 | 6 | | GM | Gukesh D | | | IND | 2614 | India | 8,5 | 61,0 | 66,0 | 55,25 |
| 3 | 14 | | GM | Harsha Bharathakoti | | | IND | 2499 | India | 8,5 | 61,0 | 65,5 | 54,25 |
| 4 | 24 | | IM | Nigmatov Ortik | | | UZB | 2445 | Uzbekistan | 8,0 | 59,5 | 64,0 | 48,00 |
| 5 | 5 | | GM | Sethuraman S.P. | | | IND | 2619 | India | 7,5 | 63,5 | 68,5 | 49,50 |
| 6 | 4 | | GM | Delgado Ramirez Neuris | | | PAR | 2622 | Paraguay | 7,5 | 60,5 | 65,0 | 47,25 |
| 7 | 7 | | GM | Lalith Babu M R | | | IND | 2558 | India | 7,5 | 60,5 | 65,0 | 46,00 |
| 8 | 3 | | GM | Gupta Abhijeet | | | IND | 2628 | India | 7,5 | 59,5 | 62,0 | 42,75 |
| 9 | 23 | | IM | Neelash Saha | | | IND | 2445 | India | 7,5 | 59,0 | 64,0 | 46,75 |
| 10 | 30 | | | Gholami Orimi Mahdi | | | IRI | 2420 | Iran | 7,5 | 58,0 | 62,0 | 44,50 |
| 11 | 46 | | FM | Rohith Krishna S | | | IND | 2304 | India | 7,5 | 57,0 | 61,5 | 44,75 |
| 12 | 31 | | IM | Gusain Himal | | | IND | 2408 | India | 7,5 | 55,5 | 60,0 | 43,25 |
| 13 | 28 | | GM | Laxman R.R. | | | IND | 2429 | India | 7,5 | 54,0 | 58,5 | 43,75 |
| 14 | 10 | | GM | Iniyan P | | | IND | 2516 | India | 7,0 | 63,5 | 68,0 | 45,75 |
| 15 | 16 | | GM | Karthik Venkataraman | | | IND | 2485 | India | 7,0 | 62,0 | 67,0 | 43,00 |
| 16 | 13 | | GM | Arjun Kalyan | | | IND | 2506 | India | 7,0 | 61,5 | 67,0 | 45,25 |
| 17 | 18 | | GM | Mirzoev Azer | | | AZE | 2476 | Azerbaijan | 7,0 | 61,0 | 66,5 | 45,50 |
| 18 | 8 | | GM | Visakh N R | | | IND | 2522 | India | 7,0 | 61,0 | 66,5 | 45,00 |
| 19 | 19 | | IM | Tahbaz Arash | | | IRI | 2469 | Iran | 7,0 | 59,5 | 64,0 | 40,50 |
| 20 | 20 | | IM | Krishna C R G | | | IND | 2466 | India | 7,0 | 58,5 | 63,5 | 43,00 |
| 21 | 9 | | GM | Deepan Chakkravarthy J. | | | IND | 2520 | India | 7,0 | 58,5 | 63,0 | 43,00 |
| 22 | 26 | | IM | Shyaamnikhil P | | | IND | 2442 | India | 7,0 | 58,5 | 62,5 | 40,50 |
| 23 | 12 | | GM | Mitrabha Guha | | | IND | 2510 | India | 7,0 | 58,0 | 62,5 | 43,50 |
| 24 | 25 | | IM | Vignesh N R | | | IND | 2444 | India | 7,0 | 58,0 | 61,5 | 41,50 |
| 25 | 27 | | IM | Abdisalimov Abdimalik | | | UZB | 2435 | Uzbekistan | 7,0 | 56,5 | 61,5 | 40,50 |
| 26 | 35 | | IM | Srihari L R | | | IND | 2400 | India | 7,0 | 55,5 | 60,5 | 40,25 |
| 27 | 42 | | | Utsab Chatterjee | | | IND | 2324 | India | 7,0 | 55,5 | 60,0 | 40,00 |
| 28 | 54 | | | Bharat Kumar Reddy Poluri | | | IND | 2263 | India | 7,0 | 55,5 | 60,0 | 39,50 |
| 29 | 33 | | IM | Harshavardhan G B | | | IND | 2402 | India | 7,0 | 55,0 | 59,5 | 38,75 |
| 30 | 37 | | IM | Viani Antonio Dcunha | | | IND | 2397 | India | 7,0 | 55,0 | 59,0 | 41,00 |
| 31 | 22 | | GM | Rios Cristhian Camilo | | | COL | 2449 | Colombia | 7,0 | 50,0 | 54,5 | 37,75 |
| 32 | 2 | | GM | Ponkratov Pavel | | | RUS | 2641 | CFR | 6,5 | 62,0 | 67,0 | 41,25 |
| 33 | 51 | | FM | Aaryan Varshney | | | IND | 2277 | Del | 6,5 | 60,0 | 65,0 | 40,00 |
| 34 | 60 | | FM | Poormosavi Seyed Kian | | | IRI | 2229 | Iran | 6,5 | 60,0 | 64,0 | 38,75 |
| 35 | 34 | | IM | Shahil Dey | U15 | | IND | 2400 | India | 6,5 | 59,5 | 63,5 | 37,00 |
---