Vishal Bhat shines at the Melbourne Chess Club event
The Melbourne Chess Club celebrated its 150th anniversary by holding a tournament to determine the Grand Champion. Strong IMs like James Morris, Ari Dale. Guy West and Mirko Rujevic took part in the event. Although James Morris won the event, it was Vishal Bhat, 15-year-old boy of Indian origin with a rating of 1967, who made the headlines by finishing as the runner-up. Dr. Anandaram Jothibabu has sent us the final report of this exciting tournament.
Melbourne Chess Club, the Southern Hemisphere's Oldest chess club, is celebrating its 150th Year Anniversary. The historic 150th Anniversary Melbourne Chess Club Championship took place from from 1st of February to 11th of April for the special title of 'Grand Champion'. The tournament consisted of nine rounds and was held on a weekly basis. Forty-six players and the top seed being IM James Morris (Elo-2449) meant that it was going to be a keenly contested event. The special Indian interest was ignited by the excellent performance of the 15-year-old Vishal Bhat.
In the previous article published on our newspage, we mentioned that IMs Guy West and James Morris where sharing the lead with 4.5 and Vishal Bhat was following them closely at four points out of five rounds. The second half of this tournament held on one round/week basis became very exciting. 
Rounds 6 and 7
IM James Morris and IM Guy West drew their games in round six allowing Vishal Bhat, who won his game, to tie for the first place with five points after six rounds with James and Guy. In seventh round Vishal beat IM Guy West in a tense game to share the lead with IM James Morris (Both at six points).
Round 8
Vishal took the lead in the penultimate round with a fine win over experienced Carl Gorka in a tense game. IM Ari Dale dented IM James Morris's chances with a fine draw. So Vishal Bhat with seven points had an excellent chance to win the tournament going into the final round and he was closely followed by IM James Morris with 6.5 points to set up a thrilling finish in the final round.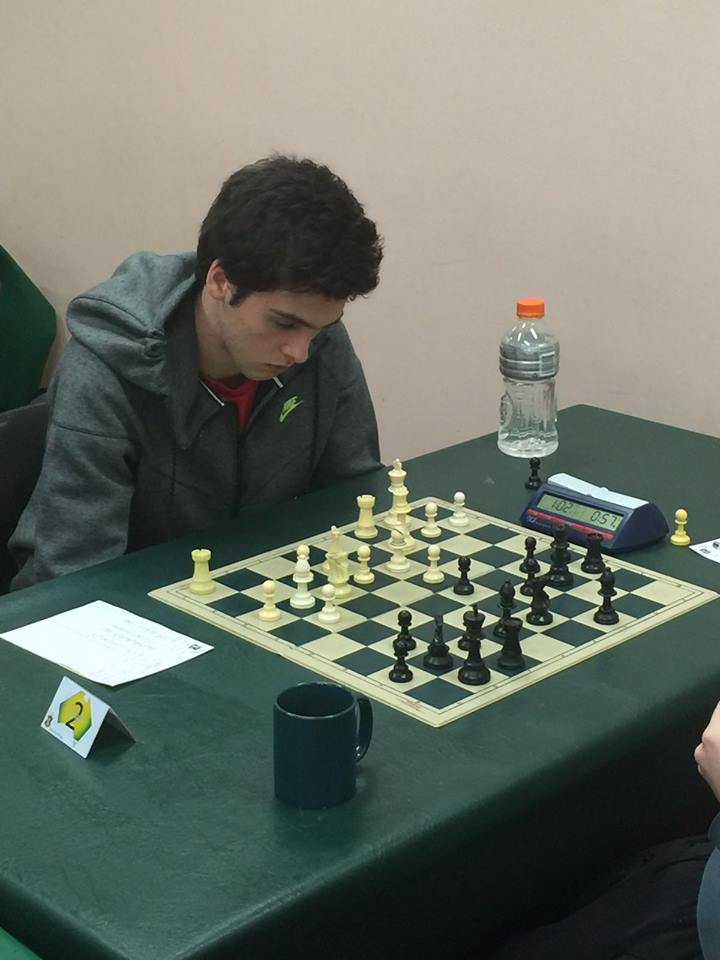 Round 9:
Vishal Bhat was pitted against Wily Veteran IM Mirko Rujevic in the final round. Mirko is a veteran of many battles. He is very resourceful and dangerous, even when he is a pawn down or two! Young Vishal won a pawn with an excellent position in early middle game. Then Mirko showed his resourcefulness and played a superb game creating a fine mating net. So Vishal was left with the score of seven points. IM James Morris was up against with former champion Malcolm Pyke. He won after overcoming stiff resistance to beat Malcolm and finished with 7.5 points.  Another notable game of this round was Thai Ly's (rated 1948) draw against IM Guy West.


So, IM James Morris won the title of 'Grand Champion' in this 150th Anniversary championship. The title is well deserved as James recently also won the Doeberl Cup, with big shots like GM Surya Shekhar Ganguly and GM Hrant Melkumyan finishing behind James. Morris is finally realising his potential. Hope that this is the sign of him being consistent with his high quality chess. 15-year-old Vishal Bhat (rated 1967) finished as the runnerup with 7 points. Not bad for a young man who showed no fear and took his opponents by their horns. He lost only to the experienced veteran Mirko in the final round. I am sure that this tournament performance will provide a great boost for his further success. Finally the Arbiter Simon Dale, Thai Ly and MCC President Elizabeth Warren deserve due credits for organising this landmark tournament well.
Results: The Top 10 Players
| | | | |
| --- | --- | --- | --- |
| S.No | Name | FIDE Rating | Points |
| 1 | IM  James Morris | 2423 | 7.5 |
| 2 | Vishal Bhat | 1967 | 7 |
| 3 | IM Guy West | 2317 | 6.5 |
| 4 | IM Mirko Rujevic | 2242 | 6.5 |
| 5 | Eamonn O'Molloy | 1901 | 6.5 |
| 6 | IM Ari Dale | 2345 | 6 |
| 7 | Thai  Ly | 1948 | 6 |
| 8 | CM Anthony Hain | 1937 | 6 |
| 9 | FM Jack Puccini | 2304 | 5.5 |
| 10 | Carl Gorka | 2162 | 5.5 |
About the Author:

Dr. Anandaram Jothibabu is a Psychiatrist residing in Melbourne and plays chess for fun. When he was young, he played at Tal Chess Club, Chennai which is the formative club of former world champion Vishwanathan Anand. He has played with players like GM R.B.Ramesh and GM Sasikiran as a junior player.
Photos by Mohan Thandhi
---