Vidit Gujrathi feted with SJAM sportsman of the year award 2017
"It was a very exciting and action packed day" is how Vidit Gujrathi describes his Monday, 23rd of October, one day before he turned 23 years old. The India number three was in Mumbai to receive the best sportsman award for 2017 from Sports Journalists Association of Mumbai (SJAM). Apart from the award he also did an interview at the Firstpost office. And when a 2721 GM is in town, we didn't miss the opportunity to have a ChessBase India show with him! One hour talk with Sagar Shah where Vidit speaks about his personal life, growth in chess and much more.
23rd of October - an action packed day in the life of Vidit Gujrathi
Vidit Gujrathi arrived at my place in Mumbai on 22nd of October 2017. I have seen Vidit since the time he was a 12-year-old kid, filled with immense talent and promise. And now after ten years I see this tall figure (nearly six feet in height!) in the world of chess, standing in front of me fulfilling all the promise he had shown. Reaching a rating of 2721 is no joke, overtaking players like Gelfand on the Elo charts is simply mind blowing. And being ranked 31 in the world is truly special.
"Let's do the ChessBase India show," said Vidit as we reached my place in the evening. He had traveled quite a bit throughout the day to reach Mumbai from Nashik. "We will do it tomorrow," I said. "Early in the morning when your mind is fresh." Vidit laughed as if it was some sort of a joke. For players like Vidit, time of the day, tiredness and such factors do not matter much. When it comes to chess, their mind is always switched on!
At 8 a.m. in the morning on 23rd of October Vidit was ready for the show. We sat down in front of the computer and I posed him with the following Wotawa study:
This is a very cute study, which I would recommend you to spend time trying to find the answer. It is not at all trivial and it did give some headaches to Vidit as well. You can see his thought process in the ChessBase India show video downloads given below.
I spoke to Vidit at length about his recent game with Magnus Carlsen, what does the rating of 2721 mean to him, who were his initial coaches, the voracious reader that he is, his current work with Anish Giri and much more! After that he shows us his win against GM Parham Maghsoodloo from the Asian Continental 2017 where he was in a must win scenario as Black. A great game where Vidit's opponent sacrificed a pawn and Vidit gobbled it up (Vidit - "my friends call me very greedy!") and followed it some excellent technical chess. One very important moment in the game was the following:
Parham Maghsoodloo vs Vidit Gujrathi
How to watch the 14th ChessBase India show with Vidit Gujrathi?
The show is broken into three parts (more like three clips) that you download when you buy this product (for free!).
1. Vidit Part I - Intro and Vidit trying to crack the Wotawa study (you should open this with the ChessBase reader 2017 provided in the downloads)
2. Vidit Part II - This is the main chunk of the interview where we speak about Vidit's life and much more. This can be watched in the vlc or any other video player, you do not need the ChessBase reader, but even if you use CB reader there's no harm.
3. Vidit Part III - Vidit's game against Parham Maghsoodloo which should be opened in the ChessBase reader 2017.
Note: Please download the .txt files as well.
Interview at the Firstpost office
Firstpost is a big online news portal in India. When it comes to promoting chess, they are miles ahead of any other newspapers or websites. They did a good ten minute interview with Vidit at the One India Bulls Centre in Lower Parel. This article with the video interview will be published on the Firstpost website in a day or two. We will keep you posted.
Sportsman of the year award
The Sports Journalists' Association of Mumbai (SJAM) is a very famous and well known organization. They held their 50th year award celebrations at the Bombay Gymkhana. Vidit Gujrathi was going to feted with the award of the sportsman of the year. SJAM have previously felicitated the likes of Tendulkar, Gavaskar and many other great sportsmen. Chess getting its due was something very special. With so many eminent journalists, and so many sports players from different disciplines being present there, it was just wonderful to see Vidit getting the biggest award.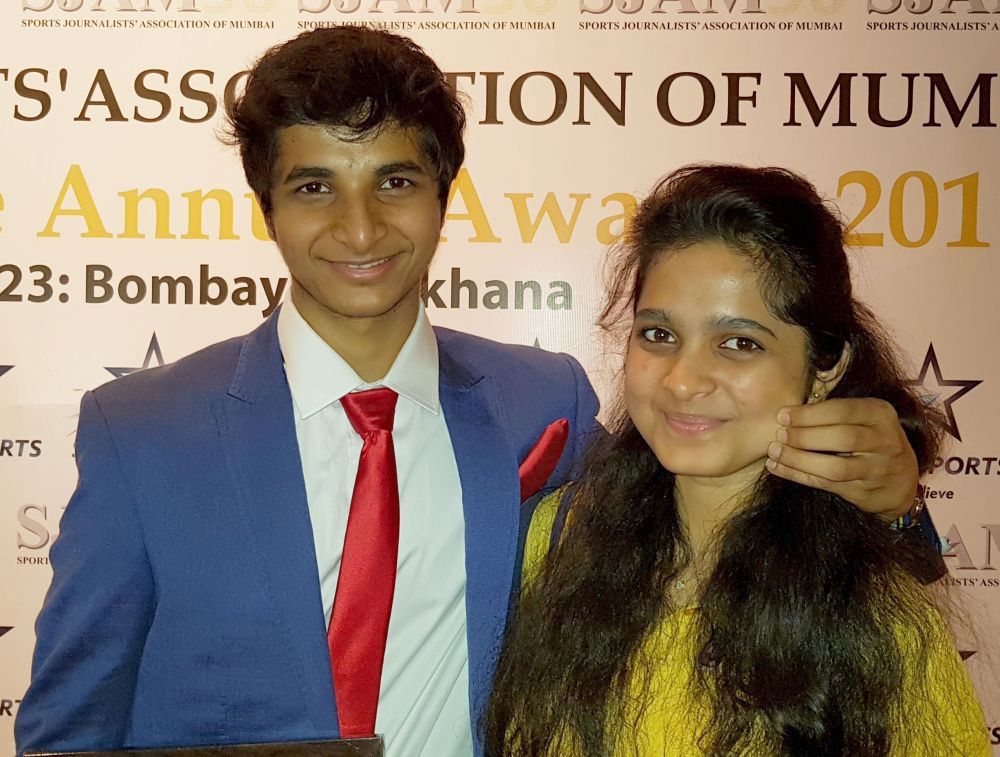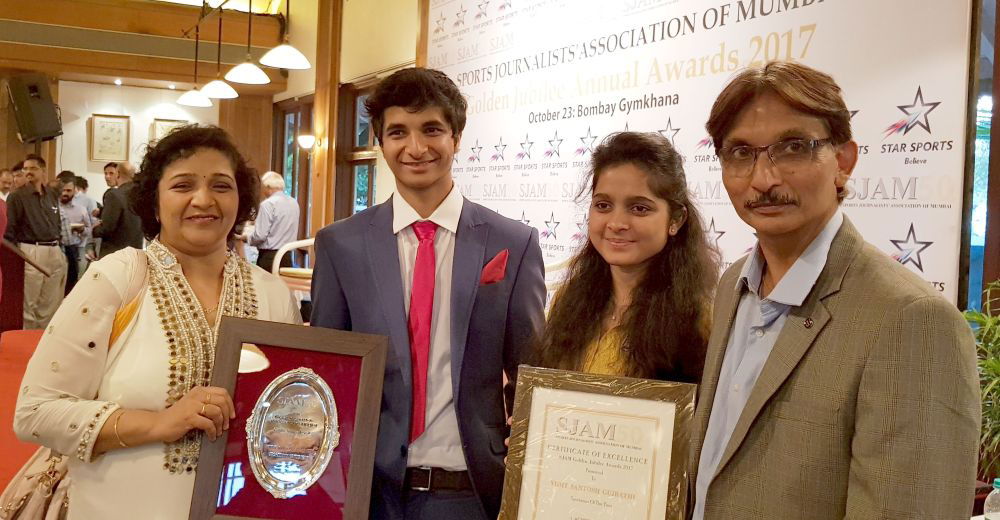 The minister of education, sports and youth affairs of Maharashtra Vinod Tawde spent a lot of time with the chess fraternity after the event. He listened to the various issues of the players and parents. In a big move, he promised that all the Maharashtra players who haven't received the Shiv Chatrapati award since 2007 will be given the same. At the start of the event he gave a fine speech. We weren't able to record it entirely, but here are the last two and a half minutes.
The after party!
That was the highly eventful day in the life of Vidit Gujrathi. ChessBase India wishes him a very happy 23rd birthday! And we hope that by the time he turns 24 he has broken into the top ten players in the world! Do send in your wishes to Vidit in the comments section below.
---