12-year-old Harshad's maiden International title at Barbera del Valles 'B'
12-year-old Harshad S from Tamil Nadu tasted success on his maiden voyage on the international soil when he won Barebera del Valles 'B' by scoring an undefeated 8.0/9 and finishing a half point ahead of the runner-up Greeshma Anand Dhumal, also from India, who increased a massive 249 Elo rating points in the entire tournament. With a performance rating of 2169, Harshad managed to increase his Elo rating by 90 points. Harshad made a draw in round 2, after that he won four consecutive games to take a sole lead which he maintained till the final round. Photo: Sathiesh
Tamil Nadu boy Harshad wins his first rating tournament in Spain
"This is the first time I have traveled abroad to play chess tournaments. Previously I got the opportunity to participate in World Schools Championship as selected player to represent India at Albania but due to financial constraints I could not make it. This golden opportunity to play overseas, is completely a wholehearted effort by my parents to provide exposure to tournament environments overseas and enjoy my passionate game without any pressure and target. They gave me enough liberty to select the tournament and the category in which I wanted to play." - Harshad exclaims about his maiden voyage.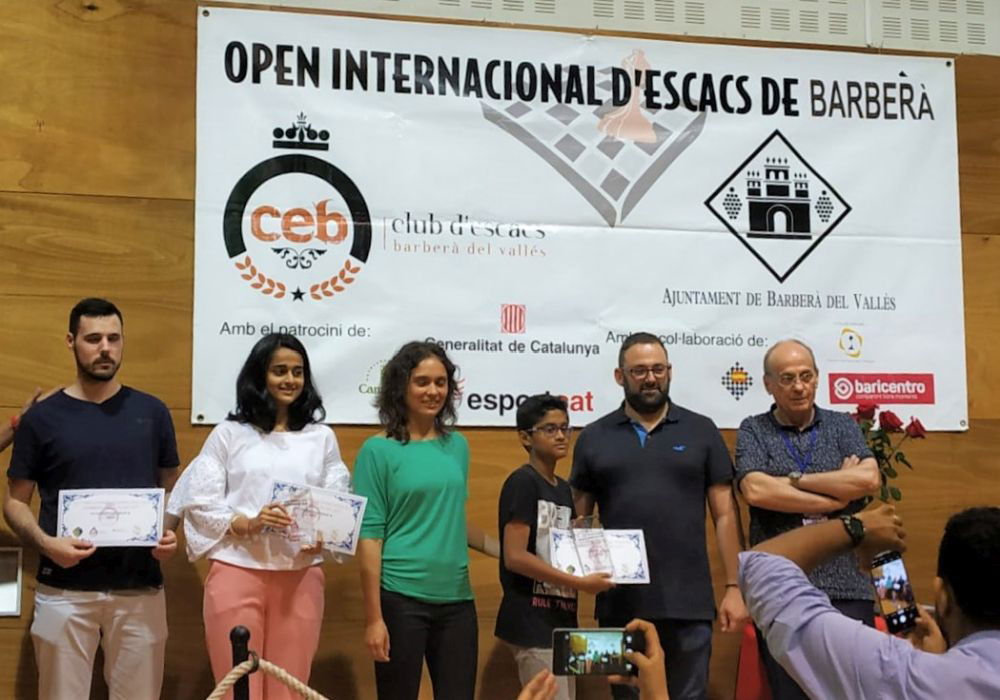 Here are a couple of games of Harshad annotated by him
Unheralded Harshad also credits his coach and shares his experience - "I am very happy to participate in XLII Open Internacional de Barberà del Vallès "B". This is my first title in any rating tournament and fortunately or unfortunately which I am not able to say has come on a foreign soil. I am very much indebted to my coach Visweswaran, K. who supported me throughout the tournament amidst his busy schedule. His technical and moral support kept me without any pressure to enjoy my game."

The runner-up of the tournament, Greeshma Anand Dhumal also from India, scored 7.5/9 to secure sole second position, finished 1.5 point ahead of the second runner-up and increased her Elo rating by a massive 249 points with a performance rating of 2165.
Final Standings
| | | | | | | | | | | | | | | | |
| --- | --- | --- | --- | --- | --- | --- | --- | --- | --- | --- | --- | --- | --- | --- | --- |
| Rk. | SNo | | | Name | Typ | sex | Gr | FED | RtgI | RtgN | Club/City | Pts. | TB1 | TB2 | TB3 |
| 1 | 8 | | | Harshad S | D-U1 | | | IND | 1932 | 0 | INDIA | 8,0 | 38,0 | 50,0 | 0,0 |
| 2 | 48 | | | Greeshma Anand Dhumal | E-U1 | w | | IND | 1563 | 0 | INDIA | 7,5 | 38,0 | 49,0 | 0,0 |
| 3 | 13 | | | Rios Torondell Jaume | D | | 2056 | CAT | 1868 | 1879 | Sant Cugat Club Escacs | 6,0 | 40,5 | 52,0 | 0,0 |
| 4 | 2 | | | Barcelo Tizon Cristian | | | 2205 | CAT | 2069 | 2033 | Sant Cugat Club Escacs | 6,0 | 39,0 | 50,5 | 0,0 |
| 5 | 33 | | | Malonda Rey Albert | E | | 1911 | CAT | 1758 | 1762 | Mollet, Club D'escacs | 6,0 | 36,0 | 47,5 | 0,0 |
| 6 | 18 | | | Flores Linan Jose Luis | D-S6 | | 2028 | CAT | 1852 | 1766 | Barcelona, Club Escacs | 6,0 | 33,0 | 44,0 | 0,0 |
| 7 | 40 | | | Sarrate Presas Jordi | E | | 1938 | CAT | 1686 | 1723 | Montmelo C.E. | 6,0 | 33,0 | 42,5 | 0,0 |
| 8 | 3 | | MK | Villa Izquierdo Roberto | | | 2210 | CAT | 2031 | 2085 | Montornes C.E. | 5,5 | 35,5 | 45,0 | 0,0 |
| 9 | 22 | | | Dartmann Aubanell Catriona | D-U1 | w | 2006 | CAT | 1831 | 1681 | Peona I Peo, C.E. | 5,5 | 34,5 | 43,0 | 0,0 |
| 10 | 11 | | | Hernandez Perez Xavier | D | | 2058 | CAT | 1894 | 1933 | Cornella C.E. | 5,5 | 34,0 | 43,5 | 0,0 |
---